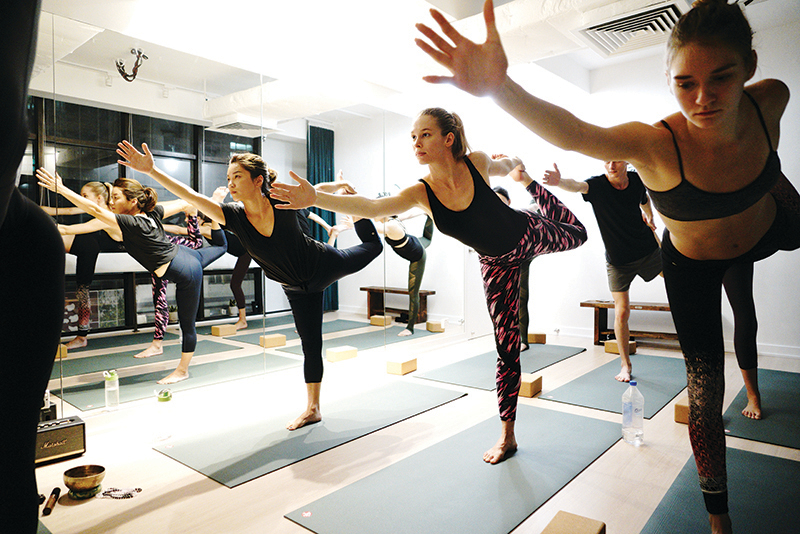 The Buzz: Hidden away on Lockhart Road, Santi Space is a friendly boutique yoga studio with a relaxed, earthy vibe. Small but serene, this peaceful oasis in the middle of bustling Wan Chai offers several classes, from standards like flow and yin to more prop-heavy practices like aerial and alignment. We opted for a Basics class.
The Class: Even if you've practiced for a while, it's easy to forget the simple stuff. This was a chance to slow down from the more challenging vinyasa-based practices, and focus on fundamentals like alignment or breathing. During our one- hour class, instructor Joanne starts with some easy neck, wrist and arm stretches before carefully taking us through a few flow sequences to get warm. We're encouraged to hold poses for longer, considering how they're working for our bodies. After some slow but deliberate sequences that are challenging in their simplicity, the class concludes with ten minutes of deeper stretches, including pigeon, and a gorgeously long five-minute savasana.
The Verdict: Santi Space holds up to six students per class, so everyone there gets a healthy amount of attention and support in their practice. Joanne was patient and helped us get deeper into postures without ever pushing us. Best of all, we never feel rushed, adding to the overall zen-like ambiance of this plant-filled space. Vinyasas in front of the studio's vertical garden definitely spark joy! Whoever said good things come in small packages must have been referring to this little gem.
The Cost: Trial classes are $100; $200 for drop-ins. Class packages available.
5A, Lockhart Centre, 301-307 Lockhart Rd., Wan Chai, 9602-8864, santispacehk.com.