From flying skates to ferocious body checks, it's a rollicking good time with Hong Kong's very own roller derby. Word by Carla Thomas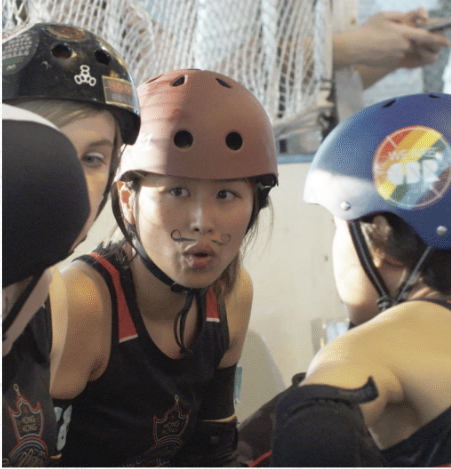 If you've ever strolled through Victoria Park on a Tuesday night, chances are you've heard Hong Kong Roller Derby (HKRD) before you've seen them. Follow the shouts, grunts, whistling and raucous cheers to the northeast corner of the park, and you'll stumble onto an asphalt skating rink. It's covered in kitted out women, maneuvering skillfully on colourful skates. Two of them, with panties on their helmets, loop gracefully around the track, weaving and dodging with dancers' agility – just before a quick hip check sends one flying to the ground. She gets up, unhurt except for maybe her pride, as her teammates break into applause and shouts of encouragement. This might sound extreme, but it's also a highly addictive sport that's earned a cult-like following in Hong Kong, as well as Asia.
WHAT IS ROLLER DERBY?
Roller derby is a contact sport that's been around since at least the 1930s, but most recently immortalised in the 2009 Drew Barrymore film, "Whip It".Games are made up of two periods of thirty minutes each, each half broken up into several mini-games that are known as "jams." During these jams, designated players – known as "jammers" and identified by the previously mentioned unmentionables on their helmets – try to lap the players of the opposing team to score points. The contact comes in as "blockers" make attempts to stop the jammers in their tracks.Players wear quad skates, which have two rows of two wheels as opposed to the four-in-a-line wheel design of inline skates. They're also required to wear the full range of protective gear, from helmets to kneepads and everything in between. While injuries do occur occasionally, the name of the game isn't actually to brutalise each other, but instead to play smartly if fiercely – a cathartic endeavour that builds mutual respect between players from different teams, leagues, cities and backgrounds.It's this communal admiration that keeps the players coming back. "I love turning up and seeing all the people that we know and catching up with them, seeing what they've been up to… and then also hitting them," says Snooki Wong, HKRD President, who joined the team in 2014."Also, learning with these people. Somebody will be better at one trick or move, and they'll give other people their tips. It's this awesome environment where everyone is just having a great time at their own pace."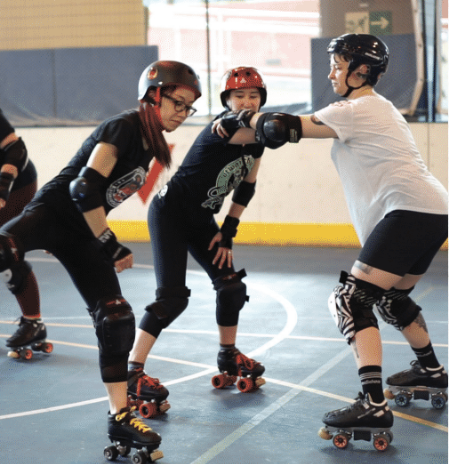 TRAINING WHEELS
Started in 2013 by founder Alison Gentry, the Hong Kong team has slowly added to its roster over its five years to maintain an active membership of around thirty today. While the group is tight-knit, it's also an easy nut to crack for new members, affectionately called "fresh meat" by more experienced players. "I found it's quite welcoming, quite a fun space," says Amy Brookes, 30, who works in finance and joined HKRD in 2017, when she moved from the UK for work. "I kind of wanted to meet people who weren't in finance. Sometimes you get stuck in your silos when you're working long hours, you need to get out of it."No equipment? No problem, as HKRD rents skates and all the needed protective gear for $150 per two-hour session. New players need only show up at the Victoria Park rink on Mondays from 8-10pm with an open mind. "We'll teach them how to stand, how to stop, how to regain balance," says Wong. "Some people who are more daring can even learn how to jump a er the first session."Once players develop enough confidence and pass a "minimum skills" test, which takes about three months on average, they're ready for the big leagues: the bouts. It's these that the women look forward to the most, as HKRD has partnered with teams across Asia to form the Pan Asian Spring Rollers league. Every three months, participating teams travel to a host city to play one another, jostling for points on the track then toasting their battle wounds over beers afterwards.
HOBBY TURNED BUSINESS
It was one such event that gave Wong the idea to launch her own roller skate-themed business, Madame Quad. The small Causeway Bay shop, which is set to open in late May, stocks a range of roller skates and accessories, as well providing a headquarters of sorts for the HKRD community itself."We were all gung ho and saying how amazing it would be if we had a skate shop here. And we could sell skates and basically just like, live at the skate shop," says Wong. "You need a place where people can gather and try on skates, a place for meetings or rollouts, where we meet and do a group skate to a location."The shop is the physical embodiment of a new sport that's starting to catch on and find roots in Hong Kong, a direct result of derby devotees like Wong and Brookes who tried the sport and fell in love. And with bouts scheduled for Bangkok and Shanghai, and a home game in Hong Kong at the end of summer, there's no slowdown in sight – appropriate considering what these girls can do to someone who can't keep up with the pack.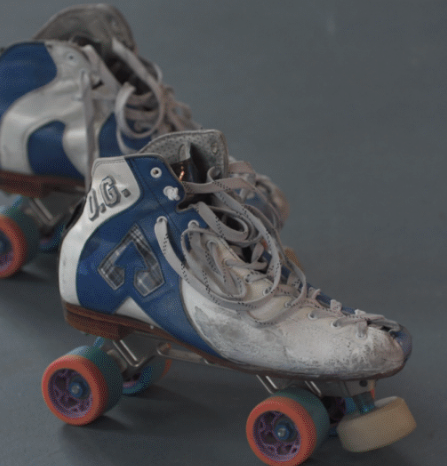 HKRD welcomes new players every Monday at Victoria Park skating rink from 8-10pm. To find out more, contact
[email protected]