Zoe Belhomme travels to Bali to test out the island's latest luxury resort, and discovers the benefits of a tailor-made holistic wellness experience.
We live in the era of, "yes, I can." Achieve more, be the best, push to the top and reach your goals. But sometimes this results in something very different indeed: a severe case of "no. I really, really can't." Wouldn't it be nice if we could just hit pause and take a self-indulgent break without having to worry about what's happening at work?
A five-hour flight from Hong Kong and just a short drive from Bali's main airport in Nusa Dua (thankfully the new ocean bypass conveniently avoids the dreaded drive through Denpasar's notoriously bad traffic) is the brand new holistic wellness resort, Revivo. The property consists of 16 traditional-style Balinese villas set within 1.6 hectares of lush teak tree forest and gardens.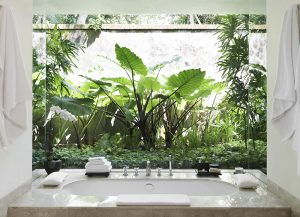 Beautiful as it may be, I didn't go to Revivo for the scenery or tranquil environment; I went to experience the fledgling brand's prescriptive wellness programmes. Health and wellbeing continues to be a growing theme for travellers – whether it's unique spa treatments, yoga and meditation retreats, or taking advantage of the great outdoors, we're spending more money than ever before on making time for ourselves. According to the 2018 Global Wellness Tourism Economy Report, wellness tourism is expected to grow 9 percent year on year, 50 percent faster than any other travel sector. Today, more resorts are bridging the gap between basic wellness such as yoga and fitness classes, and the other end of the spectrum, full medical tourism.
The brainchild of two Hong Kong-based hospitality entrepreneurs, Laurie Mias and Gordon Oldham, Revivo is one resort offering tailored programmes. Mias explains: "With Revivo, we've set out to create transformational experiences, focusing on treatments for the mind, body and spirit to achieve 'healing' through training and self-awareness, as opposed to treatment for specific illnesses or injuries. Guests will leave having learned lessons that can be implemented into their daily lives to improve their long-term wellbeing. All retreats can be customised, and while our programmes last from between three and 14 nights, guests are encouraged to visit for anything from a day to a full month, or more."
Prior to my trip, I received a phone call from Kathy Cook, Revivo's resident wellness consultant, to talk about my current physical and mental wellbeing as well as my goals for my stay. Revivo has six programmes, and it's for Kathy to decide which is most suitable based on your consultation. As I was around 12 weeks' pregnant at the time I was to try the mother-to-be plan, but other options included anti-aging and longevity, detox and organic weight loss, and emotional balance and mind training. On arrival at the resort I received another check-in with Kathy, which included a body composition and facial skin-type analysis, which further enabled her to prescribe the best combination of food, exercise and treatments for my stay.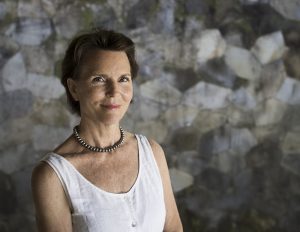 Each morning I was roused at 7am with a trio of shots delivered to my room. First came a salted lemon juice (if you aren't awake already you will be after one of these), followed by a jamu-laden tonic with powerful healing claims, and finally a fizzy kombucha shot to help put back some good bacteria in my gut.
After an hour-long energising yoga session, I sat down to my tailored breakfast menu made from whole and organic ingredients. Food forms the foundation of Revivo's programmes with menus carefully designed by the resort's nutritionist to suit the needs of each diner. Made with ingredients and flavours native to Bali, menus are high in protein with a balanced approach to fats and carbs. Fitness is a key component of each retreat, with hybrid workouts that encourage inspiration just as much as perspiration. It's not all about killing yourself in the gym; "yang" activities such as HIIT and kickboxing sessions are complemented with so er "yin" practices like Iyengar yoga, sound healing meditation and qigong. Afternoons at Revivo are all about doing as much or as little as you like.
I was prescribed a daily organic spa treatment as part of my programme – perfect for soothing and relaxing my mind and body during my pregnancy. One day it was the natural facial (think homemade honey scrubs and yoghurts masks), the next a detoxifying traditional Boreh scrub made from Balinese herbs and spices.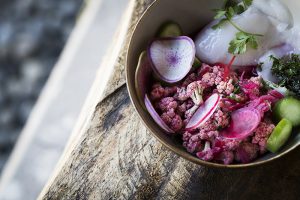 But it's Revivo's access to experts and wellness consultants that sets it apart from the crowd. On my second day I was introduced to Dr. Bobbi, a Traditional Chinese Medical Practitioner and self-proclaimed hippie who merges the ancient techniques of Chinese medicine with her knowledge of Western Medicine to support the healing of a range of ailments. She also has a strong background working with pregnant women, founding and working at the Bumi Sehat Birthing Clinic helping local Indonesian women stay healthy and strong right from conception through to labour. A er an initial consultation over a coconut latte she told me I was progressing well but she'd recommend a simple 'Happy Baby' treatment to "Keep me up!". I wasn't entirely sure what this meant but she advised on a basic acupuncture session, as well as a chlorophyll supplement like spirulina or chlorella to keep my energy levels constant. Her warmth and positive attitude was infectious and I left her feeling confident and resolute.
There is little doubt that we all deserve some 'me' time but as we don't all fit into the same mould, wellness needs to adapt to offering a more personalised service. Yes, it comes at a price but sometimes having it all is all about the luxury of doing absolutely nothing at all. www.revivoresorts.com