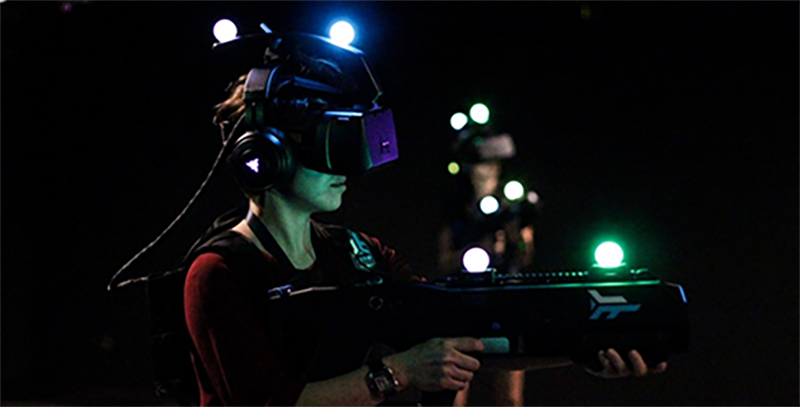 The Buzz
Virtual reality is one of the hottest trends out there, and we've noticed more VR studios cropping up all over the city. We hop on the bandwagon at Zero Latency's free-roam, multiplayer gaming experience.
The Experience
Located in a large space in an industrial building in Kwun Tong, we're greeted by friendly staff who explain the four different games on offer. They range from standard video game scenarios, like a zombie apocalypse, to more sedate options that get you interacting with your virtual environment. We choose two different games to play, and our gamemaster Steve gives us a primer on all the FAQs of VR. He helps us suit up in special backpacks and headsets, and we enter the warehouse space to get started. We first play Engineerium, where we explore a mystical Incan-inspired universe by solving puzzles and getting used to the VR perspective. From there, we move on to the next game: Zombie Survival. This involves working as a team to fend o the walking dead as they try to overrun your fortification. It starts off slow but, as zombie attacks tend to do, things quickly get out of hand.
The Verdict
Our team of five had mixed levels of experience and enthusiasm, but this was undeniably fun for everyone. It was a great way to socialise, challenging ourselves in a new setting unlike anything we'd tried before. The ethereal world of Engineerium was actually very relaxing, while Zombie Attack was…less so. It's still good fun though, and everyone got onboard to help save the day. A perfect option for a rainy weekend, or an alternative to happy hour the next time you're looking for an excuse to get together with friends.
The Cost
For 30 minutes of play per person, costs $300 during the week or $350 at weekends. Advance booking is required.
Unit ABC, 11/F, Montery Plaza, 15 Chong Yip St., Kwun Tong, Kowloon, 2762-0108, zerolatencyvr.com.hk.