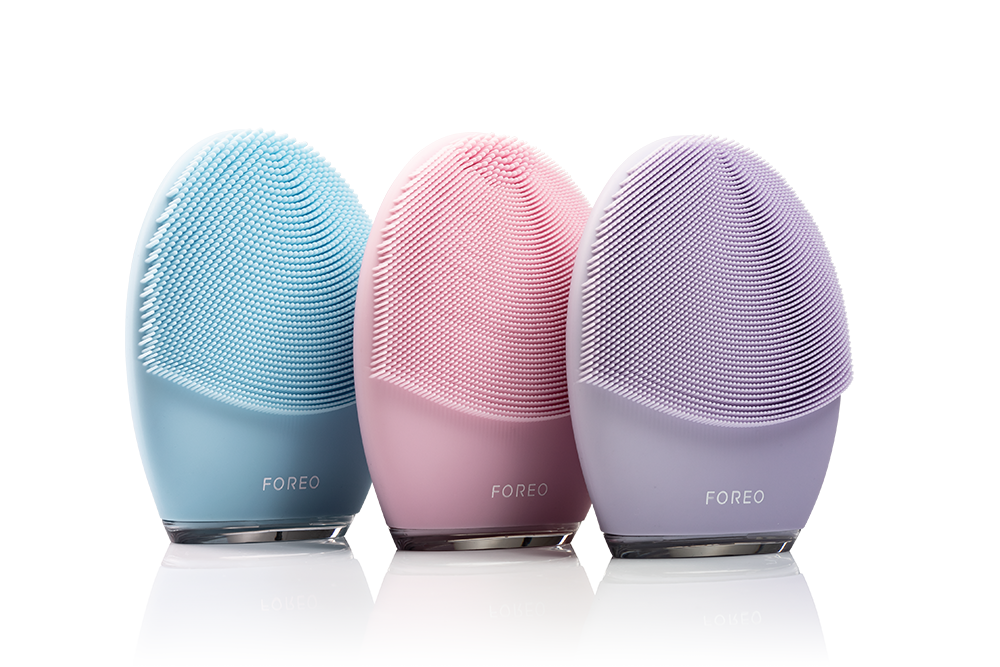 The Buzz: Famous for its facial cleansing massagers, Swedish beauty brand FOREO has been earning a reputation as a skincare gamechanger for years, with celebs like Chrissy Teigen and Venus Williams swearing by its benefits. We tried out the newly launched LUNA 3 in our skincare routine for a month to see what all the fuss
is about.
The Product: Shaped a bit like a palm-sized egg, this pink handheld device is covered in soft, silicone bristles that conduct sonic pulsations when turned on. The FOREO LUNA 3 has longer and softer bristles, meaning it can get deeper into your pores without causing unnecessary irritation to skin. You can also pair the device to the FOREO app via Bluetooth, allowing you to control the intensity and routine of sonic pulsations from your phone. We cover our face in a thin layer of cleanser and turn on the FOREO LUNA 3, which feels like a gentle buzz in your hand that lasts for one minute before turning off automatically. As we make slow circles on our face, we can feel the pulsations getting deep into our skin. It doesn't hurt, but there's a definite sensation that feels like a serious step up from your normal wash-and-go routine.
The Verdict: Definitely worth the hype! We notice a boost in glow from the very first cleanse, and a patch of stubborn spots on our chin disappear after just a day or two. Our skin feels stimulated after every use, and our tone evens out nicely, making it easy to forego makeup. Our only complaint is a matter of tech support: our LUNA won't pair with the app, meaning we're stuck on the default pulsation setting. But we can't fault the radiant results, so would still recommend it as a worthy addtition to any skincare routine.
Cost: $1,530, available at Sephora, Fortress and Lane Crawford.