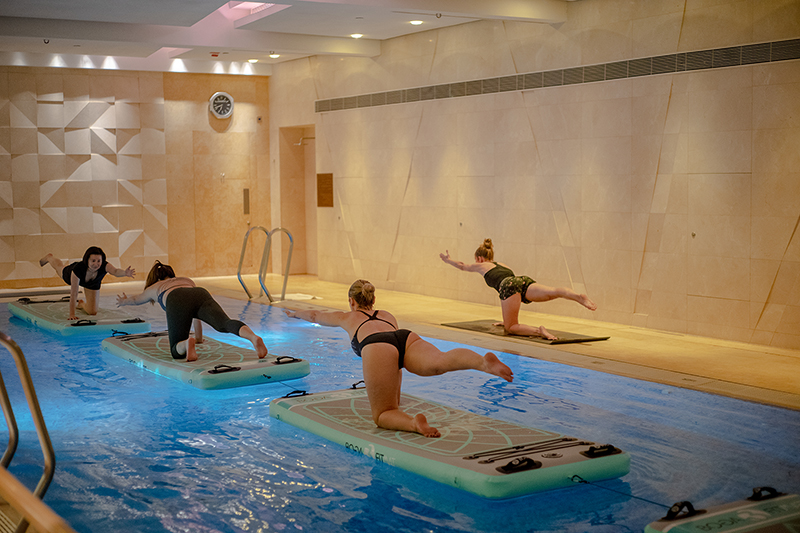 The Buzz
If you've always wanted to try stand-up paddleboarding (SUP) yoga but were put off by the open water, FitMat Yoga is a great option. This class is held within the safe confines of the Landmark Mandarin Oriental pool, so you can vinyasa in peace, albeit a bit unsteadily.
The Class
FitMat Yoga takes yoga and plops it on an inflatable mat in a pool. Being on water makes simple postures challenging, requiring you to use your core more. We start with basic stretches so we can get our sea (or pool) legs before moving onto flow sequences. Our instructor encourages us to have fun with different movements – which we do with a premature dip in the pool when we try to flip our downward dog. Later, we experiment a bit, with harder poses like headstand or aquatic-themed navasana. At the end, we lay back and dip our feet and hands into the water to enjoy a relaxing savasana.
The Verdict
If you're not blessed with balance, this class might seem like a challenge and not as fun as it's intended. Then again, who doesn't love a good cannonball into the pool! Poses are simple and movements are slow, but you can work at your own pace if it's too easy. Classes like this are a great reminder that we don't have to take exercising so seriously. Sometimes it's more about putting a smile on your face than working up a sweat.
The Cost
$700 per person. Not exactly cheap, but worth the splurge to make a splash.
To book call 2132-0011 or email [email protected]. Minimum of two students per class.
The Landmark, 15 Queen's Road Central