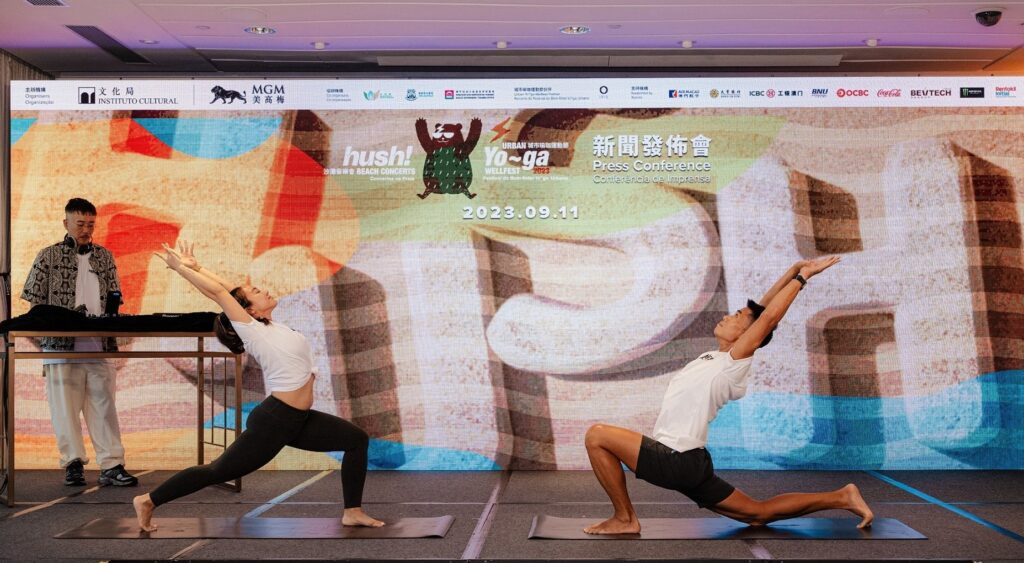 If you're looking for an affordable, retreat-like getaway complete with yoga, fitness, and meditation, without the hassle of international travel and the subsquent dent in your bank account, look no further!
Hush! Beach Concerts x Urban Yo~ga Wellfest 2023 is Macau's first and largest outdoor yoga and music carnival, taking place on November 4-5, 2023. The Macau yoga festival is mashup of a new travel wellness initiative by MGM, Urban Yo-ga Wellfest, and the city's largest pop music event, organised by the Cultural Affairs Bureau, appealing to both wellness enthusiasts and music-lovers in a scenic beach destination.
Over 40 renowned fitness instructors and influencers are on the lineup at the moment, from Australia's Amanda Bisk (a former pole vaulter-turned-Insta yogi) to Hong Kong's own Coffee Lam.
The wellfest (co-organised by IRIS which you might already recognise as Hong Kong's largest outdoor sports festival) is set to be held on Hac-sa Beach and Hac Sa Temporary Green and Leisure Area, with three thematic zones offering different kinds of classes, experiences and workshops, including a SUP yoga class.
Make it a day trip from Hong Kong, or if you'd like to do both days, the MGM is offering a hotel package for a resort room, which includes breakfast for two, late check-out, discounts and welcome amenities, among other perks – not bad!
Early bird tickets are on sale now until October 8, costing MOP300 for one day and MOP450 for a weekend pass (an additional MOP60 if you're taking part in the SUP yoga class).
Read more: Do Yoga and Raise Money for YAMA Foundation Until Oct 31