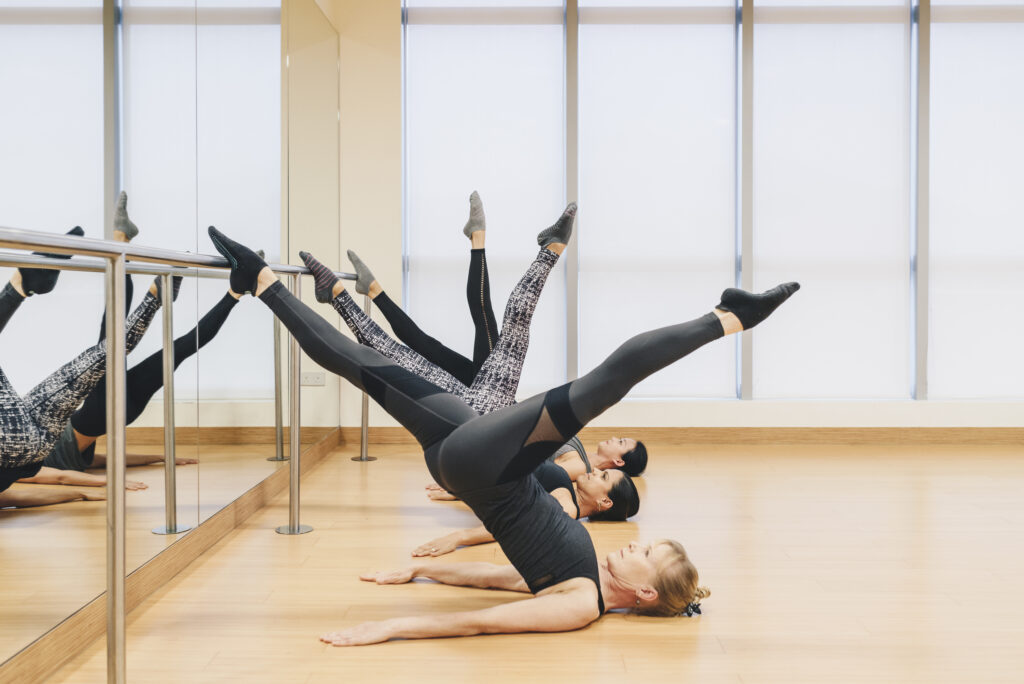 Evoking the grace of ballet, the endurance of pilates, and the strength of functional training, barre fitness promises a full-body workout that not only sculpts and tones but also enhances flexibility and posture. No longer just the domain of professional dancers, this elegant and effective workout has found its rightful place in the hearts (and schedules) of Hongkongers, and as a result, barre studios in Hong Kong are exploding right now.
Read on as we pirouette our way through Hong Kong's best barre studios, from stalwarts in Central to fresh, local-centric openings in areas like Kowloon and Kwun Tung.
View this post on Instagram
Established in 2005, Flex Studios boasts close to two decades of expertise in delivering barre workouts to Hong Kong's dance and pilates enthusiasts. They offer a diverse array of Xtend Barre classes tailored for fat burning and muscle sculpting, accommodating various skill levels and preferences. Beyond classes, they also provide a teacher training programme. You can find them at two prime locations in Central and a serene southside outpost in Wong Chuk Hang.
View this post on Instagram
Slip into your dance shoes and step gracefully into this esteemed dance studio chain, cherished for years by both kids and adults in Hong Kong. As a dedicated dance hub rather than a fitness centre, Twinkle has a bit more of an authentic feel to it – the perfect place to fully embrace your inner ballerina dreams. Conveniently, they operate in four key locations: Central, Causeway Bay, Wong Chuk Hang, and Kowloon Tong.
View this post on Instagram
Helmed by the perennially perky Trixie Velez on Wellington Street in Central, Defin8's classes are a revered favourite among Hongkongers. A dynamic fusion of fitness and basic ballet movements, this class is surprisingly tough, challenging you to move with a tempo using props like a barre ball, straps, and elastic bands, as well as the fixed ballet barre. A scorcher of a class that will might have you cursing under your breath, but you'll be better for it when you start seeing the results!
For those residing or working in Wan Chai, this intimate fitness studio brimming with passion is a must-visit. Born from founder Tina's personal health journey, the studio prioritises posture and functional movement. They offer a diverse range of barre classes, and their signature ANIT workout (an acronym for alignment, neutral posture, isotonic/isometric, and toned) which blends elements of Pilates, Barre, stretching, and functional training into each session.
View this post on Instagram
While Kowloon may not boast the extensive fitness variety seen in Central and other parts of HK Island, it now proudly houses a top-tier barre studio. The brainchild of a former ballet dancer teamed with a seasoned yoga instructor, this studio offers meticulously crafted barre sessions. Ranging from beginner-friendly introductions to specialised courses like the charmingly named "Peachy" – focusing on toning the lower body and glutes – there's a workout tailored for everyone.
View this post on Instagram
While TOPFIT initially exudes the aura of a strongman or CrossFit space, it pleasantly surprises with its comprehensive barre programme. Beyond its gym bro exterior, this boutique gym on Lyndhurst Terrace in Central has diversified, offering an array of barre fitness classes – from cardio-driven sessions to targeted muscle workouts, including the Ring Fit barre. As a delightful plus, their in-house healthy cafe is a treat: refuel post-workout with a customisable oatmeal or a Buddha bowl to really get your day started right.
View this post on Instagram
Another long-time fixture in Central is WeBarre, run by barre enthusiasts for over a decade. The studio is a dedicated hub of barre and barre-inspired workouts, including a HIIT class and a Mums & Bubs class where moms can strap on their tiny dancer and groove along at a safe, suitable rhythm.
Read more on Liv: The Best Day Spa Retreats in Hong Kong