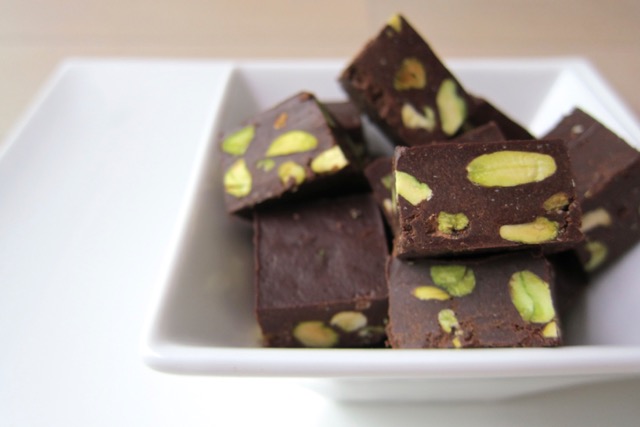 Makes around 36 fudge squares
Ingredients:
2 cups (210g) raw cacao powder (sifted)
1 ( melted) cup (222g) raw cacao butter (2 cups shaved, then melted bain marie style, under 45C)
1 cup (164g) raw unsalted pistachios
1/2 cup (135g) raw almond butter
3/4 cup (215g) maple syrup
2 tsps (8g) vanilla extract
2 tsps (8g) ground cinnamon
1/2 tsp (3g) pink Himalayan crystal salt
1/8 tsp cayenne pepper (optional)
Directions:
In a large bowl whisk together all ingredients except cacao powder until well combined and smooth.
Add the sifted cacao powder and pistachios to the bowl and whisk until all ingredients are well combined. Use your hands to work the dough. You should have the consistency of a thick fudge dough.
Prepare a 9-inch square pan with removable bottom lined with parchment paper, or 2 sheets of overlapping plastic wrap. Press fudge dough firmly into the pan and place into the freezer for 30 min-1 hour to set.
Remove fudge from the freezer.  Lift out of pan and transfer to a cutting board.  Slice fudge vertically then horizontally into square pieces, or into desired shape.
Storage: The fudge will keep well in the fridge for a month, or in the freezer for a couple of months in an airtight sealed container. Pop a piece out when you feel the need for a chocolate treat!