High in antioxidants, nutrients, flavonoids and vitamins, we're simply wild about wild berries this spring season! Check out these wild berry mini cakes that are vegan, perfectly sweet yet sugar-free, and 100% irresistible. Makes 12 cakes. Recipe by Nordic Foods.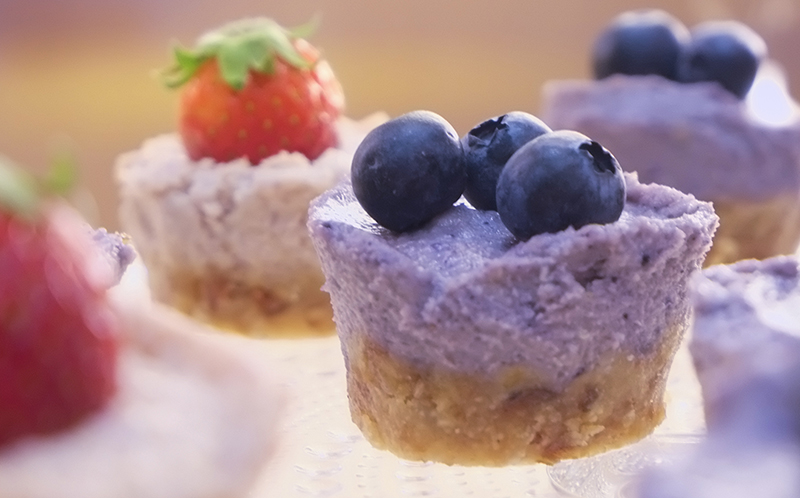 INGREDIENTS
CRUST:
• 1 cup pitted dates
• 1 cup cashew nuts
• 2 tbsp coconut oil
FILLING:
• 1 1⁄2 cups of raw cashews (pre-soaked for at least an hour)
• 1 large lemon
• 2 tbsp coconut oil
• 2⁄3 cup full-fat coconut milk
• 1⁄4 cup agave nectar (or honey if not vegan)
• 2 tsp Nordic Wild Foods berry powder (order online at nordicwildfoods.com) or 1⁄2 cup of fresh berries
DIRECTIONS:
1. Add dates and coconut oil to a food processor and blend.
2. Once smooth, add nuts. Blend until a loose dough forms.
3. Lightly grease a 12-cup muffin tin. Press the crust into the muffin tin and freeze.
4. To make filling, add remaining ingredients into the blender and mix until very smooth.
5. Divide the filling evenly among the muffin cups, cover and freeze for 4-6 hours. Once set, remove from the tin and add fresh berries, edible flowers, coconut cream or other extra toppings if you like. Enjoy!