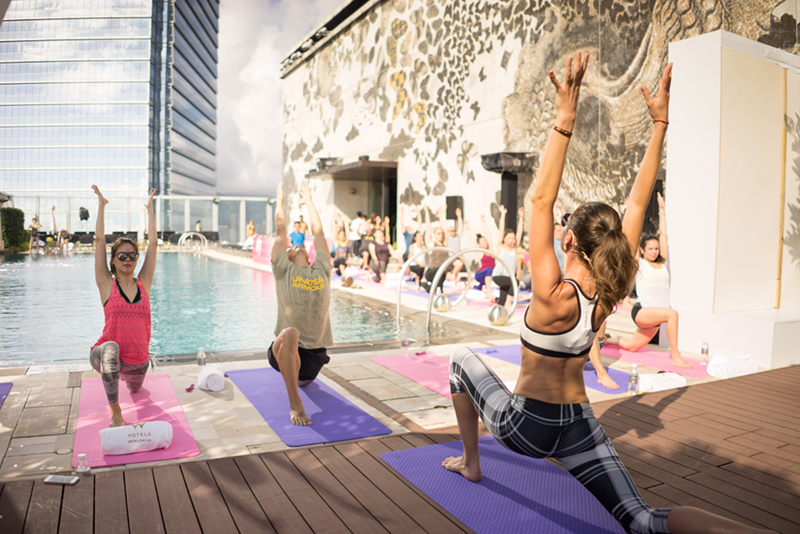 March 4, 11, 18, 25
SWEAT IT OUT at W Hong Kong
Taking your traditional gym workout quite literally to new heights, W Hong Kong is hosting SWEAT IT OUT, a variety of fun, full-body workouts every Saturday at WET, the hotel's 76th floor pool deck. With a different instructor at every session, ranging from dance and yoga to strength training and HIIT-Pilates (yes, it's a thing), each ticket includes healthy snacks, detox drinks and a goodie bag featuring fitness gear from Calvin Klein Performance. Want to enhance your experience? An extra $650 gets you all-day access to the heated outdoor pool, sauna, steam and Jacuzzi.
$500, 11am-2pm, WET pool deck, 76/F, W Hong Kong. Book at w-hongkong.com/sweatitout.
March 5-19
Community Connect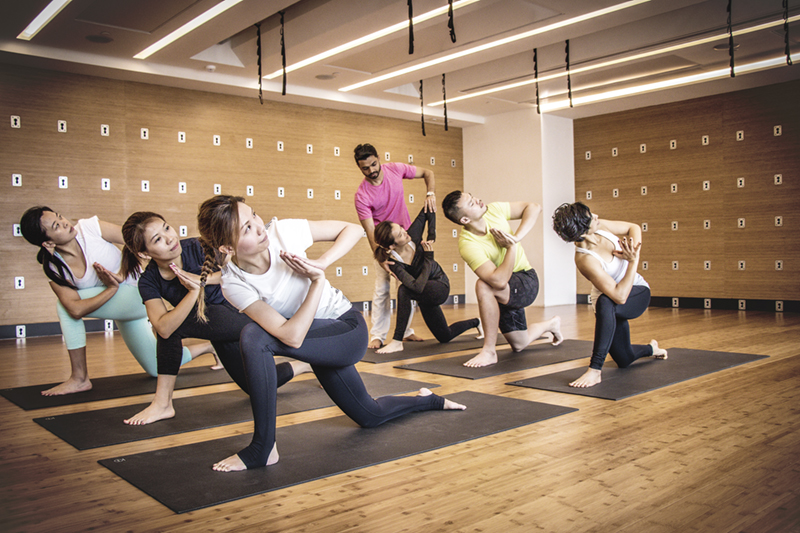 As part of its #YogaForAll campaign to offer wellness to the wider community,Pure Yoga is offering a series of free public classes. The classes from March 5-19 are themed around "Spring Detox" and there's an outdoor class themed "Yoga for Balance" on March 18 at the Peak – no membership required! Visit Pure's community events page for updates throughout the year. Booking by phone at 8129-2200.
10:30-11:30am, The Peak, Mar 18 (booking now open). pure-yoga.com/hongkong/happenings/view/community
March 10-11
Sweat for Success
Women in Sports Empowered HK (WISE HK) and Lean in Hong Kong are hosting a panel discussion to explore how athletic success can help you professionally. Titled "Translating Success on the Athletic Field to Success in Business" the panel will cover mental toughness, defining success and much more. The event is free but there is a suggested $50-$100 donation to Swim Inspired Sai Kung, which teaches swimming to ethnic minority girls and young women.
6:30-9pm, WeWork Wan Chai, 33 Lockhart Rd.,
Wan Chai.  Register at eventbrite.hk. March 10-11
March 10-12
Tend your Garden
The Garden Gathering is the ultimate #squadgoals. Taking place on Sai Yuen Farm on Cheung Chau Island, it's an inclusive three-day overnight camping trip for women of all backgrounds to sleep under stars, share skills, meditate, practice yoga, awaken the spirit and reconnect with Mother Earth in a non-judgmental and inclusive setting. Tickets are $1,800 for the whole weekend and children are welcome to join.
Check out www.thegardengathering.com for more details.
March 10-28 
Art Meets Wellness
Here's one for art lovers: ART HOME: Meditation is a unique secret pop-up exhibition located in a private residence in Aberdeen. Exploring the connection between art and health, you'll see artwork from renowned artists, including Buddhist sculptor Li Chen, contemporary artist Vaan Ip and light artist Teddy Lo. The opening party on March 10 is an immersive experience, with healthy canapes, talks, healing sessions and more.
Opening event: March 10, 7:30-10:30pm. $380 from pelago.events. Thereafter, the exhibition is free
and runs 2-7pm daily until March 11-28, 2-7pm. RSVP essential. Book at 2880-5678 and learn
more at  greenartasia.com.
March 11
The Wellness 360 Fair
This popular healthy lifestyle fair comes to the Repulse Bay, with health-conscious vendors all showcasing their wares.
109 Repulse Bay Rd., Repulse Bay, wellness360hk.com.
March 14-17
Sweet Sorrow
A charity photo exhibition of works by Wing Shya, with proceeds going to the Hong Kong Adventist Hospital Foundation.
March 14 opening event: $800. 6-8pm, Loft 22, 22/F California Building,
30-36 D'Aguilar St., Central.
Free on March 15-17.www.hkahf.org.hk.
March 18-19
Shi Fu Miz Southside Project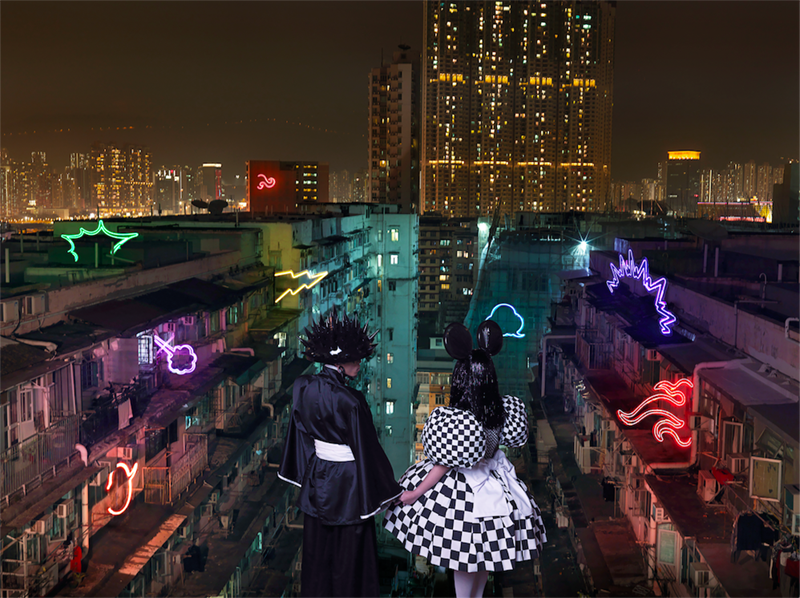 Shi Fu Miz creative arts and culture festival is doing a mini event with Ovolo Southside, with an underground warehouse second location for the after party.
$400, 4pm-2am, Ovolo Southside, 64 Wong Chuk Hang Rd., Wong Chuk Hang. Check out more at www.facebook.com/shifumiz.