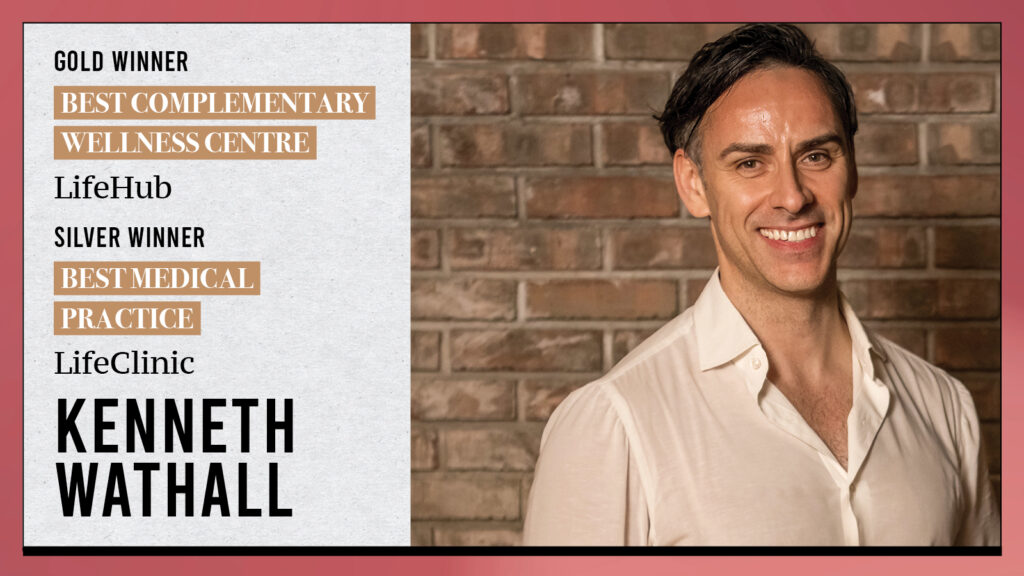 Medical practice LifeClinic, and its affiliated complementary wellness practice, LifeHub, both came out top in this year's Wellness & Lifestyle Awards. We speak to group CEO Kenneth Wathall to learn more about how these two spaces complement each other, and how they help their clients achieve a deeper sense of wellbeing.
What's the difference between LifeClinic and LifeHub? 
This really depends on your needs. LifeHub was designed to support essentially healthy people who want to improve their health, or "biohackers" who want to get deeper insights into how their body works. Customers walk in and, with the guidance of our wellness coordinators, select their own treatments, which include functional medicine tests, IV wellness therapies or supplements. Our supplements are almost all pharmaceutical-grade, which means they are made to the same purity and standards as pharmaceutical drugs. Most supplements found over the counter are "food grade" and as such often contain lots of additives, fillers and non-active substances.
On the other hand, LifeClinic is where you would go if you have a more complicated or chronic health issue. These individuals often need focused attention and require a more in-depth consultation with a member of our functional medicine-trained team. Often, the patient's health condition is due to several factors coming together, sometimes nutritional, environmental, or stress-related, and they find it impossible to tease them apart through trial and error. Our medical team has many decades experience in this area, and can help them find a path out of their current health situation and toward a much brighter future.
What are your main focuses as we come out of the pandemic?
We continue to focus on what we are best at. For LifeHub, we are popular for our IV therapies. Overworked, overstressed patients in Hong Kong tell us that our proprietary IV boosters are absolute life-savers! As nutrient-based IVs get more popular in Hong Kong, we are proud to have been one of the first facilities to offer these, in a professional and safe manner.
For LifeClinic, our focus will be on Functional Medicine. One of the differences between LifeClinic and other health groups is that we look much deeper to unmask the underlying root causes of any health issue. We work with advanced functional medicine laboratories from all around the world, which are experts in detecting imbalances in one's nutrition, hormones, toxins and metabolism. Identifying and addressing these imbalances allow us to help patients find a way out of their chronic ill-health cycle.
One of the reasons that I joined this organisation is because I have personally benefited from the services and medical guidance. I tested my biological age and NAD levels and now have a personalised health plan to optimise these in pursuit of becoming my best self. It is also motivating to see the many benefits such an approach can have on our clients, from children suffering from allergies to adults dealing with everything from fertility issues to burnout.