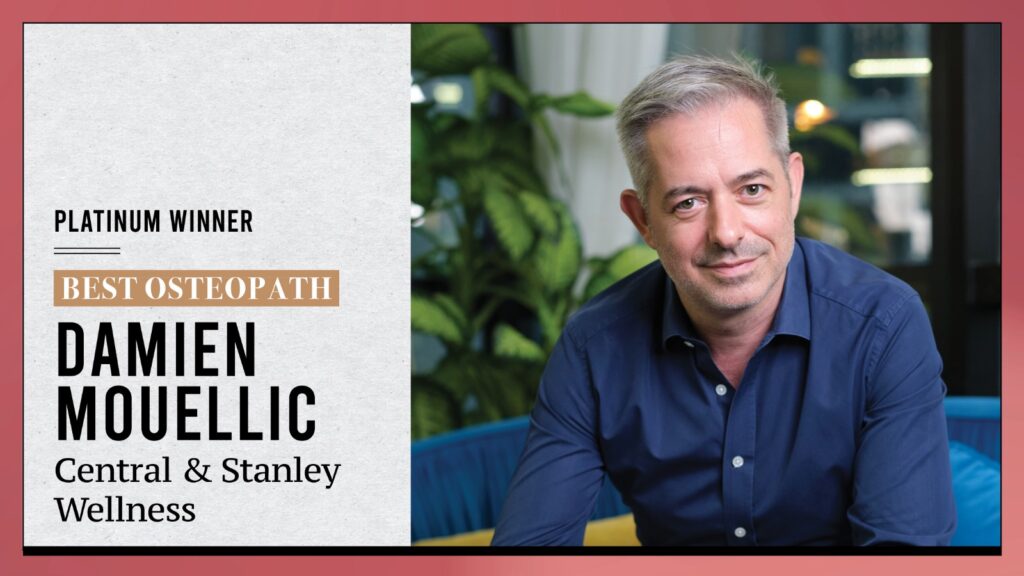 The founder of Central & Stanley Wellness, Damien Mouellic was voted the best osteopath in Hong Kong. He tells us about the scope of his practice and his approach to whole-body wellbeing.
Congratulations on winning best osteopath, what does this award mean to you?
I am certainly very pleased to have won the award for this year, but I am also surprised by how many people turned out to vote! I take it as an uplifting sign that there's still a strong community keeping Hong Kong's wellness scene alive after such a difficult time.
What ailments do patients come and see you for?
Personally, I treat a broad spectrum of ailments and conditions that range from acute and chronic musculoskeletal disorders to systemic conditions with varied symptoms. I see a lot of patients who have had little success with symptomatic relief and want to address the source of their issue. My role as an osteopath is to assess which symptoms stem from the original condition, and which are due to the patient's compensation to discomfort. Doing so allows me to correlate cause and effects and identify the primary issue.
What kind of injuries and disease does an osteopath treat?
An osteopath generally treats disorders within the musculoskeletal spectrum of health, including sports injuries, back and neck pain, rotator cuff tendinitis, hip and knee pain, arthritis, trapped nerve, headaches and jaw pain.
How have you noticed your patient profile shift over the past two years?
At Central & Stanley Wellness, we have seen families that have been part of the city's wellness community for decades leave the city. However, we have also seen a rise in the number of younger individuals who want to focus on their health and lifestyle. This shift from primarily caring for whole families who incorporate both osteopathy and allied health practices to a broader range of patients has allowed us to adapt to these seismic changes. After so many difficult months for the wellness industry, I think the solution is to think creatively about how to showcase what we offer through promotions, educational opportunities and trials.
As an osteopath, what is one thing that people can do right now to avoid pain later?
As an osteopath and functional medicine practitioner, I believe the key to good health is reducing systemic inflammation to avoid chronic degenerative conditions and severe illness. An anti-inflammatory diet which is low in carbs and rich in fibre, adequate hydration, and regular exercise are essential factors to maintain joint mobility. It is also important to address health issues at an early stage, as often a chronic joint issue is a result of a past injury that was not addressed properly.
What do you think Central & Stanley Wellness offers that other clinics in Hong Kong don't?
At Central & Stanley Wellness, the practitioners treat the patient as a whole. Both of our locations offer a wide range of services which allow our practitioners to tailor treatments and therapies for a diverse range of patient needs. This holistic approach is appreciated by our patients as they know they will receive comprehensive care when they visit our centres.