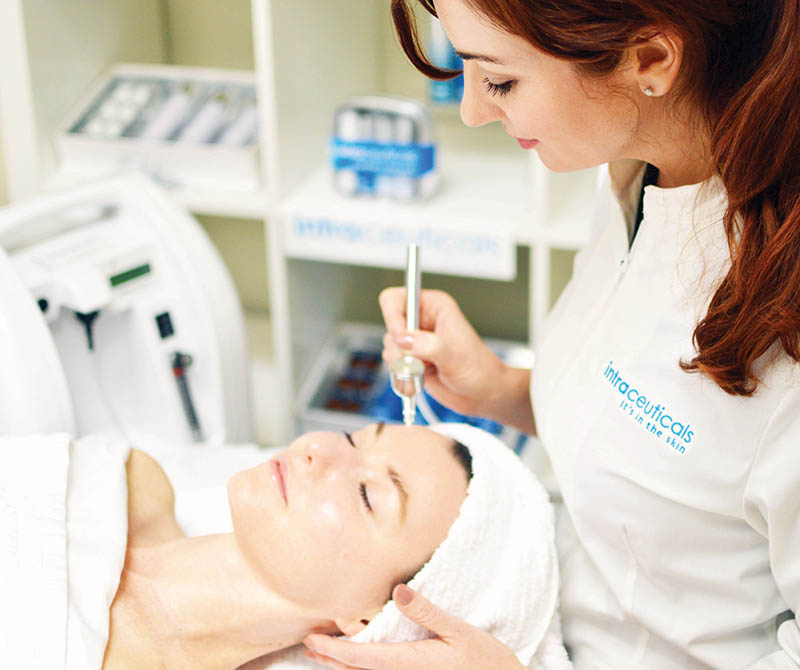 The Buzz: Beloved by A-list celebs for its hydrating and plumping properties, Intraceuticals is a non-invasive yet highly effective skincare brand that delivers a shot of moisture below the skin's surface, thanks to a high-tech machine that helps the product penetrate deeper than most standard facials. The result is glowing, deeply moisturised skin that lasts for a week or more.
The Treatment: We are big fans of Chuan Spa in general for its professional service, spacious treatment rooms and TCM-inspired design – and you can access their health club and rooftop pool before and after your treatment. Instead of scrubbing and extraction, the Red Carpet Facial is all about moisture, lifting and toning. We went for the "Rejuvenate" line, which is made up of hyaluronic acid, vitamins A, C and E, plus green tea and aloe vera. In addition to the machine working its magic to deliver all this goodness, we also enjoyed a lymphatic drainage facial massage to lift and tighten. 
The Verdict: Despite the machinery, it was a very relaxing experience, and compared to other cosmeceutical treatments, our skin wasn't irritated at all. In fact, Intraceuticals is often used in tandem with minor cosmetic procedures such as peels thanks to its soothing effects. As for the results? We hopped on a long-haul flight a few days later and were impressed with our glowing skin post-trip, despite the drying cabin air. 
$1,480 for 75 minutes. 41/F, 555 Shanghai St., Mong Kok, 3552-3510, www.chuanspa.com.hk.