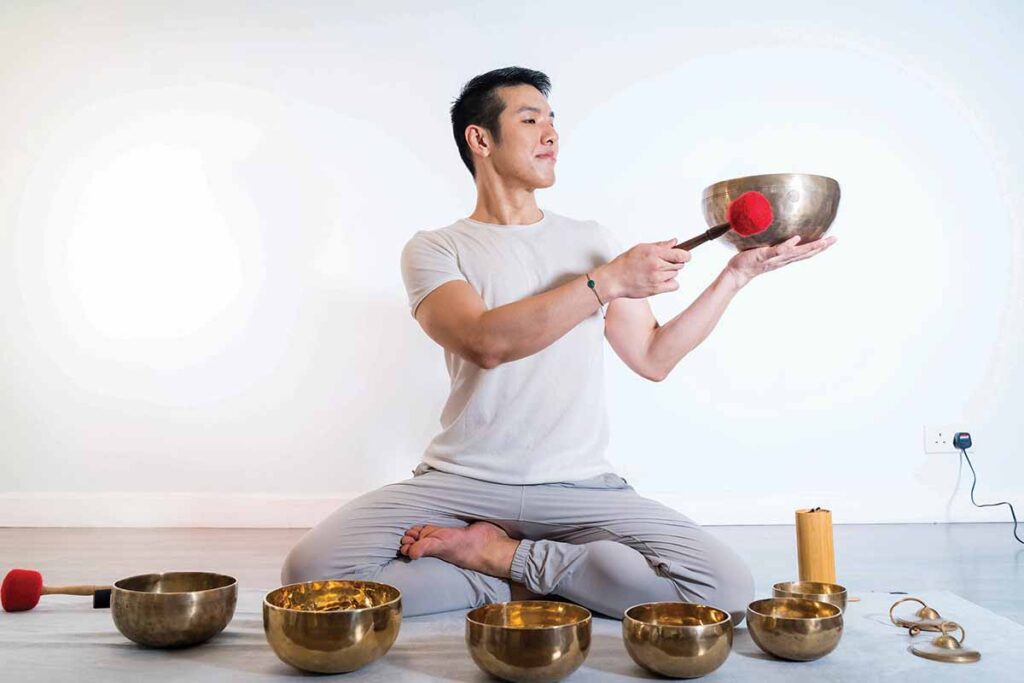 In search of some inner peace, we review a floating soundbath at The Yoga Room in Sheung Wan.
The Buzz
One of the city's most established yoga studios, we trust anything The Yoga Room has to offer. The yoga studio is currently offering a limited series of workshops and events, featuring an exciting lineup of the city's top wellness experts. We were especially interested in the restorative Floating Aromatic Soundbath, which pairs the weightlessness of aerial floating with a deeply grounding gong bath.
The Experience
We arrive to the floating soundbath session on an early Sunday evening. Malbert is there to help us into our aerial hammocks, adjusting the material so it's just right for us. He gives the class some quick instructions on how to mount and dismount, followed by some light seated stretching. Then we recline into our soft, cosy cocoons. A professional sound healer, Malbert begins to play his assortment of crystal bowls, gongs, tuning forks and Tibetan bowls, creating an immersive soundscape that's powerful and nourishing. Paired with the soft, barely perceptible swinging from the hammock, we're quickly lulled into a deeply relaxing state that seems to stretch on for hours.
The Verdict
A match made in heaven! This was the highlight of our weekend – the perfect way to transition into the work week ahead. We loved how Malbert concludes the session with a dash of aromatherapy essential oils, giving us a gentle nudge that brings us back into the present using our senses. A unique restorative experience that we'd be happy to climb into a hammock for again.
Cost: $350
Dates: October 1, November 19; Session 1 3-4:15pm, Session 2 4:45-6pm
Read more Liv Reviews in our Review section here!