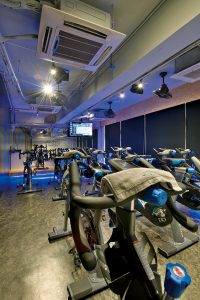 The Buzz: Having recently relocated from The Lanes to Stanley Street, indoor cycling studio TORQ has used the move as an opportunity for an overhaul, with shiny new bikes, double the space and a lineup of classes that offer more than just your standard indoor cycling sessions. As with the old space, each rider's performance is measured and displayed on the wall in real time, so you can see how you're doing compared to your fellow riders, and also track your progress over time.
The Classes: in addition to your regular rides, TORQ also offers Release, Power, Switch and Turbo classes, offering everything from a 30-minute ride followed by a foam roller class, to a ride followed by a high-intensity circuit class. If you're starved for time, there's an intense 30-minute class. Off-bike HIIT and stretch classes are also available.
The Verdict: We love the classic Cycle class, which is 50 minutes of sweat as you're pushed to your limits by the passionate instructors. Using the performance trackers, the instructors set little challenges throughout the class (such as the furthest distance) that help maintain your focus and fuel a little healthy competition.
The Cost: Prices start at $280 for a drop-in, with various packages available. For instance, a three-month unlimited package is $6,900.
Location: 3/F, Abdoolally House, 20 Stanley St., Central, 2677-8623, www.torqcycle.com.