Breakfast at Grassroots Pantry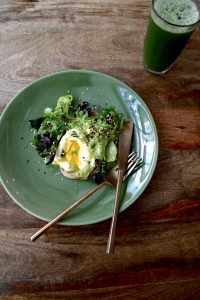 The Buzz: Did you know that Grassroots Pantry, Hong Kong's only vegetarian fine dine, also does breakfast? Having not been to the restaurant since its Sai Ying Pun days, we were eager to check it out.
The Food : Grassroots Pantry's menu reads like a vegetarian version of a hotel breakfast menu, with Asian dishes such as miso ramen, and baked eggs and mushoom "steak" served with dhal and Indian spices sitting alongside Western breakfasts such as crepes, pancakes, porridge and parfaits. As non-vegetarians we were apprehensive. How could cashew hollandaise taste as good as the real thing? And honestly, could a vegan, gluten-free, Buddhist-friendly French toast really hit the spot?
The Experience: We are so glad we gave this breakfast a go. We shared everything, ordering every variety of scrambled eggs on offer: sauteed spinach and mushroom, zucchini carrot slaw, cilantro, and pickled kohlrabi (a cabbage-like vegetable). Each serving comes with toast and browned cashew butter, and if you're vegan, you can order tofu scramble instead of eggs. We also tried the carrot and walnut French toast, and the poached eggs with avocado. Everything was absolutely delicious. We ran out of room for dessert but the matcha chia seed pancake with raspberry compote our neighbour was having looked amazing.
The Cost: Mains are $85-$145. The breakfast menu is available from 9-11am on weekdays, and brunch is served until 4pm on weekends.
108 Hollywood Rd., Sheung Wan, 2873-3353, grassrootspantry.com.