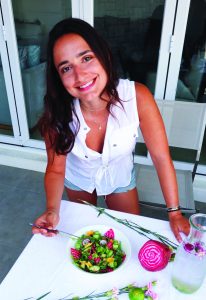 A health and nutrition coach who took charge of her own wellbeing after suffering from digestive issues, Leeron Zion's company, HolisticLee Healthy, consults clients suffering from bloating, IBS and anxiety by addressing the mind-gut connection.
When were you at your least healthy, and what did you do to change it?
The line between my healthiest and unhealthiest was very a very fine one. When I was studying at university abroad, I was entirely gluten-, dairy-, sugar-, soy-, and alcohol-free. I exercised with a personal trainer for an hour every day and always squeezed in an extra run. I was at the prime of my health… or so I thought. Seemingly overnight, I could no longer digest anything. I was crippled with unbearable abdominal pain, bloating, and discomfort. I had bad acid reflux, terrible anxiety and regular panic attacks. Despite countless doctor visits, my condition persisted without any improvement.
What led you to begin a career as a holistic nutritionist?
I decided to take matters into my own hands. I completed my certification in holistic health & wellness coaching with an additional specialisation course in gut health & stress management. Once I began to apply the principles that I learned in my course, my health bounced back rapidly. More recently, I decided to further my education with a post-graduate degree in human nutrition from Deakin University.
What's the most common problem that your clients come to you for advice on?
Today, as the universe would have it, a majority of my clients and students (who attend my healthy cooking courses) have concerns over tummy aches, bloating, acid reflux and IBS, as well as, anxiety, stress and burnout. Many of these clients don't know that such symptoms not only come hand-in-hand, but also have a bi-directional impact.
In my practice, I provide empowering knowledge as well as actionable steps with regards to diet and stress management that give the client physical, mental and emotional relief.