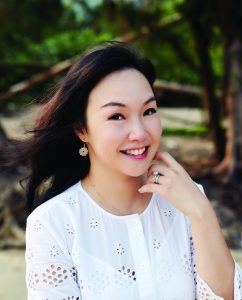 A jeweller and chakra reader, Flora Chan founded Flo Jewellery, a jewellery brand inspired by mindfulness, chakras and sacred geometry.
What is your mission with Flo Jewellery?
My mission is three-fold: First, to inspire people to appreciate life and realise their infinite potential, to seek positive transformation within, and to manifest their dream life. Second, to empower the community with good energy. Flo Jewellery is functional; the symbolic design is meant to positively influence people's actions, thoughts and emotions. And third, to enlighten, by opening up people's hearts and minds to live a happier life and become a better version of themselves.
What is your favourite piece in your collection, and why?
My all-time favourite is definitely the Chakra Necklace collection. It allows me to be more conscious of my emotional and physical well-being and reminds me to believe in myself, embrace my femininity and stay grounded when I'm juggling different roles in my life.
What are some new things you're working on?
I'm excited to announce that we are launching our studio, The FLO, in May to offer a variety of workshops to raise consciousness about wellness. I also hope to build a community by providing more value-added consultation services to help individuals navigate life changes.