With her shoulder-length hair starting to feel like a drag, Sarah Fung waxes lyrical about the benefits of a short hairstyle for the summer.
It's sweltering hot. The humidity's at 1,000 percent, and I am sick and tired of my shoulder-length hair. Not only does it cling to my face, it frizzes up the second I step out of the aircon. Most days, I carefully dry and style my locks, only to tie it all up in frustration 10 minutes later.
My long hair isn't just annoying. After 10 years of wearing it shoulder-length, it's starting to look unhealthy, too. After having my second child, hormonal changes led to my hair falling out in handfuls for months, and it never quite regained its former thickness. Constant ponytails have taken their toll, leading to thinning and breakages. I have masses of flyaway baby hairs; my scalp is becoming increasingly visible, and my locks look limp, flat and lifeless. I swim several times a week in the pool and in the sea, and my poor hair is stressed out by the constant maintenance. And then one day it dawns on me: It's time to go for the chop.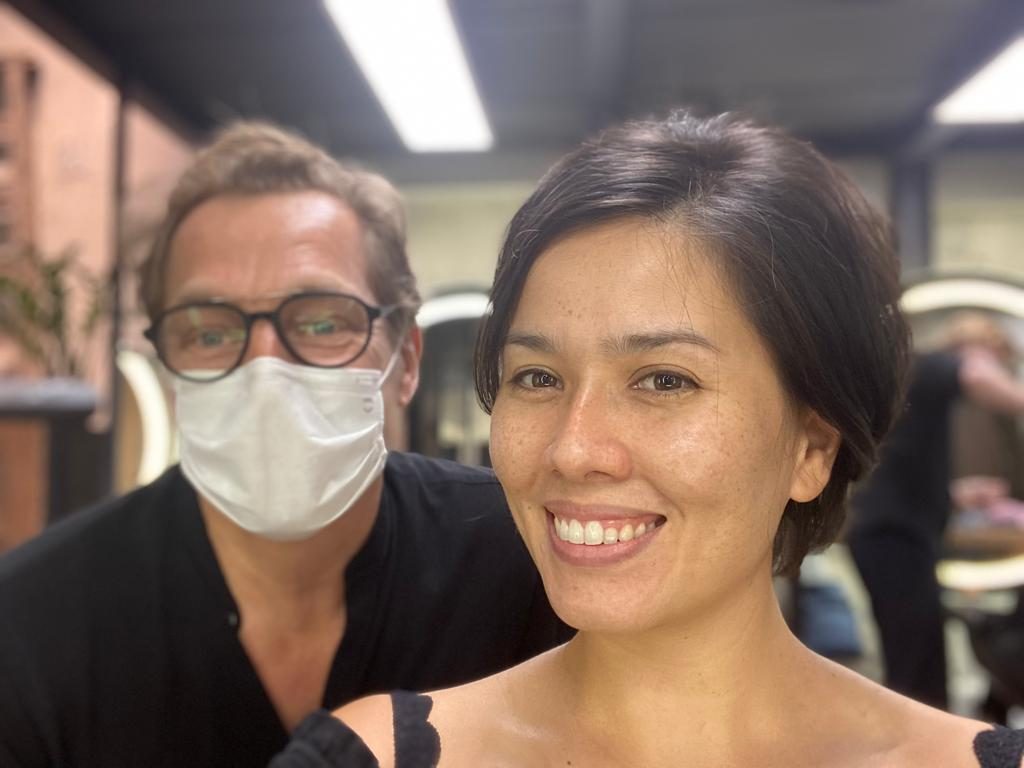 Dramatic hair changes call for expert stylists, so I reached out to Emmanuel Faipoux, owner and creative director of Emmanuel F, an organic hair salon in Sheung Wan. Emmanuel and I first talked about my reasons for going for a the chop and went through some references, before landing on a textured pixie cut.
"Summer is a great time for a new, short hairstyle," Emmanuel says as he snips away. "Especially if you've had a major life change; cutting your hair can symbolise a fresh start."
However, Emmanuel notes that a short crop isn't for everyone. "Not everyone will suit very short hair, and a good hairdresser will advise on the right length and style for the client's face and personal style, rather than simply following the customer's reference."
So if you're the kind to get majorly stressed by a styling fail, make sure you find a stylist you trust the first time you go for a dramatically different 'do.
My main reservation with short hair was accidentally ending up with the dreaded "Karen" – that infamous, aggressively-angled short hairstyle that broadcasts to everyone in customer service that at some point, you're going to want to speak to the manager. I ask Emmanuel about the phenomenon and he laughs.
"We have an equivalent in French too," he says. "You need to make sure that the style you choose isn't dated. Make sure that your hair has movement, that you can run your fingers through your hair, rough it up and play with it. That way, it's still feminine and stylish without being stiff."
After a little over an hour in the chair, my new look is ready. It's textured, a little scruffy in the chicest possible way, and extremely freeing. A little bit of styling pomade, applied sparingly through the back and ends of the hair, helps to define the texture and maintain volume without looking stiff or "crispy."
"The more you play with it, the better it will look," advises Emmanuel. I can't help but agree, running my fingers through my new crop. I feel light. My scalp is no longer pulled by the weight of a ponytail, and the relentless humidity actually improves my hairstyle. Win!
Emmanuel advises that although shorter hair requires less day-to-day maintenance, ultimately more salon trips will be required to maintain the style. With long hair, it's fine to go a few months without a trim, but after around six weeks, you'll need to cut shorter styles back into shape again. It's a trade-off I'm more than happy to make.