South Stream Seafoods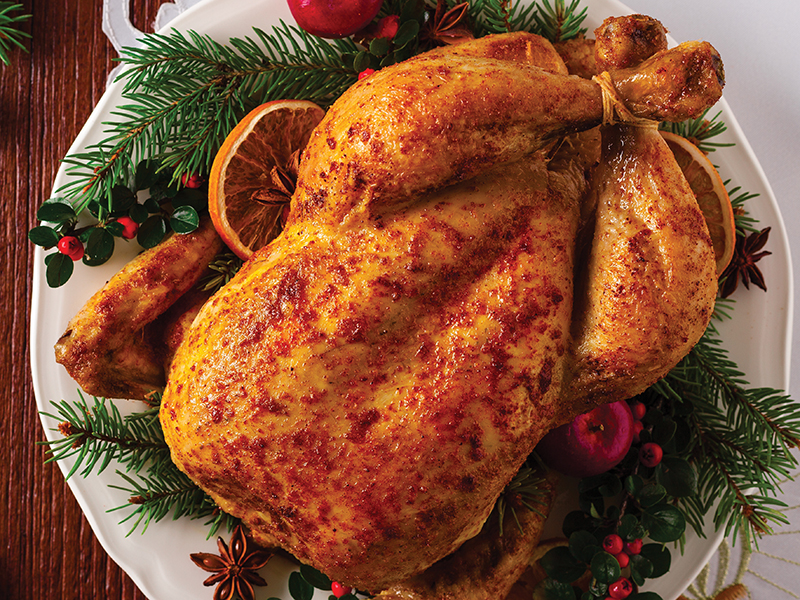 Don't let the name fool you: South Stream Seafoods does a whole lot more than fish. Its free-range organic prairie turkeys hail from the US and are reared on organic feed, with the freedom to roam. Free from antibiotics, hormones and pesticides, you can be assured of a healthy and delicious bird. Also be sure to check out their selection of pre-prepared gluten-free chocolate cake, apple tartlet and paleo bread for a celiac-friendly festive dessert spread.
www.south-stream-seafoods.com.
Blue Meat Specialists
If you're looking for a turkey that packs a nutritional punch, Blue is serving a free-range Hunter Valley turkey, which has been fed with organic sorghum grain grown on the Hunter Valley's fertile red soil. The result is a healthy turkey packed with nutrients and flavour. It comes served with American-style biscuits with whipped butter, a rustic winter kale salad, roasted garlic mash, and fried Brussels sprouts with honey and chilli, as well as a homemade sage stuffing. The meal is $2,500 and will feed a table full of hungry diners.
178 Degrees
Feeling like you've had your fill of turkey? 178 Degrees offers a diverse selection of meat and fish exclusively from New Zealand that will be sure to leave you satisfied. This Christmas, look out for their top-quality lamb rack and shoulders, smoked salmon and 100 percent grass-fed Wagyu beef and have it shipped straight to your doorstep.
Grows Fresh
If you're all about traceability, Grows Fresh sources its Australian certified organic turkeys from Enviroganic Farm in Australia. An organic farm since 1999, the birds are grazed together with sheep and lambs on a rotational system to ensure soil and pasture health. Fed on a healthy diet of cereals and legumes, the birds are free from hormones, antibiotics and GMOs. Don't need a whole bird? Breast, wings, mince, burgers and more are all available. 
citysupe
Looking for a turkey that'll really turn heads? This year, citysuper is bringing in organic turkeys from Daylesford, an award-winning family-run farm in Gloucestershire that's the darling of London's foodie and wellness scene. Known for its quality produce and ethical rearing techniques, it has farm shops in chic addresses such as Notting Hill, Marylebone and Pimlico. Buy chilled or cooked as part of the "Best of citysuper" catering platter ($7,988 for 8-10 diners).
Aussie Meat
New meat deliver company, Aussie Meat, is bringing in a limited order of free-range self-basting Steggles turkeys from Down Under. Raised in large barns and free from hormones, be sure to place your order early. A roughly three-kilo bird is $470.