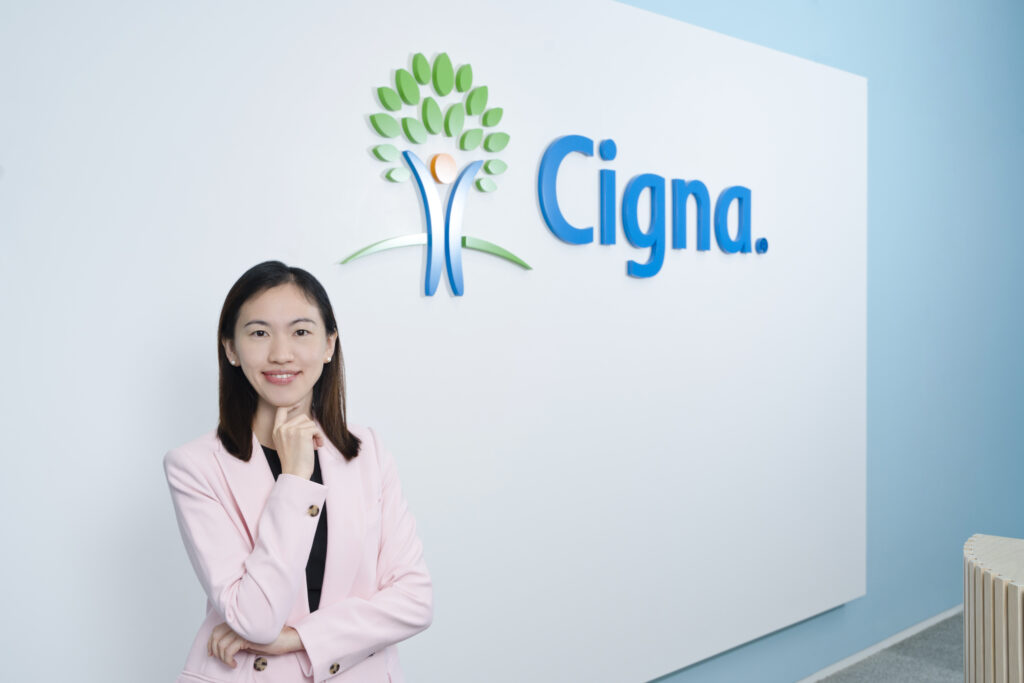 The Chief People Officer at Cigna Hong Kong, Kristy's mission is to improve the collective wellbeing of Cigna's staff and clients alike. Spearheading a people-driven approach, Kristy is in charge of implementing people-driven policies that redefine what it means to be a caring employer.
What exactly does a Chief People Officer do?
Our People department in Cigna Hong Kong is somewhat similar to the Human Resources department in other companies. The difference is that our team's mission is to make an impact and empower people inside and out of Cigna Hong Kong through our work by creating a balanced and healthy work environment. An important part of my role is to lead the full spectrum of employee development, from talent acquisition, compensation and wellness to talent development, staff engagement and employee relations. We want to make sure that we are setting a benchmark across all industries for our people-centric approach.
Why do you think such a role is important in a corporation like Cigna?
Cigna is a Fortune 500 global health services company dedicated to improving the health, wellbeing and peace of mind of those we serve. Our employees are a core part of this. It is very important to have a specific role that ensures our employees' health and wellbeing, and set a gold standard for our partners and customers across industries.
The past two years have been challenging. COVID-19 not only kept us physically apart from each other, it also directly and indirectly impacted our employees' health and wellbeing. Wellness-focused HR is more important than ever, which is why we introduced a series of new policies to protect our employees' mind, body and spirit. Some examples include:
Upgrading employee medical benefits to match what we provide for our customers, including coverage of COVID-19 treatment costs for hospitalisation, as well as prioritization and simplification of claim procedures.
Making our pioneering Cigna Telehealth Service available to employees. This enabled them to access virtual consultations, with medication delivery charges waived. This service includes Hong Kong's first ever At Home Cancer and Chronic Diseases Care Program.
Organising regular health workshops to help employees to ease their various physical and mental concerns, These workshops were conducted by our in-house nurses and doctors.
Providing vaccine information sessions to keep our employees informed,
Conducting webinars and online cognitive behavioural therapy programs with various stress management solutions.
Offering 10 days' additional time off for COVID-19-related absences, from getting vaccinated and recovering from side-effects to handling family obligations.
Offering two hours of wellbeing time-off each month and, introducing "No-meeting Friday Afternoons" so our employees can wind down and get ready for the weekend.
Offering onsite and virtual fitness classes that employees and their families join.
Since 2021, we have also adopted the hybrid flexible working arrangement so that all employees can adopt a work pattern that best suits their needs. During the emergence of the 5th wave of COVID-19 in January 2022, we encouraged staff to fully work from home and we further delivered rapid antigen testing kits to each employee to their home, providing them with peace of mind.
How did you get into this role?
Employees are the foundation of every successful business, and it inspires me when I can help to facilitate mutual growth – both for the organisation and for the people that make up the business. I've had the privilege of driving people strategies across local, regional and global levels. My background is in management, psychology and sociology, but I truly believe that my passion for engaging with people is what helps me to excel at work.
What do you love most about your job?
I love that I work with a team of mission-driven leaders and colleagues who are committed to making a difference. I am on a mission to bring out the best out of everyone at Cigna Hong Kong! I am a people person and it is great to have a job where I can channel my energy and time to create a supportive and enabling work culture and environment. 
What's your career philosophy?
Be purpose and value-driven, do the right thing, listen first and dare to challenge the status quo to make a real impact. Stay curious, stay motivated and be bold to go the extra mile to raise your standards in pursuit of the idea.