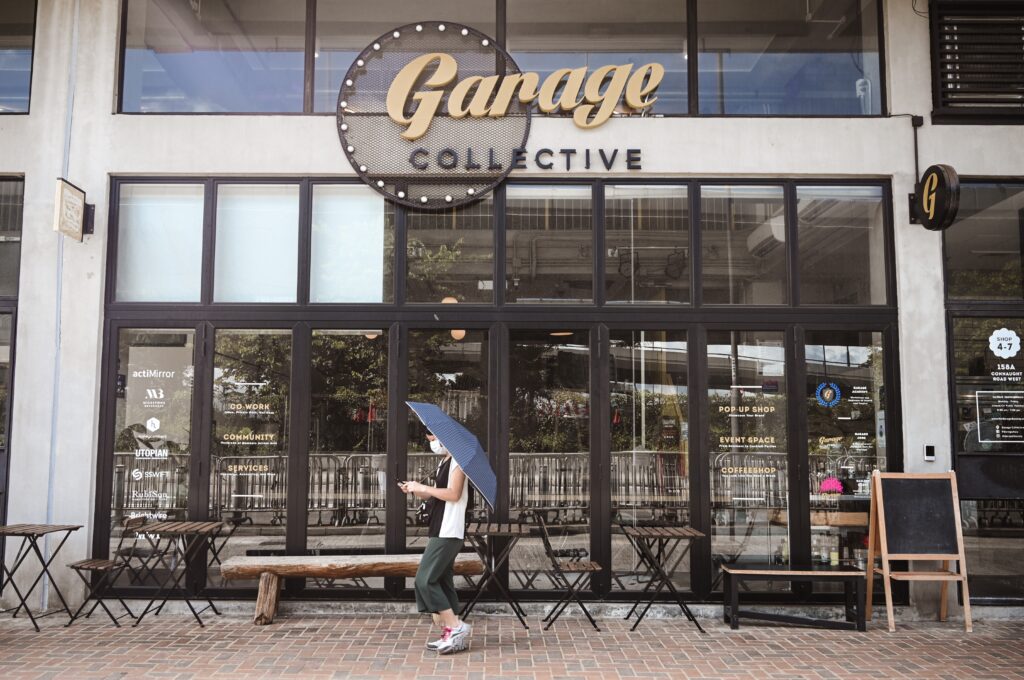 Your guide to the best healthy restaurants in Sai Ying Pun! Everything from healthy brunch and lunch options, plant-based treats, gluten-free dishes and vegan diners can be found in this trendy little enclave of Hong Kong – so hit these hilly streets and get exploring for your next meal!
CATCH
Once a firm favourite of Kennedy Town foodies, this Australian restaurant and cafe has moved to its new home in Sai Ying Pun. Breakfast is always a standout here, but we also love some of the health-conscious lunch options, like a curly kale salad with pearl couscous and tahini goddess dressing, and a gluten-free, vegetarian charred corn risotto.
GF Island Crest, Shop 9-10, Second St., Sai Ying Pun, 2818-2355, catch.hk/
TMs by The Den
This colourful Peruvian fusion restaurant on Sai Ying Pun High Street does a small but consistently good selection of salads, like a grilled avocado salad with corn salsa or sliced wagyu beef tataki salad with chimichurri.
23 High St., Sai Ying Pun, 2872-6288, tmeats.com/restaurants/tmshk
Infiniti C
Offering vegan, gluten-free and keto-friendly options, this healthy cafe is perfect for anyone with special diet restrictions. They also have two other locations in Central and TST.
Shop A, G/F, Kings Hill, 38 Western St., Sai Ying Pun, 2468-2848, infinitic.hk.
Ollies
Another reliable SYP lunch and dinner spot, this Castelo Concepts cafe and restaurant covers all the bases, with tons of hearty salads loaded with healthy ingredients. Also a decent spot for a health-conscious breakfast and freshly pressed juice.
Shop 3, G/F, Hang Sing Mansion, 54 & 56 High St., Sai Ying Pun, 2803-0163, casteloconcepts.com/our-venues/ollies
Fineprint
More than just gourmet coffee (and TBF, the coffee here is absolutely bomb), this hip cafe also does health-conscious snacks and mains. Highly recommend the Nude Bowl, a mish-mash of avocado, cherry tomatoes, boiled egg, salmon and mixed greens. Two other locations in Central and Tai Hang.
14 Second St., Sai Ying Pun, 9440-4889, fineprint.hk/pages/sai-ying-pun
Turkuaz
Another new addition to the SYP hood, you can't miss this brilliant turquoise Mediterranean eatery on the high street. Dig into one of their hearty salad bowls, like the halloumi or falafel (a great option for vegans) or for something lighter try some of their homemade dips and sides with freshly baked pita bread.
36 High St., Sai Ying Pun, 2520-0400, turkuazhongkong.com
NOC Roastery
The flagship location of this popular Hong Kong cafe chain is also a roastery and serves up an all-day healthy brunch and lunch menu. A trusty favourite of ours is the Maltose Chicken Bowl, with roast chicken, avocado, pumpkin, cherry tomato and cauliflower, crunchy salad greens and honey mustard dressing.
Shop 4, G/F, Bohemian House, 321 Des Voeux Road West, Sai Ying Pun, noccoffeeco.com/en/
Tuckshop by Social Club
Head in the direction of the harbour to find this popular co-working cafe on Connaught Road West. In better times, they're known for their block parties and events, but they also do an amazing selection of healthy lunch options, like their vegan bowl with deep-fried tofu, mixed mushrooms, greens and sprouts.
Shop 4-7, 158A Connaught Road West, Sai Ying Pun, 9745-4966, facebook.com/tuckshopbysocialclub
Locofama
Organic and proud of it, Locofama has been at the forefront of health-conscious dining in Hong Kong for ages. Due to COVID, this pillar of the Sai Ying Pun healthy restaurant scene is currently only offering takeaway but we're crossing all our fingers and toes that they'll re-open for dine-in soon!
9-13 Fuk Sau Lane, Sai Ying Pun, 2547 7668, locofama.com
SaladStop!
Customers can build the salad of their dreams at this behemoth healthy fast food chain that spans much of Asia. Head to the top of Western Street where you'll find the SYP branch.
Shop E, G/F Kings Hill, 38 Western St., Sai Ying Pun, saladstop.com.hk/
Big Dill
Known for their inventive plant-based spins on comfort food – think burgers, fried chicken, and milkshakes – Big Dill isn't really all that healthy, if we're being honest. BUT if you're looking for a place to indulge, you could do worse than this cruelty-free vegan bar and restaurant that sets the bar for more sustainable F&B practices. If you haven't already visited, be sure to check it out!
123 Third St., Sai Ying Pun, bigdillhk.com
Good Good Grocery
This understated cafe and grocery store proudly lives by their in-house values, including mindful consumption, eating less meat, and wasting less. They do a small and sustainable menu here that is always homemade with fresh seasonal ingredients – think grilled rice ball with preserved plum in tea broth or kimchi soup udon with fried tofu and soft-boiled egg.
G/F, 2A, Second St., Sai Ying Pun, goodgoodgrocery.com
Opendoor Cafe + Courtyard
Replenish your body at this charming and airy eatery, with an amazing smoothie selection. They also have an entire cauliflower "rice" section of the menu (perfect for anyone trying to eat low-carb), as well as salads, sandwiches, and one of Sai Yin Pun's best brunches, in our humble opinion.
120 Connaught Road West, Sai Ying Pun, 3460 3880, opendoorcafe.hk
More healthy dining lists on Liv: Best Healthy Lunch Spots In Sheung Wan, Sai Ying Pun & Kennedy Town