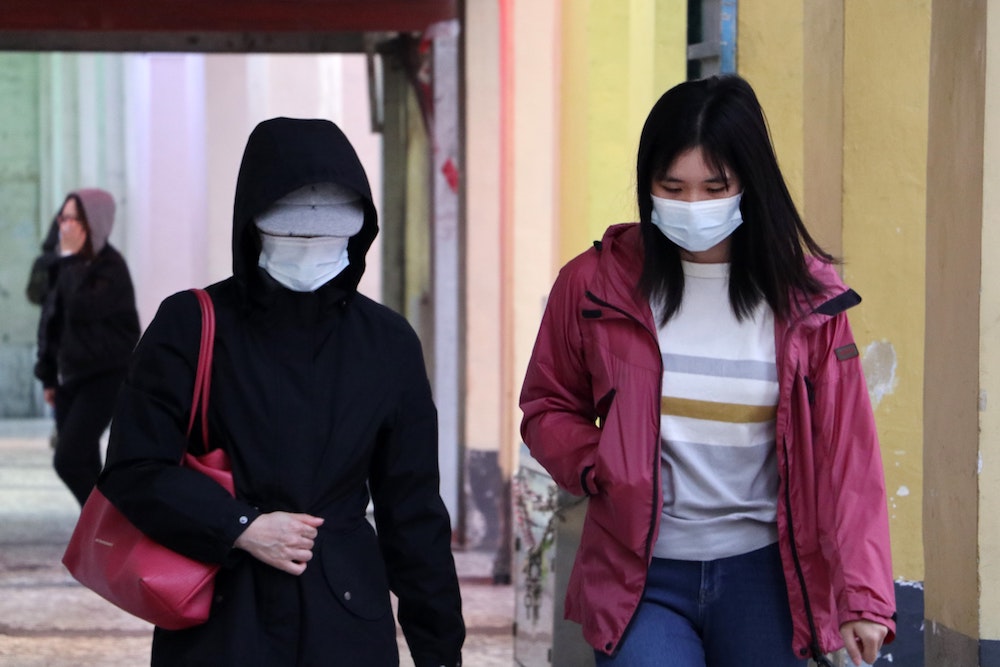 A 28-year-old teacher, Lily was moved to a quarantine centre after her father tested positive for the coronavirus following a business trip to the UK early last month. From a hotel in the New Territories designated for quarantine cases, Lily (whose name has been changed at her request to protect her privacy) describes what life is like living in self-isolation.
What's an average day like in a quarantine camp?
An average day in quarantine begins at 8:15AM. We get a knock on the door letting us know that we've received bottles of water, new bin bags and sets of masks. There is a second knock on the door at 8:30AM where we have to get out of bed, wear our mask and greet two medical workers who check our temperature. We remind them of our names and they cheerfully let us know we don't have a fever.
After this we make ourselves breakfast. We packed a ton of cereal, granola and bagels. We are very fortunate that there's a fridge where we are staying. The rest of the day passes with phone calls, meditation and exercise. Near our room is this small terrace where we've placed our yoga mat and we can sit and enjoy the quiet. When we feel stir crazy, there's a courtyard where you can walk around. We chat to some of the other people in quarantine, sharing stories and tips to get us through the time here. 
Read more: A doctor's perspective on the COVID-19 outbreak
A doctor usually calls us mid-morning to check on us, asking if we're showing any symptoms or if we need anything. We have our final temperature check of the day at 4PM. We have an early dinner, as meal time seems to be the most exciting time of day. Every few days, family and friends send us packed salads and supplies from Marks & Spencer and juices from nood.
What was the process like of being moved to the quarantine centre?
This was quite stressful! When our dad was diagnosed, we were called by staff members from the Health Department asking us about our contact with him, where we'd been, our names, ID card numbers. Dad was diagnosed on a Thursday evening, and we were told to self-isolate until they organised our transfer. We were told we would be moved to a quarantine facility, and they let us know which one in advance. My mom was in Ruttonjee Hospital with my dad, and once her test was negative she was moved Friday evening. Government officials picked us up Saturday morning to give us time to find someone to watch our dogs for two weeks. Thankfully, since my mom arrived first, we were able to see where we were staying and packed accordingly.
We were picked up in a shuttle bus; leaving the building was incredibly stressful, especially with our neighbours staring and panicking around us. We were greeted on the bus by a medical worker in full gear, he checked our temperatures and we were on our way. 
Read more: a mum's perspective on the COVID-19 school closures
How did you feel going into the quarantine centre? Do you feel any differently now that you're almost finished?
Honestly, we were incredibly scared and resistant to being moved into a quarantine centre. Once word in the building spread, however, it was the safest move for us. People were too scared to know we were home, and we were feeling stressed being surrounded by that energy. We felt a total sense of relief when we arrived, especially when we saw how nice it was here. The medical workers are kind and compassionate, they have made us feel safe and welcome in every way. They've given us a WhatsApp number to contact if we need anything and they've allowed us to have food sent in from the outside. There's also a community feeling here – we're all in the same position, there's no judgment. Everyone is supportive and we are grateful that we have been well looked after. We've had our moments of feeling down along the way, but this experience has made us feel really grateful to know how much effort the Hong Kong government has really put into containing the spread of coronavirus.
What has your father's experience with the actual COVID-19 virus been like?
We are grateful that our dad is doing really well. The doctors have experienced and learned painful lessons from SARS and have been proactive. They have him on a treatment protocol and really put all our minds at ease. My dad is asthmatic and was in that high-risk category; because of early testing and the treatment protocol, the virus never spread to his lungs and he only had a mild case.
He's found the experience to be mentally draining, as you are in isolation [during recovery]. Your only contact with medical professionals is when they need to come in – and when they do they're in full gear and the doctor speaks through a telephone. The tests they do to check for the virus are painful; there's one where they insert a thick tube up your nose which goes down to the throat. He said that has been agonising, and it's something they do on him every day.