Chemical-free toiletries don't have to cost a bomb. We've got a roundup of fab brands that offer natural skincare – and they're
easy on the wallet, too!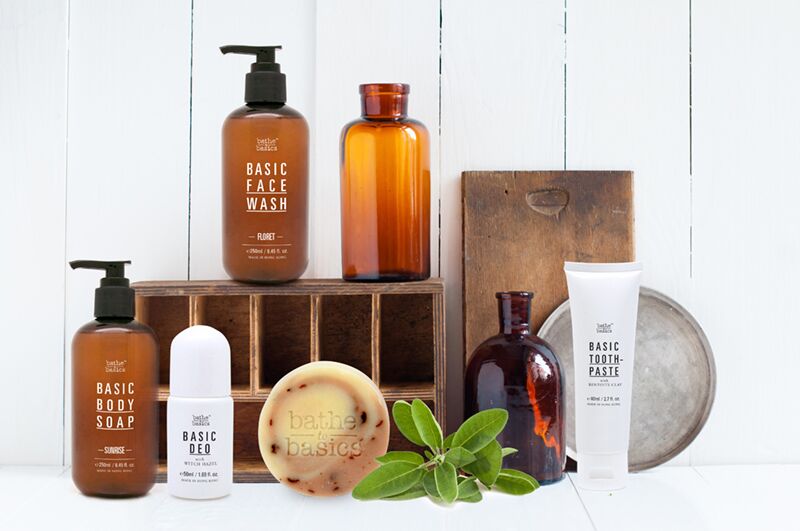 Basic Instinct
If your worry about your carbon footprint,Bathe to Basics' soaps and shampoos are made right here in Hong Kong. Vegan, SLS-free and made using a cold process to ensure the e ectiveness of their natural botanical ingredients, Bathe to Basics products are all good for the planet, and good for your skin too. A liquid body soap is $98, with a 500ml eco-friendly refill pack available for $168. You can also pick up a face cleanser at $138 for 250ml, or a natural deodorant for $88.
S403, Block A, PMQ, 35 Aberdeen St., Central,

Scandi Soaps
One of our favourite organic brands, Urtekram hails from Denmark and combines e ective natural products with cool packaging and a great price point. Its products bear the Cosmos Organic Certification and do not contain parabens, petrochemicals or synthetic preservatives. They're also largely vegetable- based (though their lip balms do contain beeswax) and they're never tested on animals. We love the shampoo and soap lines, which come in formulations such as rosemary for fine hair, brown sugar for dry scalps, and nettle for dandru . $142 for 500ml.
Available from Health Aims outlets citywide
including Shop B12, Lee Tung Avenue, Wan Chai,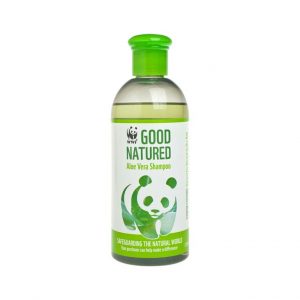 Panda Power
Do your bit for the planet with WWF's "Good Natured" line of shampoo and soaps. Featuring the charity's signature cute panda mascot, these products are accredited by the Vegan Society and the Soil Association, are free of SLS, SLES, pthalates and parabens, and come packaged in fully recyclable bottles. They have been awarded a "Best Buy" award by Ethical Consumer magazine and – of course – are not tested on animals. Even better, they're extremely wallet friendly, with shampoos, conditioners and hand washes all ringing in at just $55 per bottle.
Available in lavender, seaweed, aloe vera and rosemary formulas.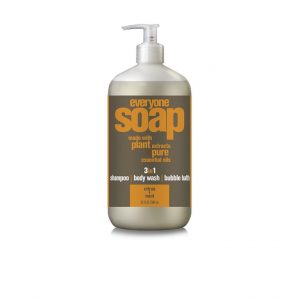 Pump it Up
Got a family to keep clean? Those tiny 200ml shampoos won't last you a week. That's why these massive one-litre three-in-one cleansers by Everyone Soap are a lifesaver. Reasonably priced, gentle and eective, these products are designed to be good for the environment and for your health – they're made with plant extracts, contain no synthetic fragrances and are cruelty-free. They come in a range of yummy scents, including citrus and mint, coconut and lemon, and lavender and aloe, to name just a few. Make sure to check out the lotion and hair care lines if you're looking for products that address a specific need.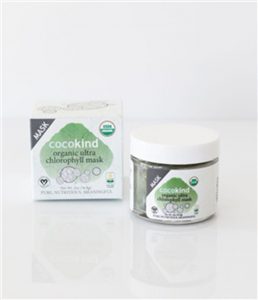 You should Coco
Keep your skincare routine simple with organic skincare line CocoKind . With just five ingredients per product, CocoKind uses superfoods to nourish your skin, and are totally free from chemicals and parabens. Its
ingredients are also sourced ethically, ensuring a fair wage for farmers. Try the hero product, the Ultra Chlorophyll mask ($188), which is made with organic spirulina, wheatgrass and chlorella powder, as well as ylang ylang oil. Or pop a lip balm in your handbag – they're just $40 each!
Available at Spicebox Organics outlets citywide, including 39-45 Hau Wo St., Kennedy Town, 2191-0886, spiceboxorganics.com. Also has stores in Sai Ying Pun and Caine Road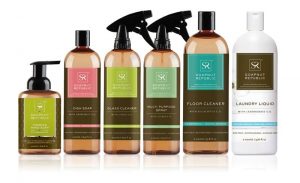 Nuts for Soapnuts
Get clean the natural way with Soapnut Republic, which uses soapnut berries – a natural cleaning agent that have been used for centuries for their cleansing powers – together with  lant- and mineral-based ingredients to create e ective hand and home cleaning products. They're good for the environment, gentle on your home and non-toxic. We love the foaming hand washes in lemongrass, mint or lavender ($78 each), as well as the bundles you can buy online which net you up to 20 percent in savings: try the six-piece Essentials bundle, which includes dish soap, multi-purpose spray, floor cleaner, glass spray, laundry liquid and hand wash, all for $408.