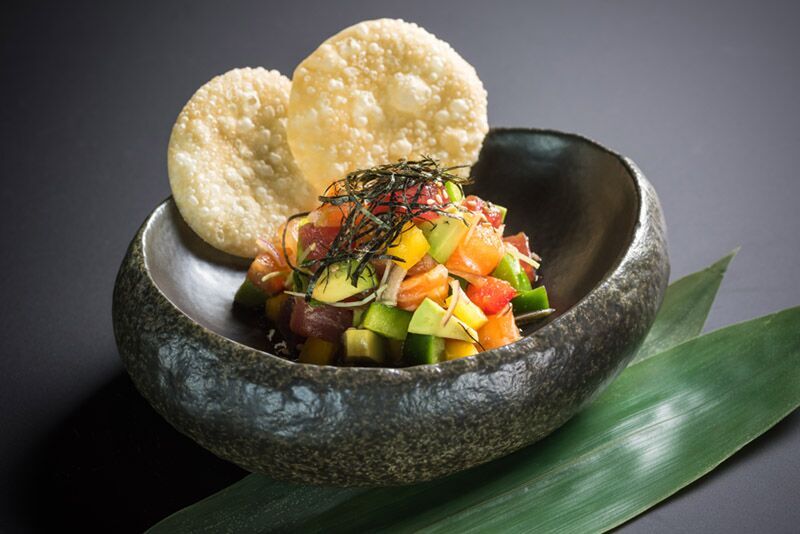 By CÉ LA V
High in protein and deliciously fresh in these muggy summer months, Poké- Hawaiian-style raw fish – is definitely having a moment. Try making your own version at home based on this recipe.
INGREDIENTS:
 -30g ginger
-10g white onion (minced)
-2pc jalapeno
-4g chilli paste
-60ml Kikkoman soy sauce
-60ml Mirin
-10g white sugar
-3ml rice wine vinegar
For the sauce
-24g English or thorny cucumber
-20g red, green and yellow bell pepper
-14g red onion
-6g radish sprouts
-40g sustainably sourced tuna, salmon or whitefish
-36g avocado
-10g nori, julienned
-12 fried gyoza chips
Directions:
For the poke:
1.Cut cucumber in half and de-seed. Cut into small cubes and place into mixing bowl, repeat steps with bell peppers, onion, avocado and fish.
Keep the fish separate until ready to mix with the sauce.
2.Roughly chop the radish sprouts. Combine with the fish and vegetables, and toss until mixed well.
3. Slowly add poké sauce and toss again.
4.Place in serving bowl sprinkle with roasted julienned nori, and serve with gyoza chips.
For the sauce:
1. Mince white onion, jalapeno and ginger, and place in a clean
mixing bowl.
2. Flambé the mirin, add sugar and allow to cool. Then combine the rice wine vinegar, Kikkoman soy, chilli paste, minced onion, jalapeno, ginger and whisk together.
3. Set aside, and stir before using.