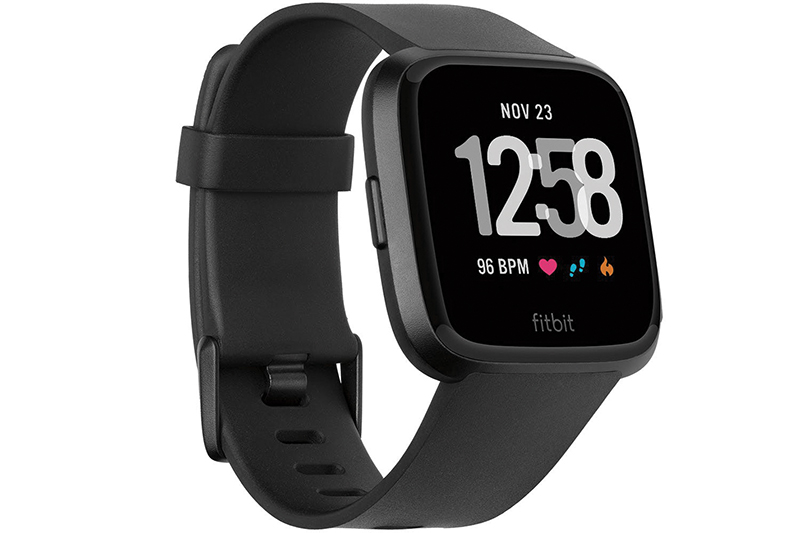 The Buzz: US-based tech company, Fitbit, has been a market leader in wearables since 2007. Originally focused on developing activity tracking devices to help people stay active, Fitbit has expanded its product range to include an affordable health and fitness smartwatch to rival the likes of the Apple iWatch. Since the launch of the Versa, more than 2.4 million users have downloaded Fitbit's female-focused wellness tracking app, making it easier for women to spot patterns in their cycle and overall wellbeing.
The Product: The Versa is the latest wearable device in the Fitbit family and brand's most innovative product to date. In addition to all the features you'd expect from a premium wearable device – step counter, heart-rate monitor and GPS – the smartwatch also helps you stay connected with advanced smart features like phone-free music, secure, wallet-free payments and notifications. The smartwatch is completely waterproof and you control all the functionality through Fitbit's easy-to-use app.
The Verdict: The Versa is much more advanced than Fitbit's original wearable products, and unlike some of the brand's other fitness focused trackers it looks really stylish on your wrist. Setting it up is super easy and Fitbit has done a great job of making the app and watch interface intuitive. We wish they could do something about the battery life. This seems to be an issue with a lot of the smartwatches on the market, but every three of four days we get an email reminding us to charge our watch, making it difficult to wear 24/7, which you need to do if you want real accuracy.
The Cost:  $1,798 for the watch. Accessories range from $238 to $788. www.fitbit.com/versa.