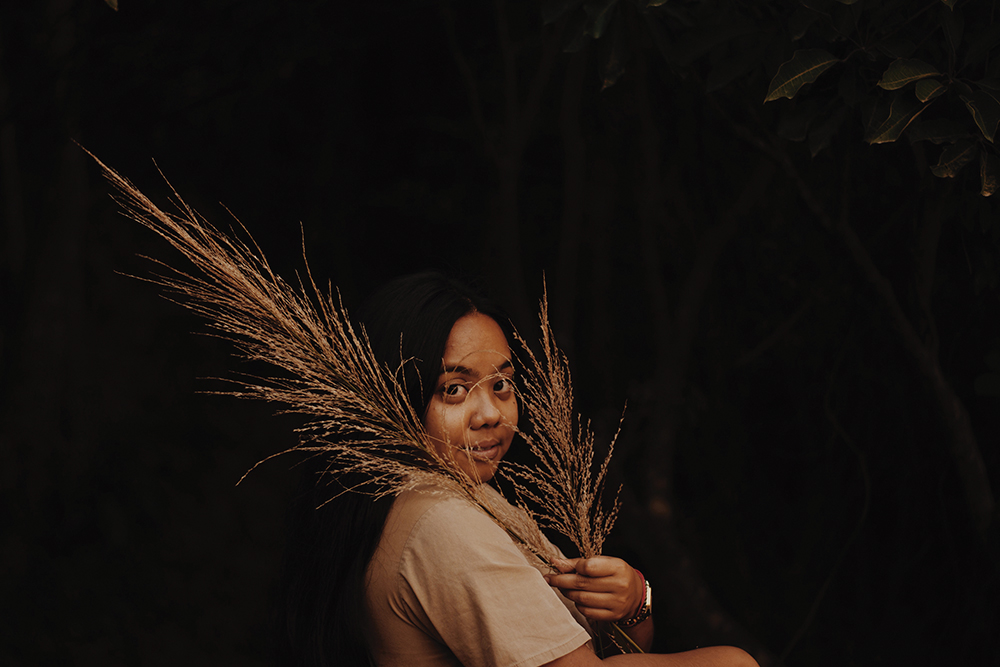 These days, it can be hard to separate screen from reality. Scrolling social media serves up perfectly polished moments, aspirational microcosms of a world so well-manicured and curated it's hard to believe it exists – and that's because it doesn't. Social media is a stage, and all the KOLs merely its players.
But some social media stars in Hong Kong are starting to take a radically honest approach to their public persona, sharing deeply personal stories of inner demons that stand in stark contrast to the glossy veneer of online life. Meet the Hong Kong influencers who are committing to realness, owning their truth to the world and embracing the honest, radically and unapologetically.
James Gannaban: From Drugs To Yoga Guru
For James Gannaban, his former life on social media was all about having a great time. However, his fun-loving exterior was masking a drug and alcohol addition that was spiralling out of control. Following a near-fatal overdose, James spent eight months in a rehab facility in 2015. In 2018, he finally felt ready to share his story in a bare-all social media post. Here he explains in his own words his journey back from the addiction that nearly took his life.
I was forced into change. Following a near-death overdose, I went to rehab for alcohol and drug addiction in 2015. At the facility, we only had our phones for a few hours on Saturdays.
Up until that point, I used social media to project a hyperactive, successful and socially engaged image. The reality was the opposite. My life had imploded. Personal relationships were in the toilet, as was my health. I was lying to my family, friends and colleagues. I was more socially isolated than I had ever been. The guilt and shame were enormous. Inasmuch as I was embarrassed and wanted nothing more at the time [in rehab] than to "manage" what I thought to be my image, I physically couldn't. I had to sit with the discomfort of not being able to control the story. And even if I did – what was I to say about being in rehab that I could be proud of on social media anyway?
My family was financially tapped out by the end of my third month in rehab. I decided to sell my phone to "buy" one more month, which removed me further from social media during the crucial period of early recovery. I ended up staying in rehab over eight months. My entire approach to life changed. Social media became much less important.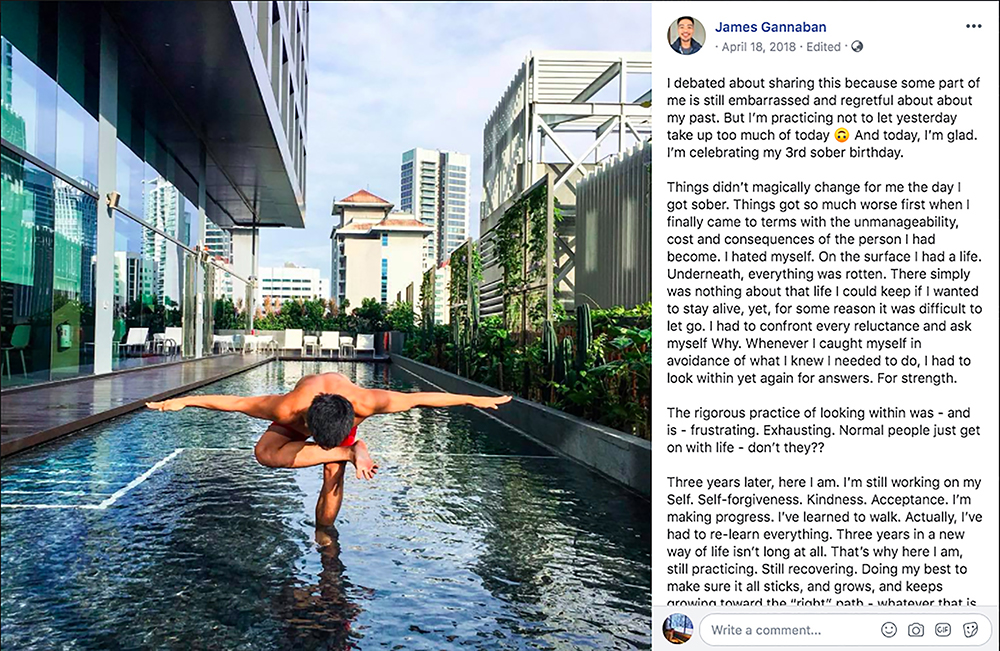 I had previously only hinted that I was "going through stuff." On the third anniversary of the day I got sober, I finally admitted it. It was hard to share about getting sober in the first couple of years because I was scared I'd relapse. I was scared I'd live it all out on social media once again, and the whole cycle of embarrassment, guilt and shame would re-start and prove I hadn't learned anything. By my third year, I finally felt I had enough distance from the near-fatal overdose, that I had banked in enough recovery capital and that it was OK to share.
Cammie Warburton: Body Positivity Through Photography
For photographer Cammie Warburton, documenting the human form through her work helped her to come to terms with her own body image and mental health issues. She also uses honesty and vulnerability in her Instagram posts as a form of therapeutic social connection. She explains why naked expression (sometimes literally) is the best approach for her.
Being a millennial, my first experience of social media was Xanga, a blogging platform similar to Tumblr. Since then I've used almost every mainstream platform, from Bebo to TikTok. As an adolescent, I went through depressive phases seeing other women sporting a size zero, the latest trendy clothes and makeup. It was hard to see, and still is! Because of this, I decided to be 100 percent truthful on my page. To share the emotions I'm experiencing, to show myself untouched and untampered in images. It's a therapy for me, in a way.
What inspired me to change my approach to social media was when I realised how important it was to share vulnerability. It's the uncomfortable stories, the scars and open wounds that allow us to connect on an even deeper level. I experienced a whirlwind of struggles during my time at university: depression, anorexia, my boyfriend suddenly dying and the long road of grieving that came after that. The first time I spoke out about my mental health, I received an overwhelming reaction to that post. The comments, direct messages and conversations were so encouraging, and made me feel less alone in my depression and PTSD. That post is what changed my approach to social media and even my day-to-day approach to mental health.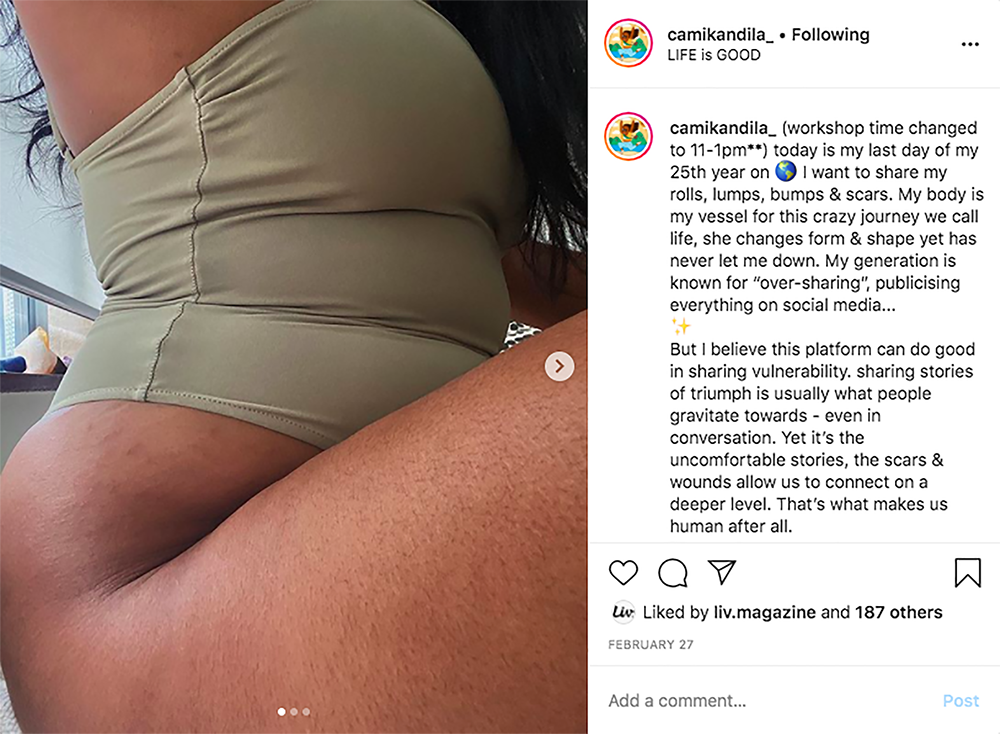 As a portrait and wellness photographer, I'd been craving a deeper meaning through my work. After realising how powerful photography can be for women to connect, accept and love their bodies, I decided to start a workshop for photographing women nude. I posted this to show how fearless women can be with their bodies, how we shouldn't be ashamed of our rolls, stretchmarks and cellulite because EVERYONE has them! We don't need to be re-touching our candid photos for Instagram. I posted this to hopefully strike a chord with people.
Ziggy Makant: Challenging Myths About Motherhood
As a personal trainer and mum of two, Ziggy Makant rejected the impossible standards society holds for women's bodies post-birth. On her Instagram account, she shares her own postpartum challenges in a way that's raw, real, and speaks to new mums on a deep level.
Recently, I had my second child and I never questioned that I could love a new baby as much as my first. What I didn't realise was that I could struggle connecting with my older child, and how my relationship with him would change. I love this kid so much and I felt a lot of shame around these feelings because the people who I'd discussed it with in "real" life couldn't relate. I also felt a bit fake posting about how amazing life at home would be as a new mother of two, because that wasn't the experience I was having.
I knew someone else out there must be experiencing what I was going through. Sure enough, I had an overwhelming response of people identifying, offering emotional support, and sharing how they got through it.
I was surprised at the amount of acceptance and empathy I got from this particular postpartum post! I received a lot of messages with people thanking me for my honesty. Seeing a very young and fit woman with a very large pregnant belly, and then seeing it still hang around and not magically disappear – it was therapeutic for me and refreshing for others!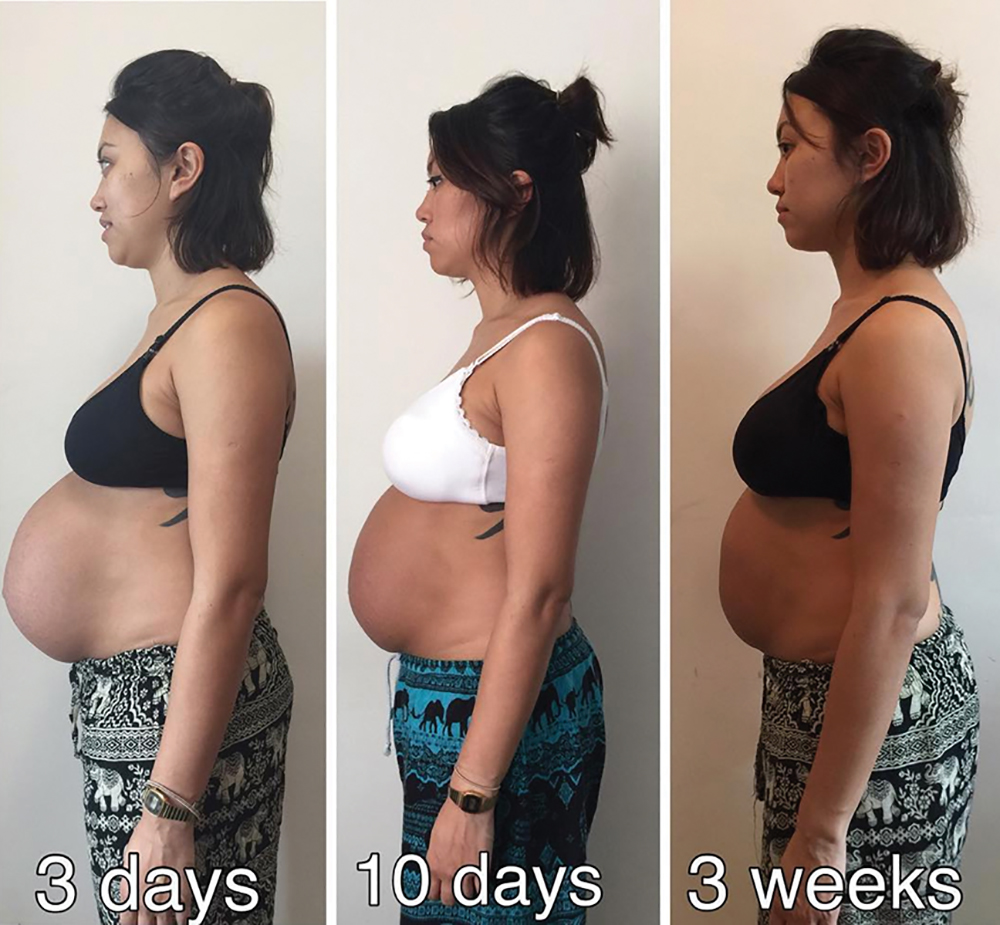 Some days I need the healing therapeutic aspects, other days I feel more inclined to educate and empower mothers, and sometimes I'm just sharing about a product that I really like. I really try my best not to care about the likes or the engagement, or censor myself when I don't want to be vulnerable. I've also realised that everyone just wants to be seen and heard, so I always try my best to respond to every story reply, question or comment that I receive.
How do you embrace realness in your day to day life? Send us your stories of radical honesty at [email protected]!