A NEW LEAF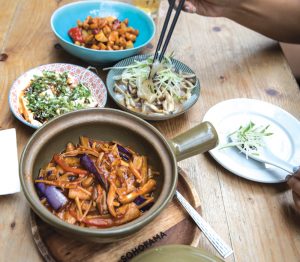 Sohofama, one of our fav modern Chinese restaurants, has launched a new vegan menu that can even satiate the most avid of carnivores. Already known for its use of local and MSG-free ingredients, Sohofama has created a menu of traditional and comforting Chinese favourites that are entirely plant-based. We kicked off with some delicious steamed black truffle and mushroom dumplings ($88) and a refreshing cold garlic cucumber starter ($58), before tucking into some mapo tofu ($98), kung pao-style king oyster mushrooms ($128) and Sichuan mala fried rice ($128). Dishes range from around $38-$58 for starters and small plates through to $128 for main courses, and are perfect for sharing.
PMQ, 35 Aberdeen St., Central,
2858-8238, www.sohofama.com.
With the slogan "Green, Fresh, Vegan," Veggi Monster is the latest healthy takeaway shop in Sheung Wan to serve up plant-based burgers, salads and wraps. Their signature item, Burger in Black, is a hearty handmade patty made from organic black beans, truffle sauce and quinoa. The flavours are further enhanced with charcoal bread (hence the name) portobello mushrooms, non-dairy cheese and kale. Other options include the Oriental Freshness, a burger made from wild natural porcini mushrooms and Japanese pearl rice and seaweed; as well as the Chinese-inspired Tofu Lover created from organic tofu, millet, carrot, potato and paprika. Veggi Monster also sells a selection of Cantonese-style vegan desserts and snacks. We loved the Pot of Nature. Made from peach tree gum and sweet olive, it's said to improve your complexion. Prices won't break the bank either; burgers start at just $58.
G/F, Shop 1B, Cheungs Building, 1 Wing Lok St., Sheung Wan, 2886-0325, www.facebook.com/pg/veggimonsterhk.
BULK UP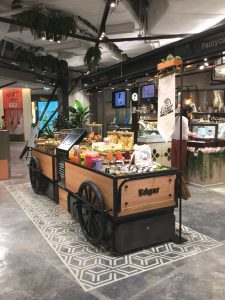 Do you get sad about the amount of plastic that piles up in your bin each week? Edgar, a new zero waste food shopping concept, has eliminated packaging entirely in a bid to be as green as possible. Located in the K11 mall in TST, Edgar's nuts, grains, seeds and dried fruits and veggies are stored in large dispensers and sold by weight so you buy only what you need. You're also encouraged to bring your own bag to cut down on waste even further. Online shopping also available.
Shop 201, K11, 18 Hanoi Rd.,
Tsim Sha Tsui, 3101-3030, www.edgar.hk.
CHEAT DAY
Floating afternoon tea at The Landmar Mandarin Oriental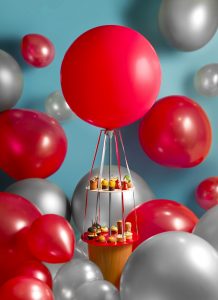 Little red balloons will be flying over the Landmark Mandarin Oriental's MO Bar all month long, with its brand new "floating" afternoon tea. Presented on a balloon-topped stand, diners will find an array of 10 sweet and savoury treats, including (but not limited to) a chicken tonkatsu sandwich in a squid ink bun, smoked salmon quiche, and a vegetable crown with tomato jelly and parmesan crisp. After that, move onto the sweets: a green tea and yuzu hot crumble, a raspberry financier and a praline and cashew choux puff, all served with the Landmark Mandarin Oriental's gourmet flair. Cap it off with MO Bar's traditional scones served with clotted cream and preserves, plus tea or coffee.
$598 for two, available daily through the month of November.
The Landmark Mandarin Oriental, 15 Queen's Road Central,
2132-0077, www.mandarinoriental.com.