Crystal Healing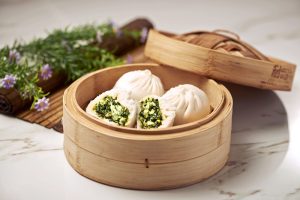 Everyone's favourite Shanghai spot, Crystal Jade, has just launched a new "Eat for Good" menu created in collaboration with seasoned nutritionist and columnist Cynthia Wong. The menu still delivers those feel-good flavours that we've all come to expect from the fast n' friendly restaurant chain, but with tons of new vegetarian options. It also offers a careful balance of grains, greens and protein in each dish. New entries include sweet and sour cucumber skin roll ($50), simmered noodles with diced chicken ($66), Sichuan dan dan la mian with peanut sauce and chilli oil ($60) and steamed vegetable dumplings ($31). And if you want to order an extra serving of their incredibly moreish xiao long bao dumplings, we're not gonna judge.
Crystal Jade has 14 locations across Hong Kong including IFC, Times Square and Harbour City.
2305-9990, www.hk.crystaljade.com.
Taste of Thailand
Another restaurant to launch a health-conscious menu is Cafe Siam. The Thai favourite has teamed up with nutritionist Kim Murphy to launch its new Nutrilicious Thai Delicacies menu, which includes lighter, non-deep-fried options that are low in sodium and sugar. The menu aims to give diners traditional Thai dishes with all those lovely bold flavours, but with more nutritional value and plenty of veg. We started off with some super fresh rice paper rolls made with mango, shrimp and mixed greens ($98) and glass noodle broth with mushrooms and tofu ($68) which was intensely savoury and comforting. We loved the next course, which consisted of a lighter interpretation of the traditional pork neck. It came grilled and served with a green papaya salad ($128). Finally, we opted for the spicy red curry with mixed veg and a side of brown rice ($98). Make sure you wash it all down with one of their low-sugar healthy detox drinks – our favourite was the refreshing Lemongrass & Pandan Leaf Cooler.
2-3/F, The Plaza, 21 D'Aguilar St., Central, 2851-4803;
38 Forbes St., Kennedy Town, 2855-0810, www.cafesiam.com.hk.
Spare a Sunday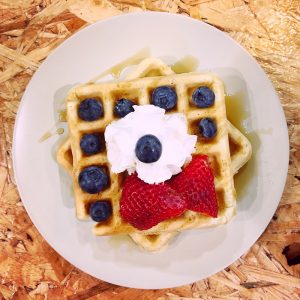 Nothing to do on a Sunday? Head down to Sparestore, a pop-up vegan cafe that serves happy customers every Sunday from 11am-5pm. With the motto "Respect and have compassion for all animals," Sparestore has already amassed a reputation for its great dairy-free cappuccinos, decadent cupcakes and tasty savoury vegan treats. Founded by two local vegans who wanted to challenge and change the way people perceive food, they started off by selling fully plant-based drinks and desserts at weekend markets and running regular vegan coffee mornings. The founders are also very particular about sourcing quality, sustainable ingredients, using local and organic fairtrade produce wherever possible in their dishes.
Portland Commons: 1/F Le Prabelle Hotel, 372 Portland St., Prince Edward. Follow them on Facebook and Instagram @sparestorehk.
Cheat Day: Theatre of Food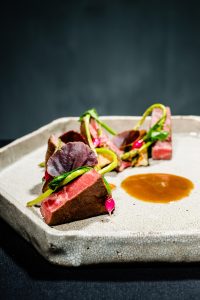 You would be forgiven for missing Haku's hidden doorway on the ground floor of Harbour City, but don't give up because once you find it and step in, you're transported from the hubbub outside to a swish Japanese restaurant with a distinctly European twist. Haku offers diners an interactive experience with "kappo"-style ceremonial dishes, served with a side of theatrics. Every day, executive chef Agustin Balbi and his team select the freshest ingredients to create a unique omakase menu for the day (around $1,500), meaning that diners will never have the same experience twice. With perfectly plated dishes such as pickled beetroot in the shape of a rose, Hokkaido uni on brioche, kumamoto tomato salad with bellota ham (pictured), and Kagoshima A4 Wagyu with bone marrow and truffle sauce, you'll find a lot of European influences too. Perhaps our favourite part of the meal was the glorious dessert, a seasonal white peach filled with peach chunks, panna cotta, Hokkaido milk foam, and granita. Make sure to leave some space.
Shop OT G04B, Ground Floor, Ocean Terminal, Harbour City, Tsim Sha Tsui, 2115-9965.