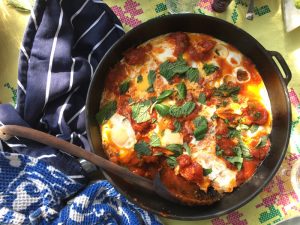 By Olive Leaf
Turbocharge your next Sunday morning with this spicy tomato and egg dish. Popular in the Middle East, it's currently taking brunch tables by storm, and with good reason. Packed with eggs and vegetables, it's a highly nutritious start to the weekend.
Ingredients
Olive oil for frying
5 cloves of chopped garlic
Six large, ripe diced tomatoes (or substitute 1 1\2 cans)
1 green pepper
Green and red hot peppers to taste
2-3 tbsp tomato paste
1 tsp ground cumin
1 tsp sweet paprika
Salt, black pepper, sugar
Olive oil
Eggs (the quantity depends on how hungry you are)
Directions
1. Heat the oil and lightly fry the garlic in a large frying pan. Then add the green pepper, hot peppers and cumin.
2. Add the tomatoes and seasoning, and then cover and cook for 15-20 minutes on a low heat.
3. Add tomato paste and water and cook for a few more minutes. Then break the eggs and slide onto the tomato sauce.
4. Turn the heat right down and cook slowly until the egg whites set.
5. Drizzle with olive oil before serving.