Do you have what it takes to ditch your nine-to-five and become a full-time yoga teacher? Zoe Belhomme speaks to local yogis who have made the leap, to find out what to expect – and what to watch out for.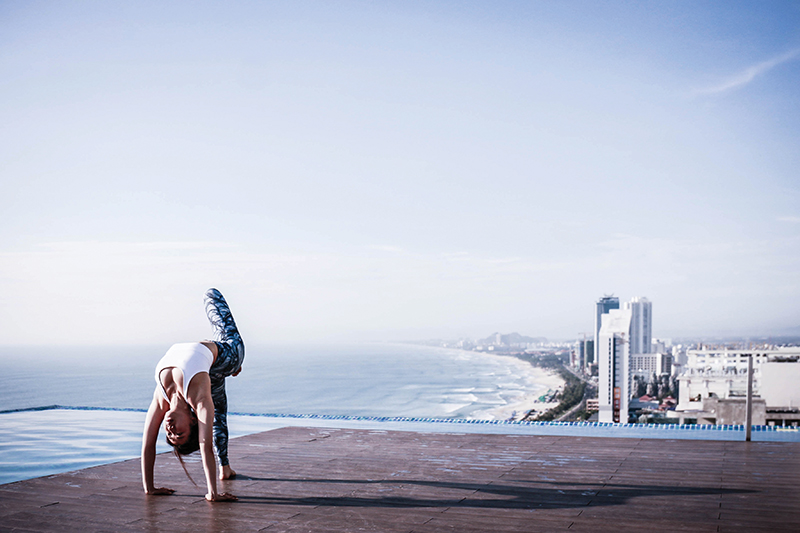 You've been on the go since 8am, you've drained your third cup of coffee. Your eyes, neck and back ache from hours at your laptop, and now you've got an angry client sending all-caps Whatsapps. Sound familiar? Many of us have, at some point, thought about getting off the corporate hamster wheel and seeking a new career in yoga instead. But what does it really take to become a yogi? And is it as om-mazing as it looks?
Part-time, intensive or ashram?
So you've decided you want to be a teacher. Congratulations! Now you have to get qualified. But with so many options out there, how do you choose the course that's right for you?
First up, you'll need to research costs: programmes can range from $15,000 to $50,000, so be sure to understand what you're getting for your money. Then decide whether you'd prefer to get qualified over a number of months, or whether an intensive course – either in Hong Kong or overseas – will suit you better.
For avid yogi Sam Growdon, the best approach was to complete a course part-time in Hong Kong. "I had been practicing yoga for a few years and wanted to deepen my knowledge and learn more about how yoga changes the physical body. Because I had a full-time job and a young child at the time I had to complete my training over nine months. It was very intense but I loved doing it this way as it gave me time to 'test' my learnings and progress my practice even further," she says.
Freelance yoga teacher Christine Ritter was between jobs when a spot on a Universal Yoga teacher training course at Pure Yoga became available. "Each day we had two-and-a-half hours (or more) of asana and pranayama (physical postures and breathing) and then four to five hours of lectures in the afternoon. My body was physically exhausted every day, but I realised how far one can come through regular practice – which is something I really try to pass on to my students every day."
If you really want to immerse yourself in the yogi life, perhaps the most talked-about way to train is at an ashram, a monastic hermitage typically in India, where one goes to deepen their spiritual or yogic practice. Having spent some time in an ashram previously, Gianni Melwani, the co-founder of IRIS: Your Escape wellness festival, is set to embark on a month-long trip to the Sivananda Ashram in the foothills of the Himalayas to complete his training. He says, "Sivananda is known for its in-depth yoga philosophy with a full-on structured programme. However, to me the experience is simply a stepping stone for personal development with the intention to share the knowledge with others."
You're qualified. Now what?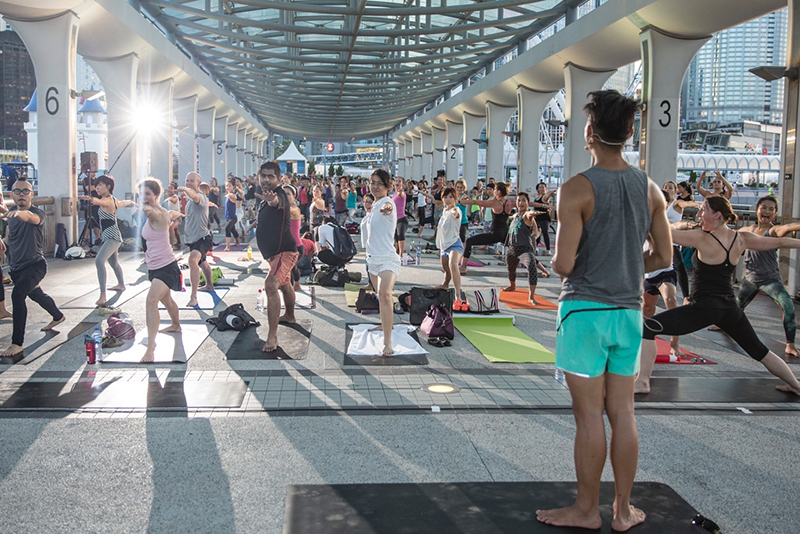 If you've got your 200-hour hatha or vinyasa teacher training under your belt, you might be considering how to make the most of your new found knowledge. Do you join a studio, set up on your own, or just carry on enjoying the benefits of the practice?
Veteran yogi Victor Chau advises rookies not to quit their day job just yet. "Begin your journey by teaching yoga as a hobby. Don't rush into any decisions that you may later regret. Remember, if you're hungry and can't pay rent, you will never be a happy yoga teacher."
Ritter, who runs her own events business, agrees. "I don't think you realise how many yoga teachers are out there until you become one. I had to come up with my style and what I was confident with, so  I practiced on a couple of friends three times a week, from 6 to 7am.  My friends were amazing and referred me to other groups, which sort of made everything grow from there."
Ritter advises would-be yogis to temper their expectations of filling classes right off the bat. "It's not very easy finding students here – we live in a small city where bigger studios offer great classes at very convenient times and locations. But, on the plus side, students in Hong Kong are very loyal too."
If you are determined to turn your practice into a full-time career, it takes more than a love of yoga. Chau is one of the few who has successfully positioned himself as one of Hong Kong's leading practitioners not affiliated with a major studio, thanks in part to a background in journalism and marketing, plus no small amount of grit and hustle. After completing his first yoga teacher training course in 2010, Chau returned to the city after a stint working in luxury fashion PR in Beijing. He approached Lululemon, also relatively new to Hong Kong at the time, and started teaching community classes to get his name out there. "My clients started to spread the word for me and from there my own community and following grew. My background in journalism and marketing definitely helped in the beginning and now I invest a lot of time and effort in social media."
Your Own Studio?!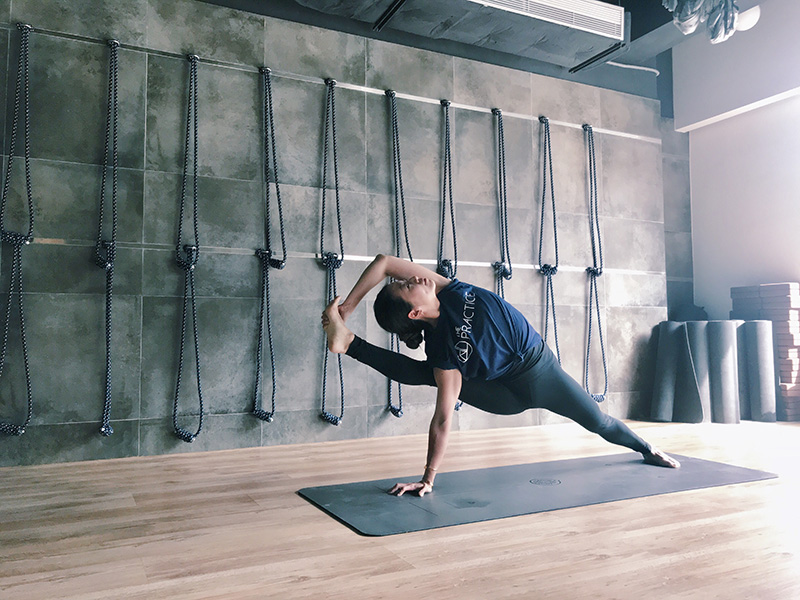 For many yogis, the ultimate goal is to open their own studio. But as the city's rapid turnover of gyms can attest, it's no easy feat. Becky Lam recently opened The Practice, a petite studio on Wyndham Street, and unsurprisingly, real estate was her main challenge. "We wanted a space conveniently located with bright natural light and big windows. We found the studio space we wanted but at the time it was completely outside our budget. Fortunately I had another friend who was looking to open a coffee bar as a creative space in Central, so we fiddled with the setup, did some creative renovations and established our two businesses together under one roof. It all sounds easy now but our negotiations with the landlord and their lawyers took many difficult months."
Lam, however, is optimistic, despite stiff competition and a high rate of gym closures in the area. She credits the increasing demand for a tailored yoga experience for giving independently owned studios a fighting chance to succeed. "As the yoga landscape has matured, practitioners are craving a more personal, enduring touch. I genuinely think it makes all the difference to be able to connect over a long period of time.  It's about depth and consistency.  We are in this for the long game."    
Flex Your Business Muscles
Want to fast-track your way to a flourishing yoga business? Here are some ideas to try:
Partner with Brands
Get in touch with local businesses – both big and small – and offer your services as an instructor. Teaming up and cross-promoting is a great way to build up both brands and fill mats.
Find a Niche
Additional qualifications in disciplines such as prenatal, kids, or aerial yoga may increase your per hourly rate and put you in higher demand. Explore possibilities that haven't yet been well covered by other practitioners.
Community Classes
Donation-based classes, or ones with a charitable angle, are a great way to build buzz. Pick an outdoor public space as a location and your outlay will go down significantly.
Eyes on the (bigger) prize
Keep in mind where you want to be in a year or two years' time. Decide how much you need to earn to be comfortable, and how many hours of teaching that entails.
don't forget the boring stuff
Registering yourself as a business, managing payments, booking venues and class timetabling can be a real time suck and they need to be considered when pricing classes. For fledgling businesses, apps such as Xero or Quickbooks can be invaluable for keeping your accounts in order, while online publishing software such as Wix can get you a professional-looking website in a few easy clicks.