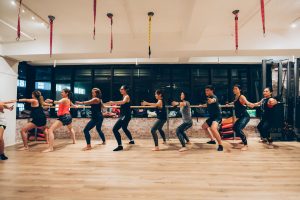 The Buzz: Defin8 Fitness is a small boutique gym studio on Wyndham Street. It offers a range of classes, including Defin8 Barre, Fatburn + Abs Blaze, Trx Circuit, Pilates Reformer, Zumba and one-on-one training.
The Class: Run by possibly the world's most enthusiastic instructor and studio owner, Trixie Isla-Velez, the class kicked off with some warm-ups before we moved on to the barre itself. We performed sequences designed to tone and strengthen the core and lower body, from dance moves such as pliés and arabesques to traditional exercises such as squats and leg raises. Each one had to be performed to the music with grace, and many required you to lift your heels, giving your calves an extra workout.
The Verdict: We had never done barre before, partly because we didn't think it would get us into enough of a sweat. Boy, how wrong we were! Some of the moves required lots of coordination and an incredible amount of strength to do correctly. Many were too challenging but luckily Trixie had modifications on hand. We would definitely consider adding barre to our regular routine.
The Cost: Individual classes cost $220, $1,880 for 10 and $3,500 for 20. classes are also available on GuavaPass.
6F Wong Chung Ming Commercial Building, 16 Wyndham St., Central, 9859-8620,