Zoe Belhomme escapes the mayhem of Hong Kong for a week learning to surf in one of Bali's female-only retreats.
"What are your goals for this trip?" Renee, the resort manager asked me as I sipped on my coconut milk iced coffee just 15 minutes after I arrived at the resort.
I didn't really have a "goal" as such. I just wanted to get away from the daily grind and the increasingly unbearable Hong Kong summer. But they looked at me imploringly, in search of something a bit more explicit, and so I quickly declared "I want to learn how to surf!"
Within the first three months of 2017, US group travel company Intrepid Travel noted a 35 percent increase in women booking active solo trips, compared to the same period the previous year. We're no longer talking about the tired tropes of soul-searching and endless pampering (as popularised by Eat Pray Love). Women of all ages are looking to find adventure and push their physical boundaries – and they're not frightened of doing it alone.
I ended up on my first female-only surf and yoga retreat by complete chance. I was going to Bali anyway for a wedding with my partner, but the flight seemed a little long for the weekend so I decided to head down earlier to spend a few days on the beach. But before I could book any accommodation, a friend told me about a surfing retreat she'd done the previous year and I was intrigued. After some searching online I decided on Escape Haven, located in the trendy Canggu region in Bali just north of Seminyak.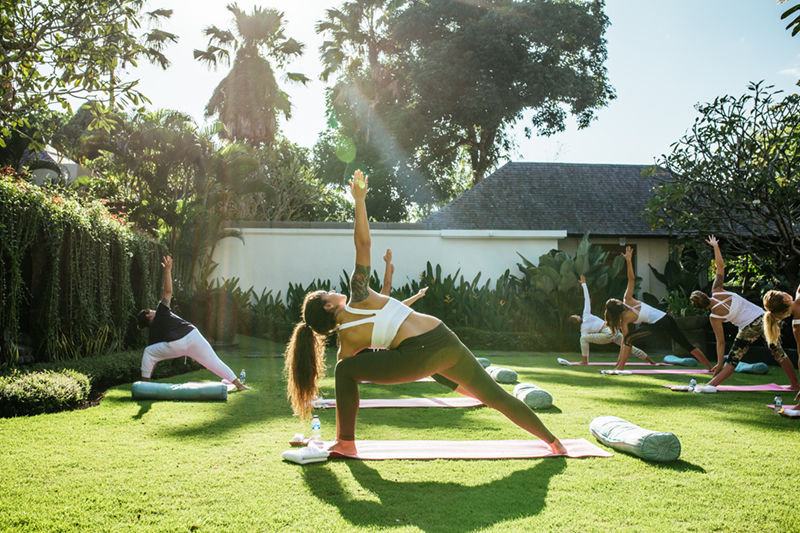 Escape Haven retreats are all six nights long and can accommodate around 16 guests at a time. I joined the Revive programme which included surfing lessons in the morning followed by a daily spa treatment and a 90-minute yoga practice in the afternoon. I was keen to use my free week to learn a new skill and do something active; although the idea of eating well and being pampered was lovely, I wanted to challenge myself too. The fact that there was plenty of time to relax and eat delicious, healthy food was a bonus in my book!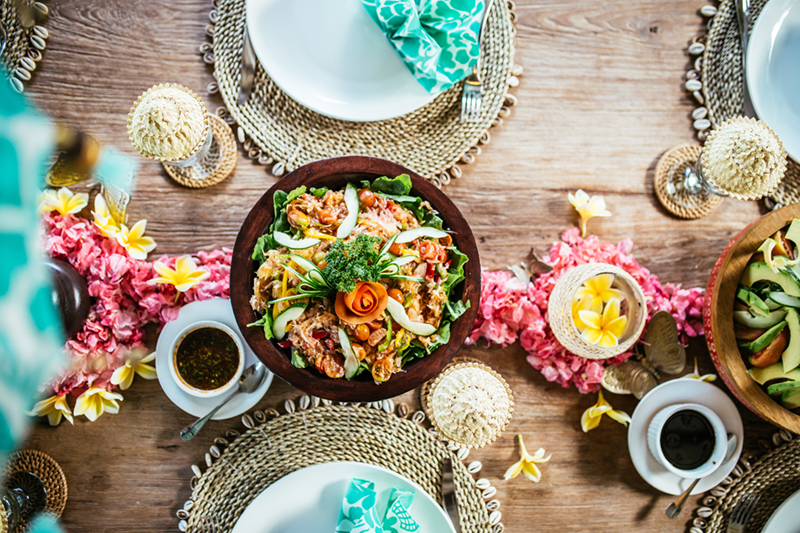 When I arrived at the private property I was blown away by the lush surroundings. The onsite retreat accommodation consisted of two beautifully serene villa complexes, Villa Simona and Villa Levi, but there were also several slightly cheaper offsite options just a few minutes' walk away. Our hosts for the week, Renee and Lauren, greeted each guest as they arrived before showing everyone to their rooms. On our first evening we all sat down before dinner to get to know each other and tell the whole group our goals for the week. As you can imagine, the reasons people join such a retreat are varied – to have some "me time," learn a new skill or just relax away from the kids were common ones, but there were also some people who needed space to make big decisions in their lives, and they felt that this was the best place to do it.
On the first full morning, my alarm rudely woke me at 6.10am, ready for a 6.30am breakfast and a 7am departure for Jimbaran Bay, where we would take our first surfing lesson. So far not much of a retreat, I thought as I clambered out of bed half-asleep.
We were being taught by Luca Soulos, Rip Curl Master Coach and owner of local surf school, Shift Division. Apparently he had great experience working with women of all ages to get them up on a surfboard and riding a wave. I'd surfed once before but was utterly hopeless so I wasn't expecting to be able to get up. Luca promised me otherwise!
Our group of seven were all complete novices so we spent the first 30 minutes of the lesson getting to know our boards and learning the techniques on dry land. By the time we got into the water with our four instructors we were all raring to go. My experience of surfing was a steep learning curve. While I found it surprisingly easy to get up, I soon discovered that there was only one way to end your ride on a wave: by falling off your board in the most undignified ways possible.
Over the next five days we drove out each morning to different locations around Bali and experienced different surfing conditions. On day four we were taken to Sanur to surf off a reef break which was so different to what we'd done previously.
I wouldn't say that I had become a good surfer by the end of the week, but I did master the basics and would have the confidence to do it on my own in the future – as long as the waves were small enough of course.
My biggest surprise was the age range of the women on the surfing programme – the youngest was 28 and the oldest a few months off her 70th birthday. One of my retreat-mates, Marie Rostek, a plastic surgeon in her 40s from Melbourne told me at the end of the day, "It was soo much fun trying something new and just being out of my comfort zone. Everyone was so easy going and and not too competitive – we just had so much fun together."
If anything, the age difference between the group helped us to bond. There were no cliques or pairs going off on their own, and throughout the week everyone created their own relationships – many of which will continue on in some form in the future.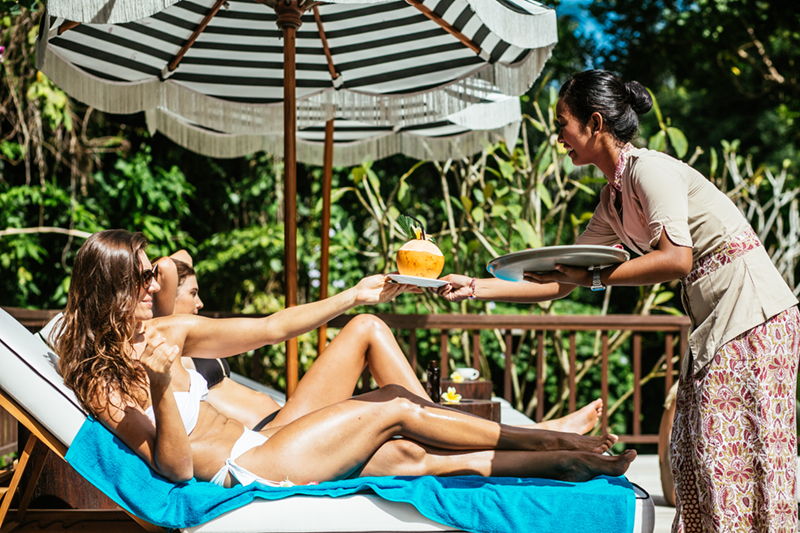 Founder of Escape Haven, Janine Hall says, "Solo travel is taking off and almost 85 percent of our guests now come on their own. We actively encourage women to travel solo as they have freedom from labels and stereotypes. It's a rare luxury to be able to be yourself and have time to think and reflect. We play so many roles as women – mother, friend, sister, manager, girlfriend, you name it. We are born nurturers and can often give to others before ourselves. On a solo retreat women can fill up their own tank and do something
for themselves."
Escape Haven retreats start from $15,000 for six nights based on two sharing a room. Private rooms or the master private villa with Jacuzzi come with an additional charge.
For more information and to book go to escapehaven.com.
Escape Haven isn't the only retreat in Bali for us active ladies, we also love:
The Chillhouse
Also located in Canggu, The Chillhouse offers a range of activities including mountain biking, surfing and yoga. You can mix and match depending on how you feel. All this comes with gorgeous private accommodation and delicious
organic meals.
www.thechillhouse.com.
Goddess Retreats
Founded by Chelsea Ross in 2003, Goddess Retreats prides itself of being the original surf, yoga and wellness retreat for women in Bali. The brand focuses on providing a positive environment for women and a personalised service to match their needs. They have also started to offer a seven-day fitness programme in Bali and ski retreats in Japan for snow bunnies.
www.baligoddessretreats.com.
Bliss Sanctuary
Nestled amongst the beautiful rice paddy fields of Canggu, Bliss Sanctuary For Women is a luxurious space designed to help you take some time out, relax and reconnect with yourself. It has a large selection of packages, including a high energy CrossFit retreat and one for thrillseekers, which includes hiking up a volcano and white water rafting.
www.blisssanctuaryforwomen.com.