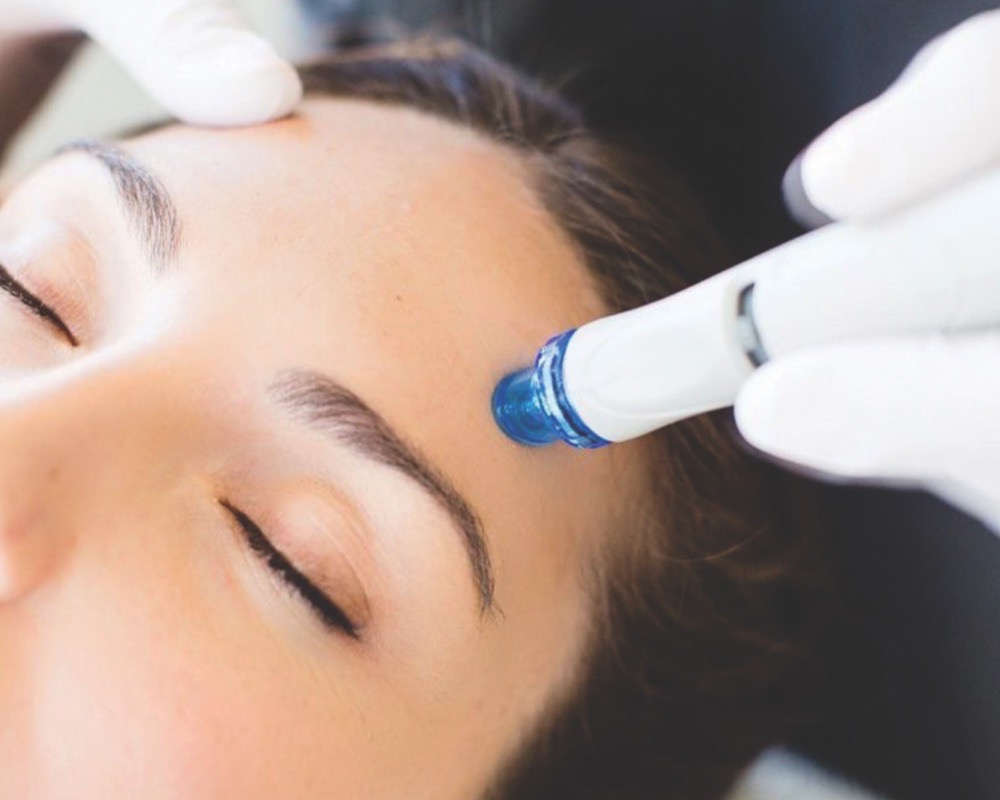 If you're looking for an effective facial treatment that's fast, effective and pain-free, the Hydrafacial might just check all your boxes. Developed to deep-clean the skin, clear clogged pores, and infuse your face with nourishing serums, this treatment is suited to anyone looking for results, without the redness, discomfort or irritation that comes with peels or painful extractions.
A machine-powered treatment, the Hydrafacial employs a wand-like device to suck up dead skin cells and the contents of blocked pores, using a deeply moisturising serum to keep it moving smoothly across the surface of the skin. It's essentially a microdermabrasion treatment, using water instead of a crystal- or diamond-tipped wand. There's also a light chemical peel to help brighten skin and encourage cell turnover. Working with your therapist, you can choose different serums depending on your concerns, from fine lines and wrinkles to pigmentation, dullness and dehydration. The wand simultaneously helps the product penetrate further into the dermis.
At the end of the treatment, the therapist will show you the contents of a reservoir, where you can see the dirt, pollution, products, congestion and dead skin that came off your face. A tad gross, sure – but surprisingly satisfying at the same time? We weren't mad about it!
We loved that there was no uncomfortable poking and prodding to clear blackheads, and no telltale redness after the deep exfoliation. This treatment is gentle and effective, and we love its long-term benefits to our skin health, minus discolouration, thinning or sun-sensitivity.
Intrigued? Here's a few places to try out this trending beauty treatment here in Hong Kong.
The Mandarin Oriental
The Mandarin Oriental offers Hydrafacial for both face and scalp, which helps clear debris and promote healthy hair growth. Facials start at $1,800 for the Signature Hydrafacial, going up to $2,800 for the Platinum. Hair treatments, meanwhile, are $3,800.
5 Connaught Rd., Central, 2825-4800, mandarinoriental.com
Sense of Touch
This popular day spa offers the Hydrafacial starting from $1,580, or $2,080 including a personalised boosting serum. For a little something extra, splash out on the Platinum Hydrafacial, a 90-minute treatment that includes a lymphatic drainage massage and LED light therapy, for $2,880.
Outlets in Central, Repulse Bay and Tseung Kwan O, senseoftouch.com.hk
Skin Retreat
Offering results-oriented treatments for face and body, Skin Retreat lists its treatment menu according to your specific skin concerns, from acne to collagen loss and everything in between. It offers Hydrafacial treatments, complete with impressive before and after photos on its website.
19/F, Soundwill Plaza, 38 Russell St., Causeway Bay, 2970-3399, skinretreathk.com
The Clinic
This popular medispa offers a whole suite of services, from Botox and Juvederm, to HIFU RF laser treatments and much more. Its Hydrafacial treatments at $2,650, but first-time customers can get a first-time trial for $988.
Unit B, 16/F, 8 Russell St., Causeway Bay, theclinic.com.hk
More on Liv: 9 Hong Kong Beauty Businesses To Support This Month