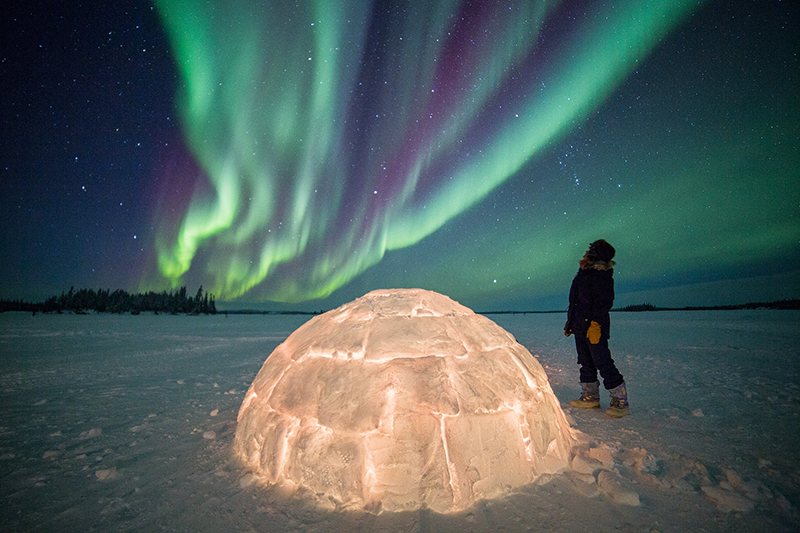 Northern Star Salutations
If you're looking for a digital detox like nothing else on earth… head to the Arctic Circle. Folk Rebellion – a Brooklyn-based wellness travel specialist – is organizing yoga under the Northern Lights in Yellowknife, Canada, where travelers can do their downward-facing dogs under the aurora borealis. Sorry, Instagram addicts, you'll have to experience this one in the moment. Held from February 17-24, the weeklong yoga retreat is all about logging off and savouring the winter wonderland. Every day starts with yoga by Blachford Lake, followed by your choice of outdoor activity – be it skiing, snowshoeing, ice fishing, hiking, or snowmobiling.
Cozy cabins with open decks offer starry views in the evening, while on-site chefs cook up organic communal meals. Since your iPhone battery won't be there to keep you warm at night, be sure to pack a parka or grab a seat in the hot tub. Too last-minute to unplug? Check out the website for more upcoming adventures.
From US$2,580 ($20,006). Includes food, accommodation, beer and wine, plus a sea plane to the lake. www.folkrebellion.com.
Can You Keep a Secret?
Secret Retreats is all about keeping the best things in life hush-hush, except when it comes to all-new experiences. The travel specialists recently launched its "Secret Journeys," which are hosted by local guides promising to take you to secret spots across Asia, miles away from the typical tourist trail. The itineraries start from three to 10 days, and could include a trip to Ladakh in the Himalayas or a river adventure through Borneo. No matter where you head, the pros promise culture and food-fueled finds that you'll want to share as soon as you're back on the grid. On second thought, you might want to keep this one to yourself.
Three-day journeys from US$675 ($5,234). www.secret-journeys.com.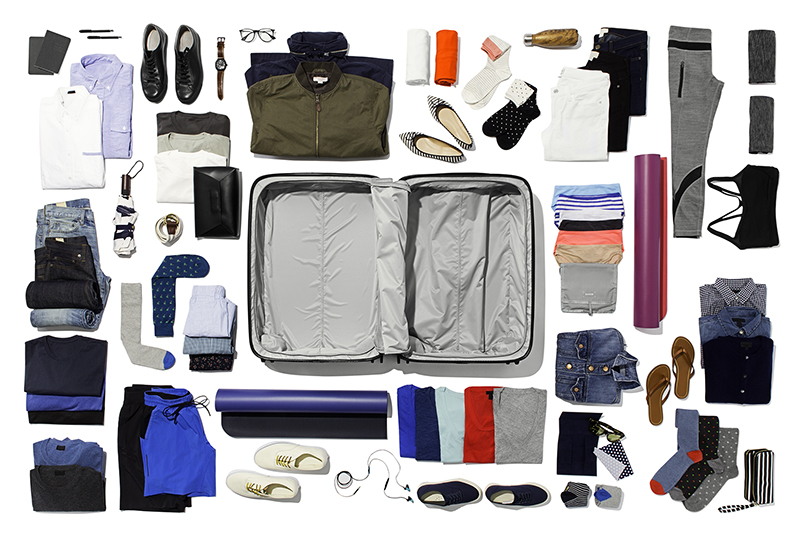 Suit Yourself
There are all kinds of "smart" suitcases on the market these days, but they all look a bit clunky and industrial. Until now: Raden's A28 Check debuted at the end of 2016, bringing with it tech-savvy smarts and style in spades. The London-based brand has drawn up 10 colors and right-on-trend matte options for this hard-case luggage – which is supposedly strong enough to jump on. Aside from looking slick, the 3.8-kilo suitcase charges devices on the go, syncs with a travel app to track your bag's location, sends traffic alerts, notifies you of weather conditions, and updates your flight itinerary. Even better, it also automatically weighs itself, so you don't have to worry about
going overboard.
From US$395 ($3,062). www.raden.com.