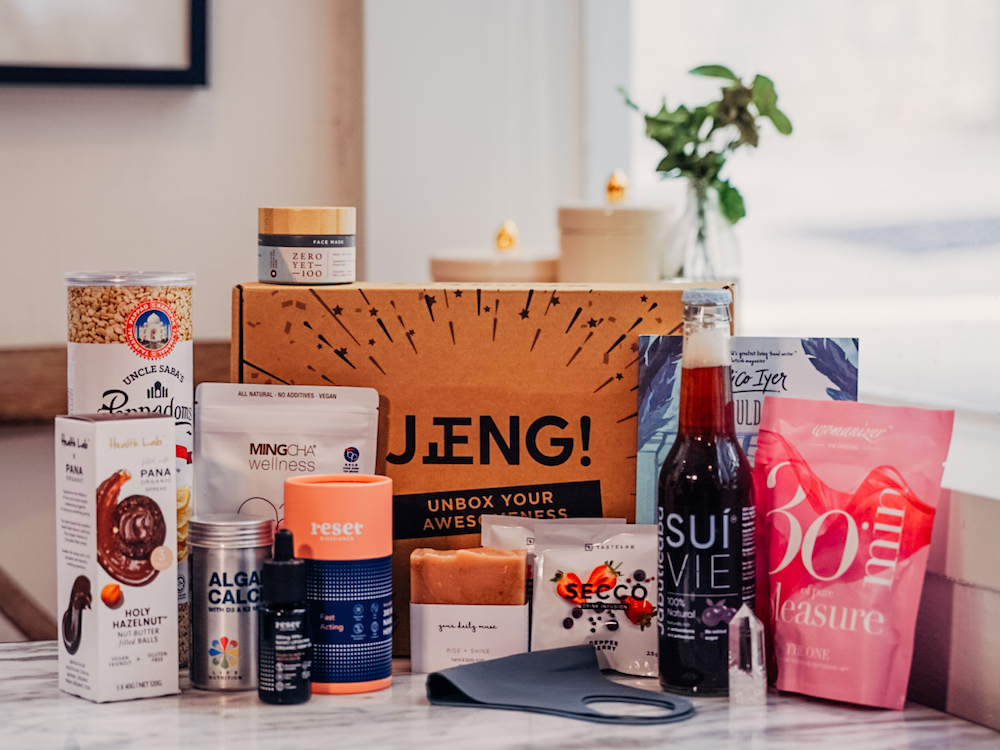 We are so excited to officially reveal the goodies you'll find inside December's JENG! Box. Available in time for the festive season, December's self-care box is filled with self-care treats, from supplements to snacks, skincare to sex toys – yes really! Read on to learn more about the premium partners that you'll discover in our upcoming self-care box.
Our star product in this month's box, this CBD tincture can be taken for pain management, anxiety and insomnia. Developed in the US, Reset Bioscience is now available in Hong Kong, and will be launching soon at Lane Crawford..
We love to read, and are super excited to be welcoming The Book Depository again to provide us with a selection of award-winning paperbacks that are chosen to entertain and inspire.

A pack of Pana chocolate Bliss Balls from The Store
Vegan and low in sugar, we can't wait to get our hands on these bliss balls, made with premium chocolate from Pana.

A full-sized face mask from ZeroYet100
One of Hong Kong's most beloved zero-waste skincare brands, you will find a full-size detoxifying face mask from ZeroYet100 in every box.

A pack of wellness tea containing seven teabags from MingCha Wellness
One of Hong Kong's most beloved artisanal tea brands, MingCha has recently branched out into MingCha Wellness teas, which focus on improving your digestive health, increasing alertness, refreshing your breath and more. Each JENG! Box will contain a different pack of seven teas from their collection.

30 minutes of pleasure from Womanizer 😉
Always been curious about getting a sex toy, but too shy to buy? Our December JENG! Box contains a sample toy from Womanizer that shows you exactly how their air pulse technology works, with 30 minutes of battery life to enjoy.

A tin of Uncle Saba's gourmet poppadoms from Chase Foods
We are obsessed with these Malaysian poppadoms, which are insanely moreish and made with no artificial colours or flavours.
Move over, acai – there's a new Brazilian wellness drink in town! Suivie is made in Switzerland with the Brazilian Jabuticaba berry, which is rich in antioxidants, vitamins and minerals. Plus, it's delicious!
A bottle of Algae Calcium from Life Nutrition
One of Life Nutrition's hero products, Algae Calcium is made from an algae sustainable harvested off the Icelandic coast. Being plant-based, it's more bioavailable than traditional limestone-based supplements, and contains 74 trace minerals for optimal health.
Two sachets of drink infusion from Secco
Love a gin and tonic? You'll love these convenient sachets of botanical infusions from Secco. Simply tip the contents into your cocktail or mocktail and let the dehydrated blends take your drink to the next level.
An antimicrobial face mask from Aveita
Lightweight, breathable and comfortable, Aveita has been our go-to mask during the pandemic. Made with a high-performance fabric, it's a chic and comfortable way to stay safe.
Either a clear quartz crystal from Little Rituals OR a handmade soap from Your Daily Muse
Inside every self-care box, you'll find either a Little Rituals clear quartz crystal, or a handmade soap from minimalist Hong Kong skincare brand Your Daily Muse. Which one would you pick? Or would you rather have a surprise?