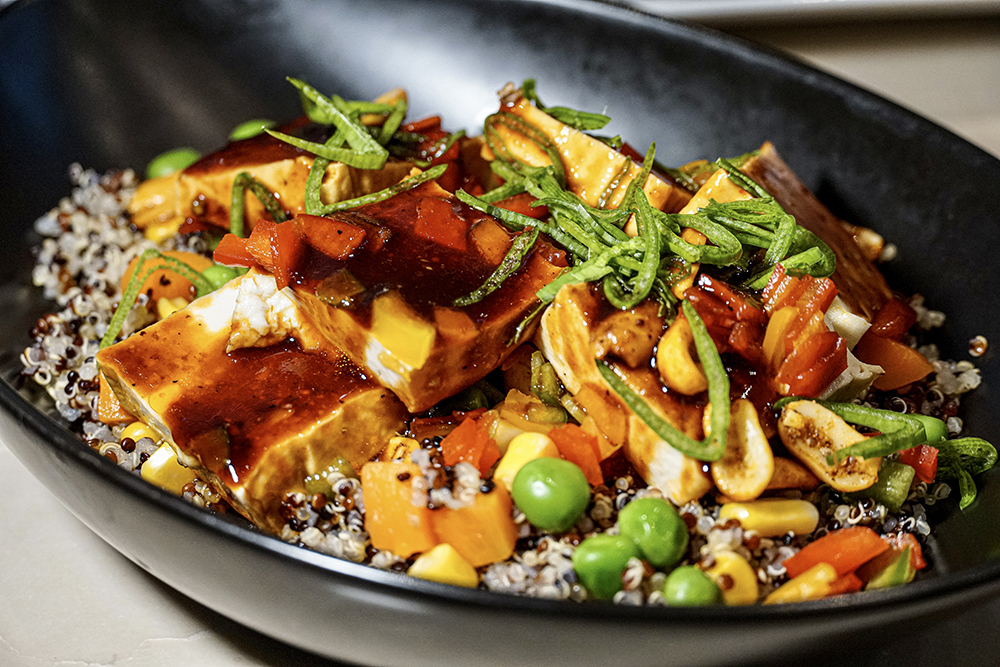 This recipe from Calfit HK kicks it up a notch with homemade kung pao and tofu, and swaps rice for protein-rich quinoa. A great way to eat the rainbow with maximum flavour!
Ingredients
For quinoa base:
1 cup quinoa boiled
1⁄4 cup chopped mix vegetables (carrots, corn, cauliflower and green peas)
1 tbsp chopped green onions
1⁄2 block of hard tofu, cut into 6 squares
1⁄2 bell pepper
1⁄2 red onion, chopped
• 1 tbsp crushed peanuts
1 tbsp sesame oil
2 tbsp kung pao sauce (use a store-bought variety or try the DIY version included!)
For kung pao sauce:
Mix ingredients in a wok or pan with oil until fragrant.
1 tbsp soy sauce or tamari
1 tsp salt
1 tbsp corn starch
1 tbsp vinegar
1⁄2 inch ginger grated
2 cloves garlic grated
1 tsp sugar
2 tbsp water
1⁄2 red dried chilli (optional)
Directions
1. Rinse quinoa, then boil in salt and water.
2. Strain quinoa and set aside.
3. Sauté vegetables and boiled quinoa together. Place in a bowl.
4. Sauté tofu in sesame oil until it's golden brown, then add bell pepper, onion, peanuts and half of the green onions.
5. Sauté everything until slightly softened, then add the kung pao sauce and let it thicken in the pan.
6. Add on top of the quinoa mixture.
7. Garnish with chopped green onions and serve hot.
*Pro tip: Press your tofu for at least 20 minutes beforehand so it loses water and picks up flavour easier.
Get more healthy recipe ideas from our Recipe section!