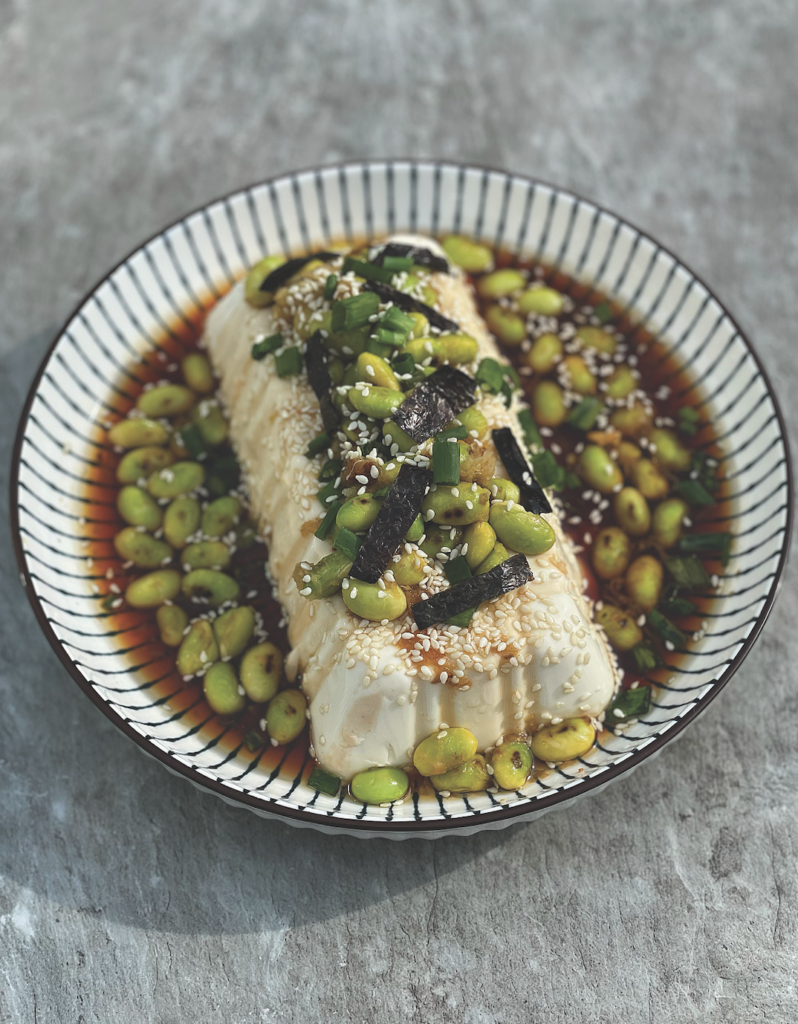 Courtesy of Simran Savlani from A Spark of Madness, this healthy recipe pairs flash-fried edamame with luxurious silken tofu. Serve it as a vegan side dish, or enjoy as a quick meal with a bowl of steamed rice. If you're craving heat, simply add some chopped green chilies to the sauce!
For more recipe ideas, you can pick up Simran's cookbook, A Spark of Madness, or follow on social media (IG:@asparkofmadness, FB: @cookwithaspark).
Ingredients
1 tbsp sesame oil
150g edamame pods, de-shelled or 75g edamame beans
1-inch piece ginger, grated
250g silken tofu
Sauce
1 tbsp soy sauce
1 tbsp sesame oil
1 tbsp rice vinegar
1⁄2 tsp sugar
1⁄2 tsp salt
Garnish
Spring onion, chopped (green stalks only)
White sesame seeds, roasted
Dried seaweed, sliced (optional)
Directions
In a small pan, heat the sesame oil, then add the edamame and ginger. Pan-fry for 5 minutes till the edamame starts to roast.
Use a spatula to loosen the sides of the tofu in the packet, then gently squeeze out and place the whole brick onto a heatproof plate.
Sprinkle the edamame and ginger on top and place the plate in a steamer for 10-12minutes.
If you don't have a steamer, use a large, deep pot with a fitted lid, adding enough water to fill 1⁄4 of the pot. Place a heat-proof stand in the bottom of the pot, and place a heatproof plate on top of it. Add tofu, edamame and ginger, cover with a lid, and steam for 10-12 minutes.
While tofu is steaming, mix ingredients for the sauce in a bowl.
Transfer steamed tofu, edamame and ginger to a serving bowl.
Pour sauce over and garnish with chopped spring onion, sesame seeds and sliced seaweed.
Find more healthy recipes in our Recipe section here!