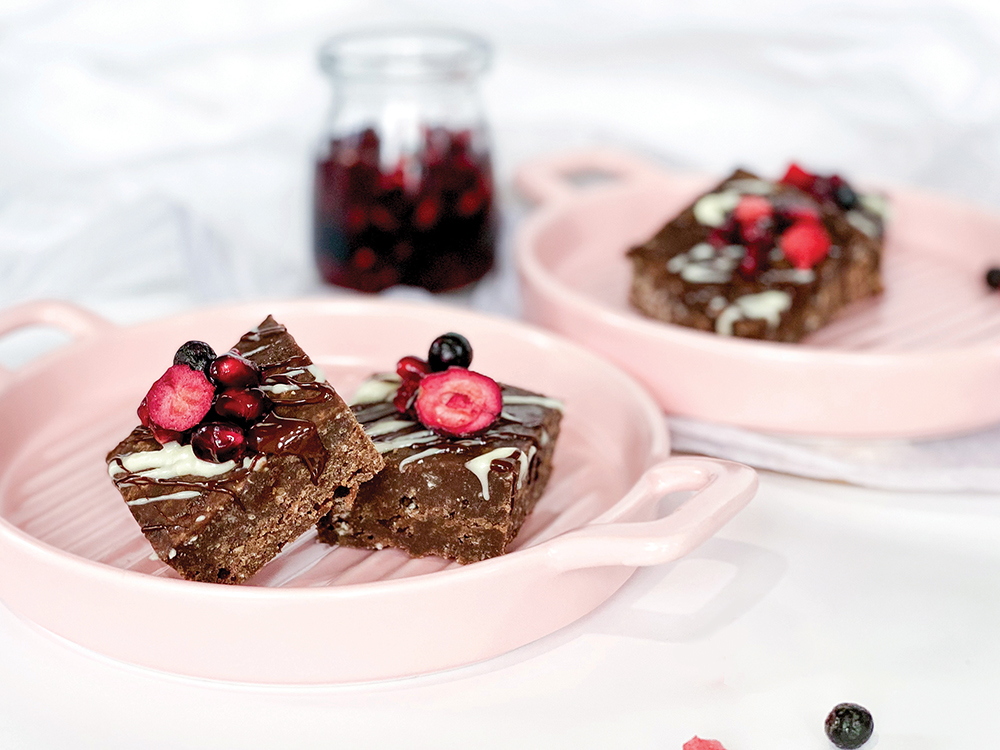 This flourless chocolate brownie recipe from Charissa and Co uses vegan protein powder for a heartier, more filling sweet treat, plus nutrient-dense whole foods like pumpkin puree and nut butters.
Ingredients
Brownie base
2 scoops chocolate protein powder (this recipe uses NuZest Clean Lean Protein)
1 1/2 cups pumpkin puree
1 cup smooth, runny hazelnut or almond butter (microwave for a few seconds if not runny enough)
1/2 cup raw dark cacao powder
1/2 cup chopped pecans
1/3 cup dehydrated cranberries
2 tbsps Manuka honey (optional)
White chocolate drizzle
1/3 cup of melted cacao butter
2 tbsp cashew nut butter
1 tsp of vanilla extract
1-2 tsp Erythritol, or sweetener of choice
Directions
Preheat your oven to 180C. Grease a square pan with coconut oil and line with parchment paper.
In a large blender, mix all the brownie ingredients together until smooth.
Pour the brownie mix in to the pan and allow to bake in the oven for 20minutes.
While the brownie base is baking you can make your chocolate drizzle. Melt the cacao at a low temperature and slowly add the other ingredients and mix until smooth.
As the brownies come out of the oven, allow them to cool on a rack and drizzle the chocolate over it.
Put in the fridge to set.
Pro tip: Want a fudgier brownie? Leave them in the fridge until the next day. Leftover brownies are easily stored in a sealed container within the fridge for a week.
Find more healthy recipes in our Recipe section here!