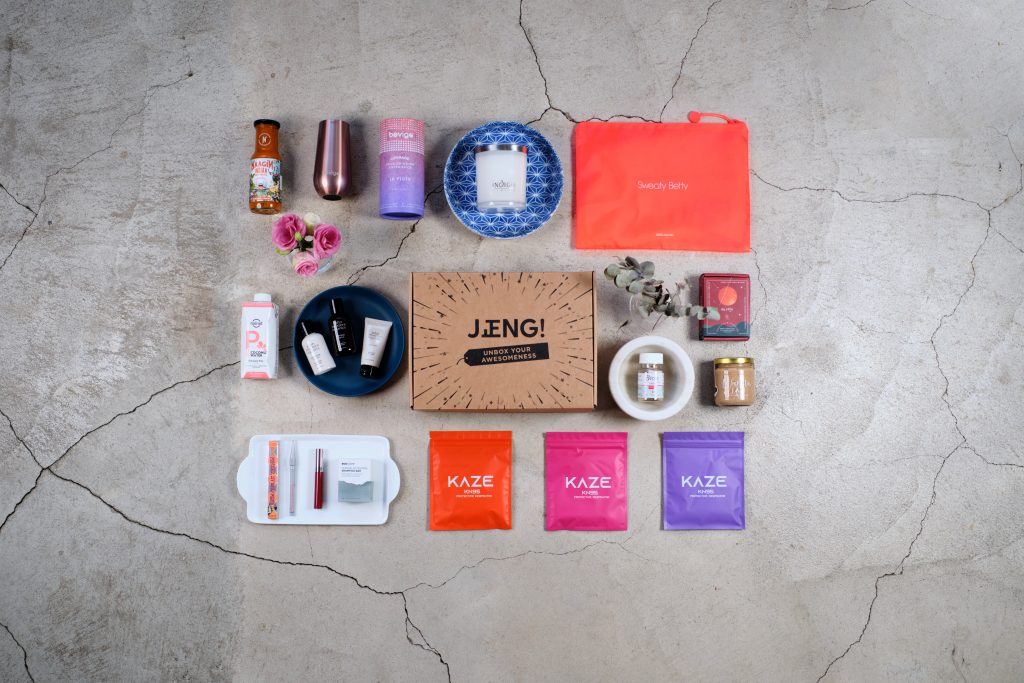 We are OBSESSED with the goodies inside this self-care box! JENG! is our very own creation, a quarterly boxed packed with self-care treats from more than a dozen local and international wellbeing brands.
Want to know more about what you'll find inside? Check out all the goodies below!
An Essential Travel Set containing a shampoo, conditioner and hair milk from John Masters Organics
We are massive fans of John Masters Organics and its all-natural hair care. This travel set, comprising a shampoo, conditioner and leave in hair milk, is perfect for popping in your gym bag.
A starter kit of adaptogenic mushroom coffee pods for Mind, Beauty, Immunity and Energy from Beams 
Harness the power of mushrooms with Beams Coffee! this trial kit of Nespresso-compatible mushroom coffee pods offer a host of health benefits, including boosting your immunity and brain power.
A travel pouch and gift card from Sweaty Betty
This vibrant orange pouch is a handy place to stash just about anything, from sweaty gym gear to toiletries. Plus, we will randomly insert a voucher for a pair of Sweaty Betty Leggings into 10 boxes!
Made with a blend of botanical and mineral wax, these luxurious candles are perfect for creating a tranquil ambiance in your home.
"La Flute" – an insulated champagne flute from Bevigo
Never suffer the indignity of flat, warm bubbles again! This stainless steel champagne flute keeps your drink chilled for hours, meaning you can stay fresh on your next picnic or junk trip.
A jar of Naagin Original Hot Sauce from Needs.HK
We love an addictively moreish hot sauce and this fiery one from Needs ticks all our boxes. Add to a tofu scramble, eggs or use as a dipping sauce for dumplings for a spicy kick.
A jar of All Natural Peanut Butter by Wanna Jam
Lovingly handmade in Hong Kong, this delicious peanut butter is free from palm oil and other nasties. Once you go natural, you'll never go back!
A Cream Lip Shine Liquid Lipstick in Dearest Ruby from Sephora
Glam it up under your mask with this highly wearable red lippie from Sephora. This rich jewel shade suits most skin tones. Apply sparingly for a daytime look
A fun-sized Precisely My Brow Eyebrow Pencil from Benefit Cosmetics
We all know that Benefit is the first word in brow products, and now you can touch yours up on the go with this fun-sized brow pencil.
A hydrating shampoo bar for Normal hair from ecostore
It's good to be low-waste and ecostore makes it easy with this gorgeously scented shampoo bar.
A bottle of encapsulated sea cucumber powder from Bêche Nutraceutical
Sea cucumber has long been revered in Chinese medicine as a superfood, but it can be labour-intensive to prepare. this encapsulated version from Beche Nutraceuticals allows you to reap the immune-supporting, pain-relieving benefits without the faff.
A set of three designer masks from Kaze
Masks aren't going away any time soon, so make it fashion! Kaze masks come in a rainbow of colours that you can pick and choose to match your outfit. individually wrapped, they're perfect for stashing in your bag in case you need to replace yours on the go.
A box of Natnat Pink Coconut Water from Natnat Life
How cute is this blush-pink coconut water? believe it or not, this is the natural shade of NatNat's premium coconut water. It's perfect on its own or shaken up in a tropical mocktail.
Want all this for just $480? Order yours now before they're sold out!