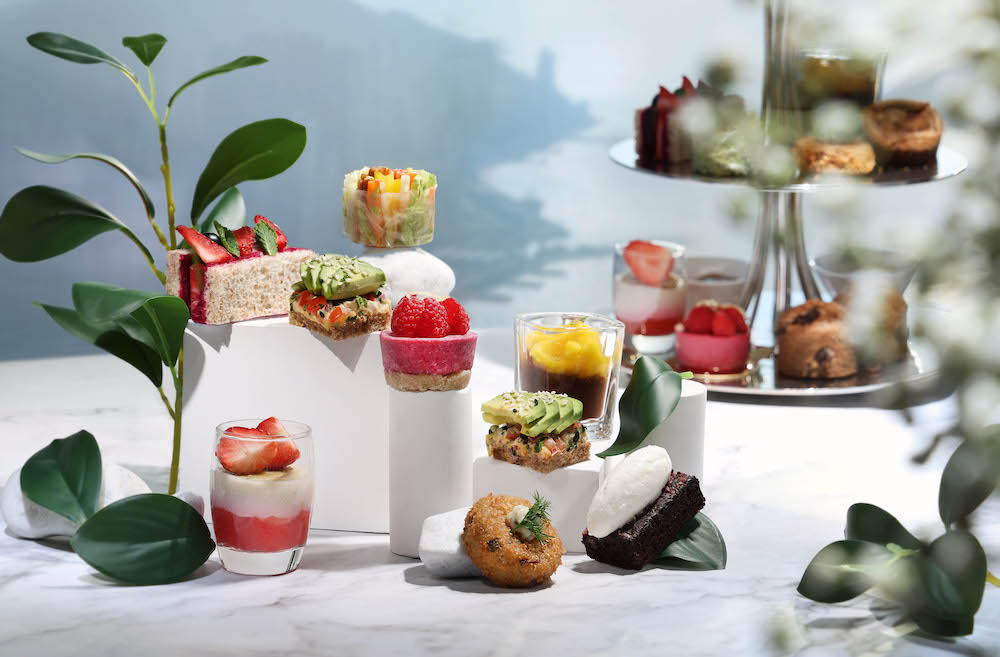 Looking for a bit of plant-based luxury? The Ritz-Carlton has unveiled an all-new, fully vegan afternoon tea in its 103rd floor lobby lounge. Priced at $488 per hear, this vegan afternoon tea features savouries such as a crunchy crabless cake with vegan tartare sauce, tempeh roll with vegan fish sauce, and a surprisingly delicious beetroot hummus, pickled cucumber and strawberry sandwich. Then, move onto the delectable bite-sized desserts that include a creamy mango avocado chocolate pudding, raspberry cream pie and vegan brownie, with vegan scones served with jam and plant-based cream to finish.
Looking for something a bit more hearty? Try the a la carte mains, which are made up of classic lounge fair, reimagined as fully vegan dishes. Try the protein-rich fried cauliflower rice with tempeh, a health-conscious nod to the classic Hong Kong dish, a super filling vegan burger made with avocado and chickpea puree, and a plant-based korean japchae that's brimming with fresh seasonal veggies.
Want to try this delicious vegan afternoon tea or a la carte menu? Click here to learn more and make your reservation.
Want more vegan options? Check out our roundup of plant-based buffets.