As pet owners know, it's important to keep Fido entertained and occupied with dog enrichment toys in Hong Kong, particularly if you're out at work during the day. Good dog enrichment toys will help to tire out animals (sometimes even more than a walk will!), provide them with mental stimulation and avert destructive behaviours such as chewing.
Dog enrichment toys in Hong Kong come in all shapes, sizes and price points. Here are a few of our favourites:
PAW Slow Pad
This simple silicone feeder is perfect for keeping dogs occupied. Simply smear with peanut butter, banana or any kind of sticky treat, and your pooch will happily focus on licking every last scrap out of the grooves. For dogs, licking is also known to reduce anxiety, making this little gadget a great distraction when crate training.
Pros: wallet-friendly, easy to clean. It has suction cups to keep it stuck to the floor or wall (it's great for distracting your dog during bath time).
Cons: you'll need to keep an eye on them when they're using it, as they might start chewing on it once the food is gone.
ZippyPaws Soup Dumpling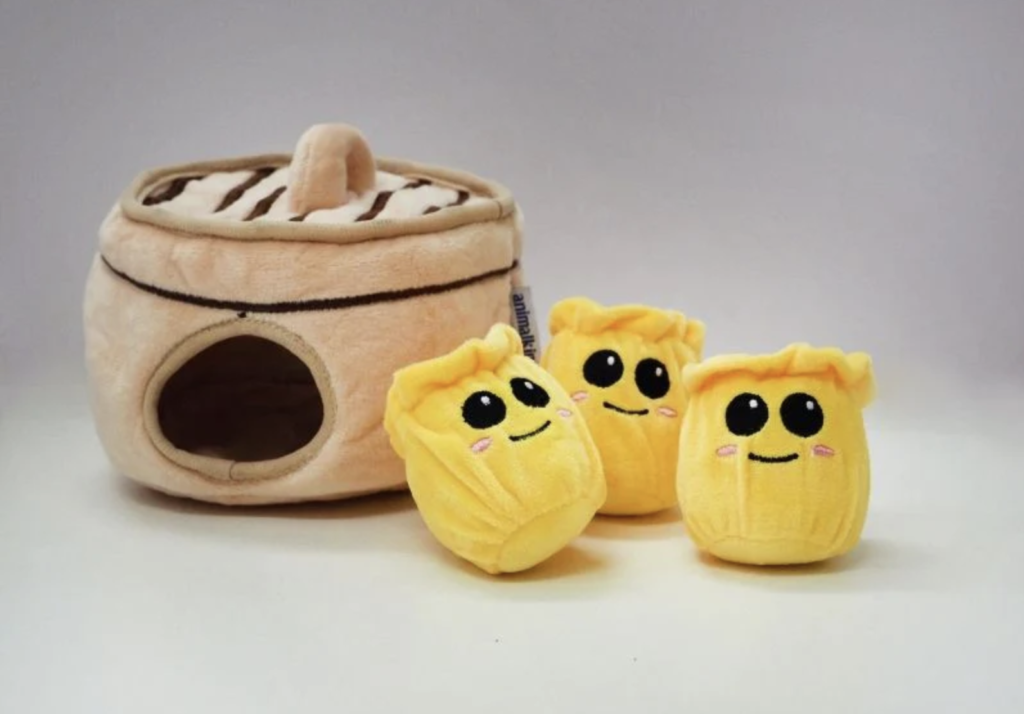 How cute is this little dumpling set? Train your dog's brain with this fun and interactive game – they need to figure out how to get the squeaky siu mai out of the steamer, before you put it back for them. Again, and again.
Pros: It's so. Damn. Cute.
Cons: Requires a human to play. Plus, it might not stand up to the attentions of larger or more destructive dogs.
Petgeek Foodie Orb
Need to keep your pooch occupied? Why not embrace tech? This automatic rolling ball dispenses treats, switching up speed and direction regularly to keep your dog guessing. It holds up to 380ml of kibble, and has an adjustable window to change up the speed at which the food is released.
Pros: Mealtime becomes fun and stimulating, and it can help slow down fast eaters.
Cons: If you live in an apartment, it's potentially noisy for your downstairs neighbours, especially with boisterous dogs.
Dog Snuffle Mat
These adorable snuffle mats help to develop your dog's natural foraging instinct and provides them with plenty of mental stimulation. Simply hide kibble or treats in all the different stations for your dog to discover. It'll keep them occupied for ages, while reducing anxiety and tiring them out.
Pros: Provides hours of stimulating entertainment.
Cons: Not exactly wipe-clean. Requires supervision.
Nina Ottosson Dog Puzzle
Petsian is one of a few local distributors of Nina Ottosson pet puzzles – which are widely considered one of the top puzzle feeder brands out there. There are several models of varying complexity to choose from – we recommend starting easy (flipping over lids to reveal kibble) before progressing to harder puzzles that require your dog to move various puzzle parts in sequence before getting to the treats.
Pros: These are super engaging puzzles that will stimulate, challenge and wear our even the smartest dogs.
Cons: Bigger or more destructive dogs require supervision to ensure the toys don't get chewed.
$118-$248, depending on the model from Petsian.