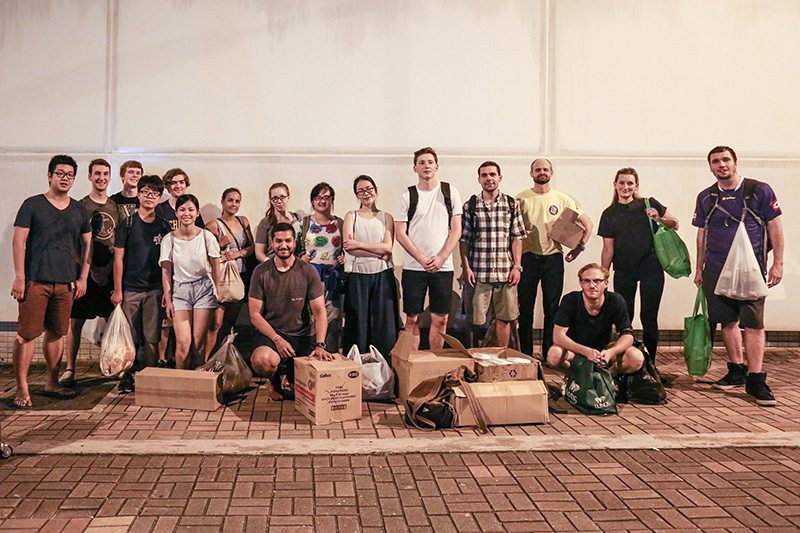 In the first of our new charity spotlight series, we speak to Jeff Rotmeyer, founder of ImpactHK, a new charity that provides much-needed resources and hands-on support to Hong Kong's homeless population.
Q How did you come to start ImpactHK?
I never planned on starting a charity. Three years ago, I had the idea of doing one kind act per month for the
homeless, in which we would walk through impoverished areas such as Temple Street and hand out supplies. It became quite popular, which gave us the opportunity to make a greater impact. We progressed to doing two walks per month, to four, and so on. Today, we are doing close to 30 walks per month in five locations across Hong Kong, and ImpactHK became a registered charity in March 2017.
Q What are some of the most difficult things you've witnessed during your time with ImpactHK?
We have come across quite a few homeless individuals who are are struggling desperately with drug addiction. Being homeless is extremely difficult and painful, and everyone who's homeless is dealing with some serious issues. It's normal to want to erase that pain or grief. 
Q And what have been some of the most rewarding moments?
We recently got a couple of people off of the streets and into a home. They are both now working and financially independent, and they are supported by our counsellors and our financial advisor. They are great friends of mine and I meet them both regularly for dinner and a chat.
Q Where do you hope to take the charity in the future?
We will be opening up at least one day centre very soon in early 2018. This will be a safe place for the homeless to visit where they can take a shower, get new clothing, wash their clothes, get haircuts, use the computer, and – of course – get fed. We will also run a number of support programmes including counselling, sports and language learning. We will also double our number of Kindness Walks per month to at least sixty. The more we are a regular, kind presence in these individuals' lives, the better our ability to build trust and friendships. We will also explore and implement job creation initiatives in industries that help Hong Kong and the less fortunate.  And of course get more people off of the streets and into leading happy and fulfilling lives. It's going to be a great year!
Q What is one thing you wish people knew about the individuals you help?
I wish people knew that each homeless person is a unique individual with his own story and difficult past. People are so fast to label them as lazy, drug addicted or too proud.  The only similarity among all of the homeless people we know, is that they all need a true friend that they can trust. As a charity, that is our top focus.
Q How do you fundraise?
We have done really well in raising money from our caring volunteers and dedicated supporters. We believe we now have enough to renovate and rent our day centre for one year, and so we are currently looking at places. We have also received some money from the Round Table charitable club, and we also do private Kindness Walks with corporations and groups, which is enabling us to grow and hire our first full-time employee. 
Get Involved
Jeff tells us how you can help ImpactHK improve the lives of Hong Kong's homeless:
Walk
"The easiest way to help is by joining one of our Kindness Walks. Simply hit "going" on the Facebook page and show up. All event details for that specific walk can be found there, too."
Donate products
"Clean clothing, bedding and towels are always appreciated, as are airline packs and sanitary items. Unfortunately we don't have the manpower to collect, so please bring your donations to the start of our scheduled walks. If you have a lot to give, we may be able to arrange collection, so send us a message and tell us what you've got!"
Donate money
We are currently raising funds to help get the people we serve off of the streets and into homes. Our costs include rental deposits, first month's rent, real estate fees and transport.
Donate skills
"This humanitarian movement has been made possible by hundreds of caring volunteers coming together to make 'Kindness' a priority! We are building a team of individuals from multiple backgrounds to make our programmes as strong as possible."