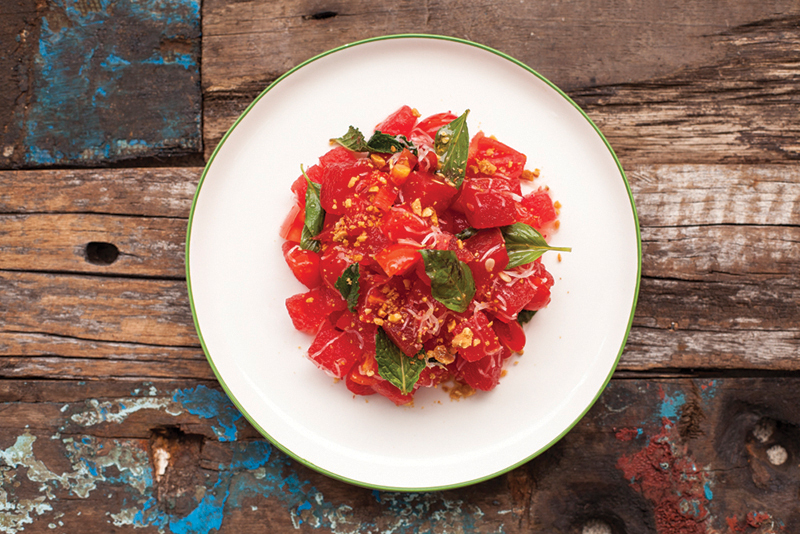 This perennial favourite on the Limewood menu is a light and refreshing dish that'll brighten up any grey winter day, and is a perfect accompaniment to grilled meats and seafood.
Salad
¼ whole watermelon, rind and seeds removed, cut into chunks
6 small red radishes, very thinly julienned
200g red cherry tomatoes, cut in half
Handful of fresh mint, roughly chopped
Handful of fresh Thai basil, roughly chopped
10g toasted peanuts
10g crispy shallots
Olive oil
Nahm Jim Dressing
1 whole lime, juiced
2 tbsp fish sauce
1 tsp brown sugar
1 tsp minced fresh ginger
1 tsp minced garlic
1 small red Thai chili, finely diced (you can remove the seeds to tone down the heat)
5 coriander roots and stem, roughly chopped
Directions

1. First, make the dressing. Combine all the ingredients together and leave to sit in the fridge for 15-20 minutes.
2. Then combine the watermelon, radish, cherry tomatoes, mint and Thai basil, along with the Nahm Jim dressing. Season with sea salt  as needed.
3. Toss in the fresh herbs, peanuts and shallots, being careful not to break up the watermelon too much.
4. Serve immediately with a drizzle of olive oil.