This article was updated on August 15, 2022
Bubbly and bacteria-rich, kombucha is a fermented tea beverage that's packed with billions of living probiotics, which are said to do wonders for your gut health. It's also turning into quite the cottage industry here in Hong Kong, with a few choice Hong Kong kombucha brands popping up in the last year. Here are some of our favourite Hong Kong kombucha brands.
Bombooch Kombucha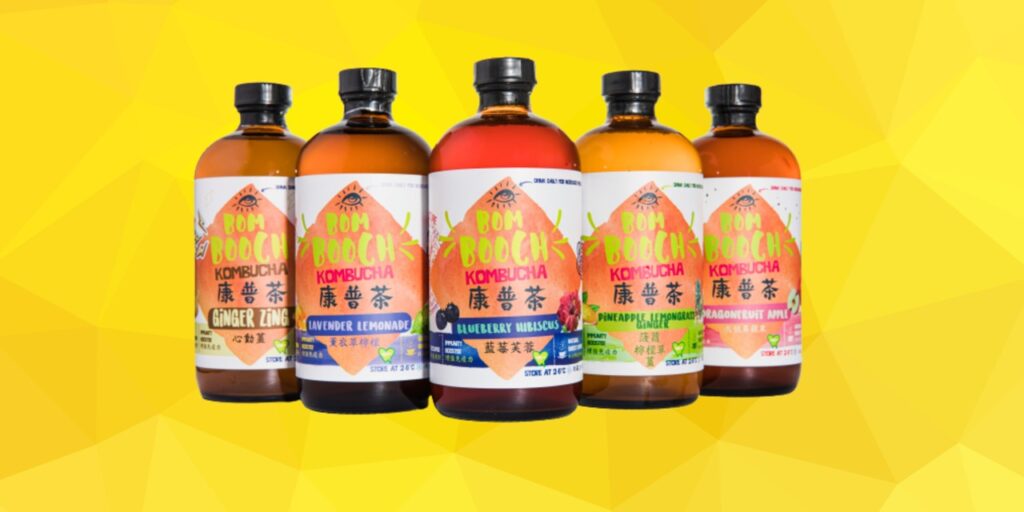 FEATURED: Hailing from our sister SAR of Macau, Bombooch was founded in 2014 out of The Blissful Carrot, Macau's famous plant-based cafe. The brand has since grown, and began to be produced out of Macau's first kombucha brewery in 2020. The brand can now be found in cafes, bars, restaurants, five-star hotels, supermarkets and gyms all over the city. With its sustainable principals and natural ingredients, Bombooch Kombucha is brewed with organic and fair-trade sourced teas, fresh juices, unrefined cane sugar, and artisan blended herbs. The spent tea leaves are sent to an urban farm in Macau for composting and returned bottles are either recycled or upcycled.
instagram.com/drinkbombooch, drinkbombooch.com
Taboocha
Hong Kong's first kombucha brewery, Taboocha has been slinging tasty probiotic tea-blends since 2014, and boasts an impressive range of flavours that they've cultivated (pun intended) over the years. From classics like Jasmine Green Tea to fruitier blends like Shiso Watermelon, Passionfruit Turmeric or Lime Basil, there's something for everyone at this institution of local booch. Check out their first-ever pop-up at K11 MUSEA, or find them in restaurants, cafes, gyms and supermarkets across the city, including City'Super, Market Place by Jason's, and Great Food Hall.
On the Wagon
Brewed in small batches right here in Hong Kong, On The Wagon was born as the passion project of two friends who wanted a tasty non-alcoholic alternative to bring to parties. After their booch blends became more popular than wine and beer, the creators knew they were onto something. Currently they have three flavours – Darjeeling & Assam, Roasted Green Tea, and Jasmine – which can be found at select locations around town, including Craftissimo, Sweetpea Cafe, Nacasa Cafe, Frantzen's Kitchen and Momo Moment.
Soulistic
Both a chef and certified plant-based nutritionist, Tiffany Lau is the mind behind Soulistic, a vegan food brand and catering company based in Hong Kong. Among the plant-based goodies available to buy in this online "vegan tuck shop," you'll find her OH My Gut kombucha that's been specially designed by Lau to support healthy digestion and improve gut health. Choose from Original (made with black tea and sugar cane) or Revive (apple and elderflower), and keep an eye out for the Soul Festive series during the holidays, when she releases limited edition blends like Spiced Mulled Wine.
$50-$58 for 250ml, $200-$252 for 1.2L.
Alive
As its name suggests, Alive is all about harnessing the power of healthy active bacteria to better our digestive system. They carry four fruit-inspired flavours – Pineapple Chili, Grapefruit Rose, Blueberry Basil, Lemon Ginger. This fermented food brand isn't just limited to kombucha, either; they also make their own vegan cream cheese, sourdough breads and pastries, and run a healthy brunch cafe in Sham Shui Po that's well worth checking out.
FoodCraft
For the DIY types out there, buying kombucha might not thrill and excite as much as the prospect of making your own. If that's the case, check out FoodCraft's kombucha classes and kits, which teaches home-brewers everything they need to know, from recipes and instructions to how to grow and maintain the SCOBY (which stands for "symbiotic colony of bacteria and yeast") that is the bedrock of every bottle of booch. Thinking of giving it a whirl? Read our primer on what you need to know before fermenting your own kombucha.
$680 for a two-hour guided workshop including materials, or $480 for a starter kit.
Kuppa Kombucha
Appealing to everyone from kombucha enthusiasts to first-time buyers, Kuppa Kombucha strives to replace high-sugar soft drinks and fruit juices with this decidedly healthier alternative. They offer three green tea-based flavours – Original, Lychee & Ginger, and Strawberry & Szechuan Peppercorn – which can be found at select cafes and restaurants, or you can order your own six-pack online. Pro tip: the brand's founder, James, swears by this booch as a perfect mixer for a summertime cocktail.
$190 for six.