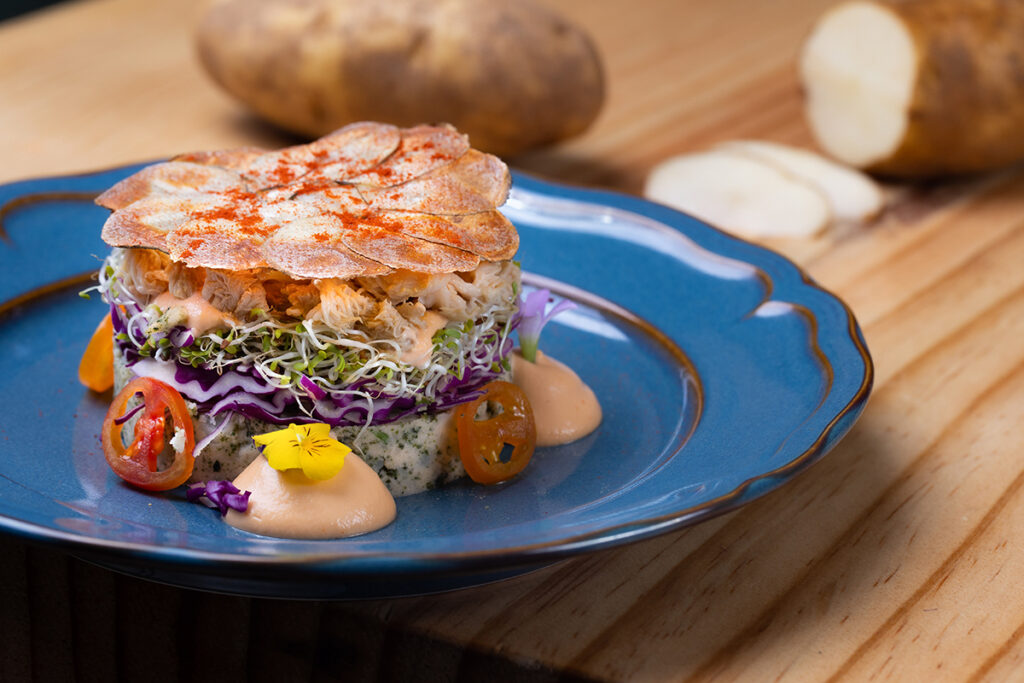 At Liv HQ, we love to eat. Snacking, dining, munching, noshing, grazing, gourmandising – call it what you will, we're into it. In that spirit, we present to you this entirely opinion-based list of our favourite healthy meals and treats in Hong Kong. Each of these dishes sit right smack at the intersection of nutritiously sound and mouthwateringly tasty, which explains why we find ourselves coming back to them again and again. Bon appetit!
Salt Baked Carrots at BEDU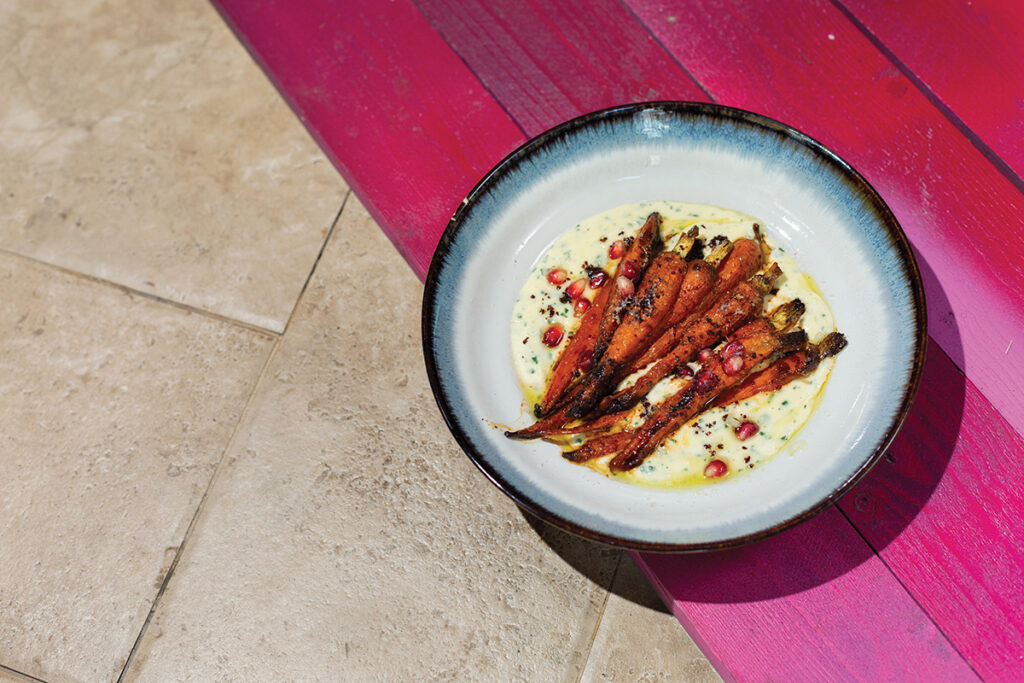 A hidden gem at the foot of the Shin Hing Street stairs, BEDU's Middle Eastern mezze never misses when it comes to healthy sharing plates. We're always impressed with signature dishes like smoky hummus and Hong Kong honey-baked feta. Recently, their summer menu has expanded to offer more veggie-based dishes, like salt baked local carrots with lime, sumac and sheep's milk cheese and beetroot basturma, with caramelised whey and pine nuts ($130).
40 Gough St., Central, bedurestaurant.com
Faux-Gras at Ma…and The Seeds of Life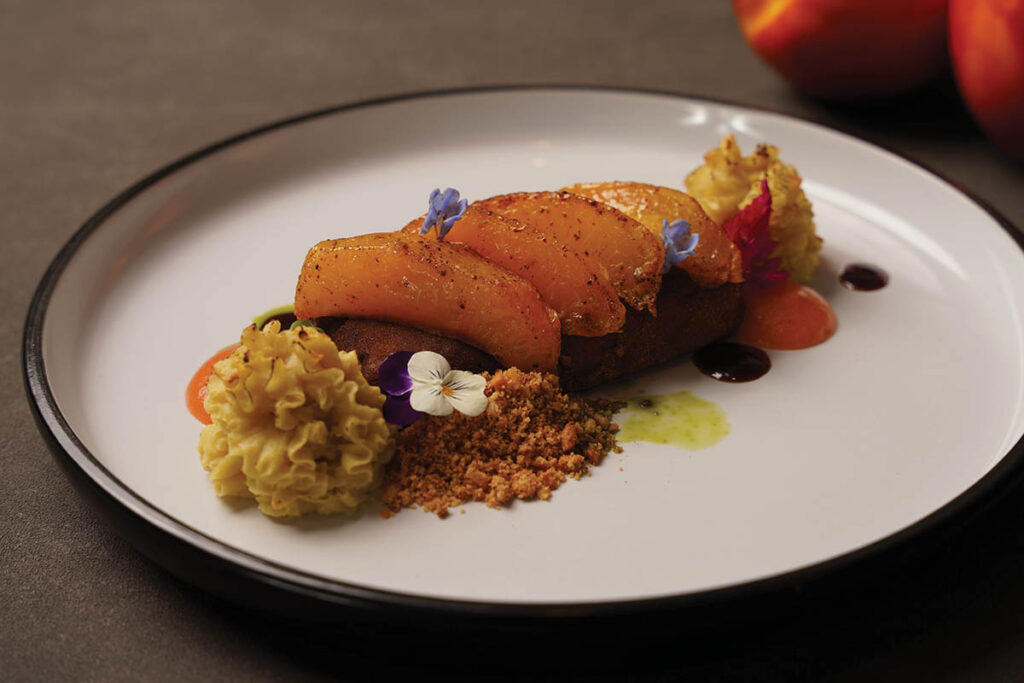 Ma… and the Seeds of Life is Hong Kong's first fully plant-based fine-dining restaurant, and we love just about everything they do. But their beautifully plated starters are where they truly shine. Do you love foie gras, but shudder to think about the force-feeding required to produce it? Embrace an elevated vegan version with "Faux-Gras"! It's a cruelty-free pan-fried pate made with porcini mushrooms and cashews, drizzled in a decadent peach and red wine reduction then topped with apple caviar. You won't miss the real thing, we promise.
Shop No. 11, 1/F, H18 CONET, 23 Graham St., Central, marestaurant.com.hk
Bedouin Bowls at Little BEDU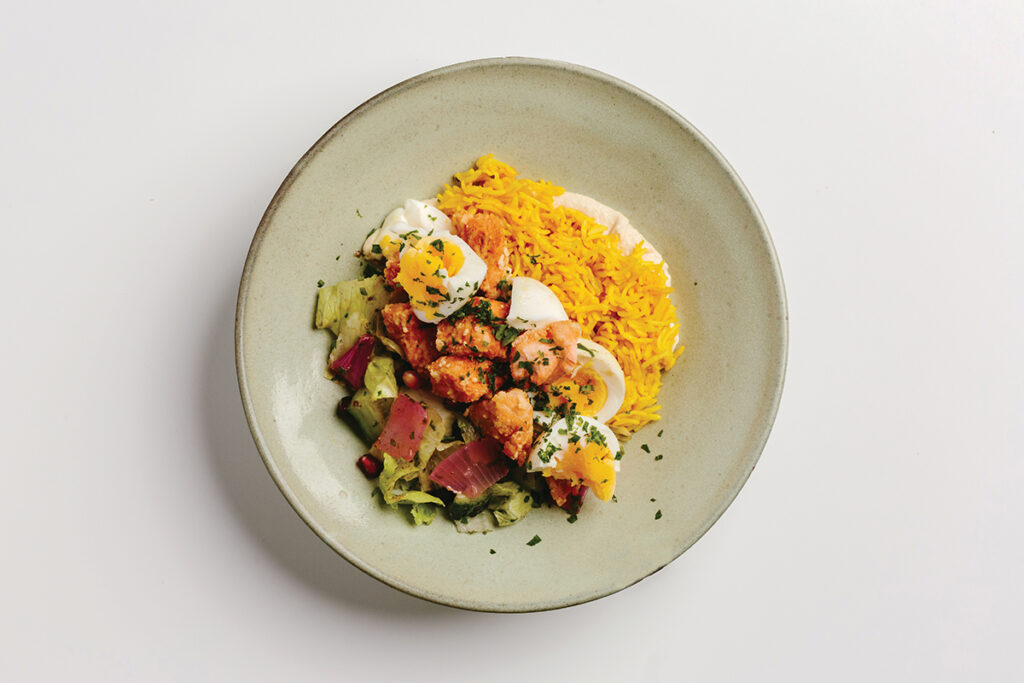 Speaking of BEDU…. we'd be remiss if we didn't mention that they also operate a bang-up grab-and-go outlet just around the corner! Little BEDU may be tiny (maximum of four standing customers only!), but what it lacks in size it makes up for in nutritional value, offering clear macro information for its salad and rice bowls, created in partnership with local dietician, Nutrilicious. Available for pick-up or on Deliveroo.
Shop 2, 49-51A Gough St., Central, bedurestaurant.com/littlebedu
Maltese Chicken Cobb Bowl at NOC Coffee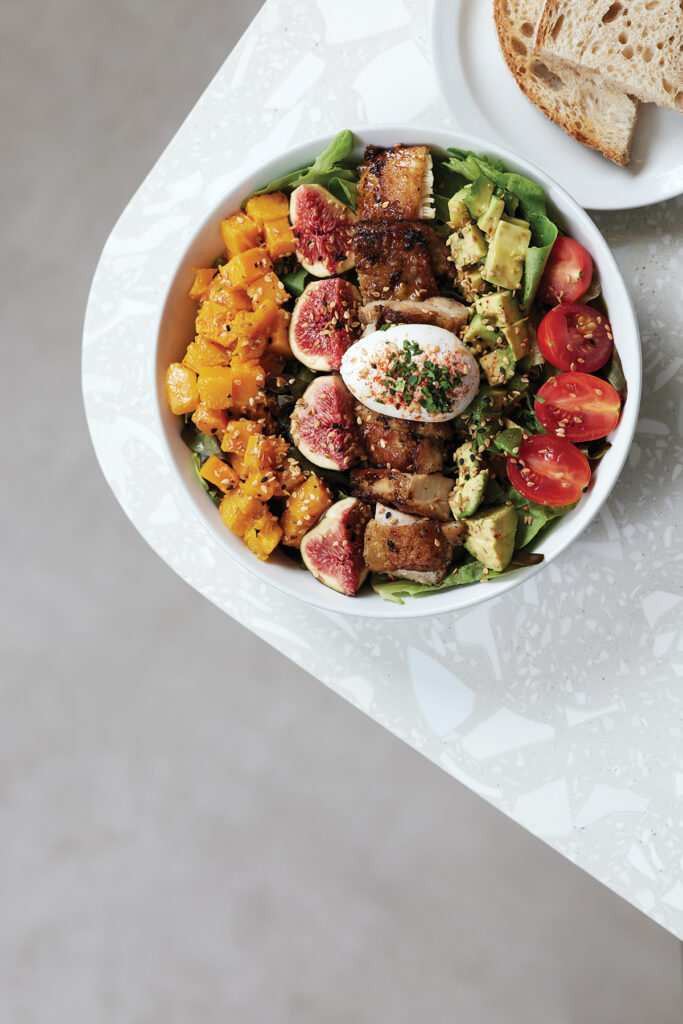 Tried, tested and true, we can't fault the Maltose Chicken Bowl at NOC Coffee. Heaped with roast chicken, avocado, pumpkin, cherry tomato and cauliflower, crunchy salad greens and thyme honey mustard dressing, it's a consistently healthy lunch option that packs a hefty protein punch, and contains at least four daily servings of veg! We prize this particular dish so highly because it's a nutritious and delicious meal that we can reliably find regardless of which end of the city we're in!
Locations in Sai Yin Pun, Tin Hau, Hung Hom, Tsim Sha Tsui, Tsuen Wan and TKO, noccoffeeco.com
Lahpet Thoke at Club Rangoon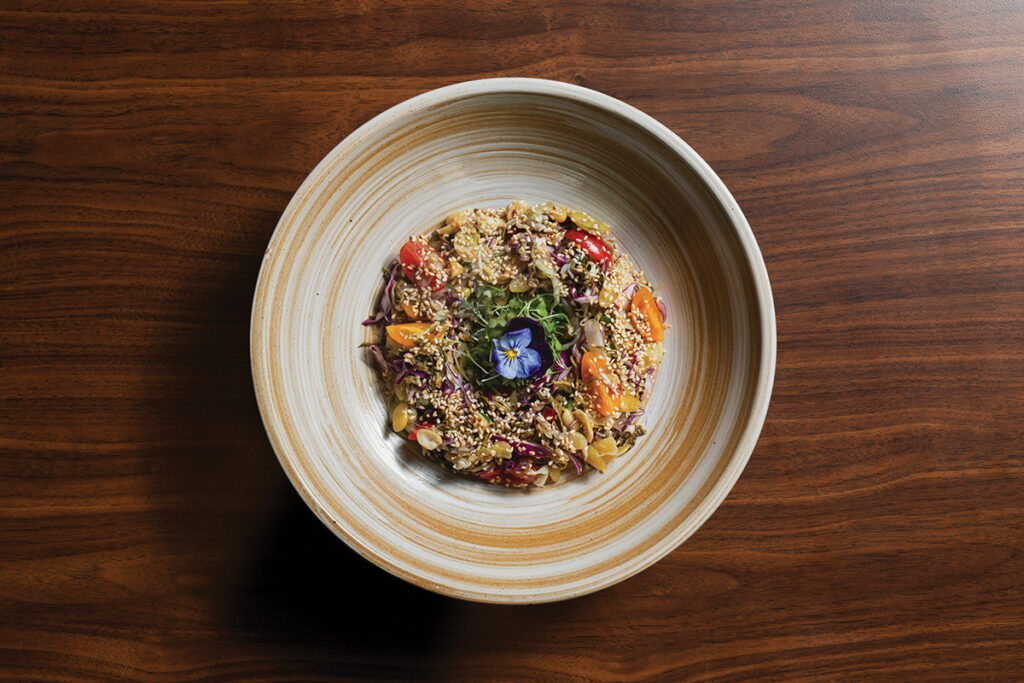 This traditional Burmese fermented tea leaf salad is an edible wonderland of pickled tea leaves, cabbage, cherry tomatoes, Burmese crunch peas in fish sauce with a squeeze of zesty lime. Bright, delectable, and full of fermented goodness, your gut will thank you for this delicious offering.
33 Aberdeen St., Central, clubrangoon.com.hk
Low-Carb Grill Chicken Set at Bengal Brothers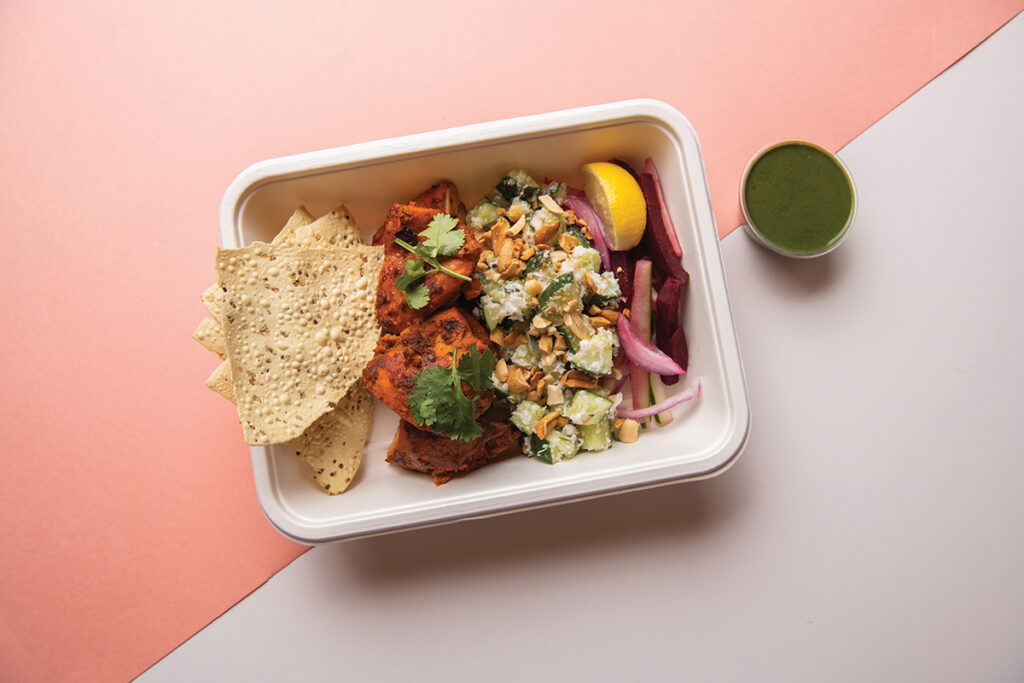 Built right into the name, this carb-light dish kati roll stall Bengal Brothers is a surefire way to keep your macros in check. Lean grilled chicken serves up a healthy serving of protein, whilst pickled veggies support a healthy gut. Paired with healthy whole foods like cucumber, coconut and peanut salad, and this on-the-go option is a winner for us.
Locations in Wan Chai and BaseHall (Central), bengal-brothers.com
Lemon Tiramisu Waffle Cake from Kefi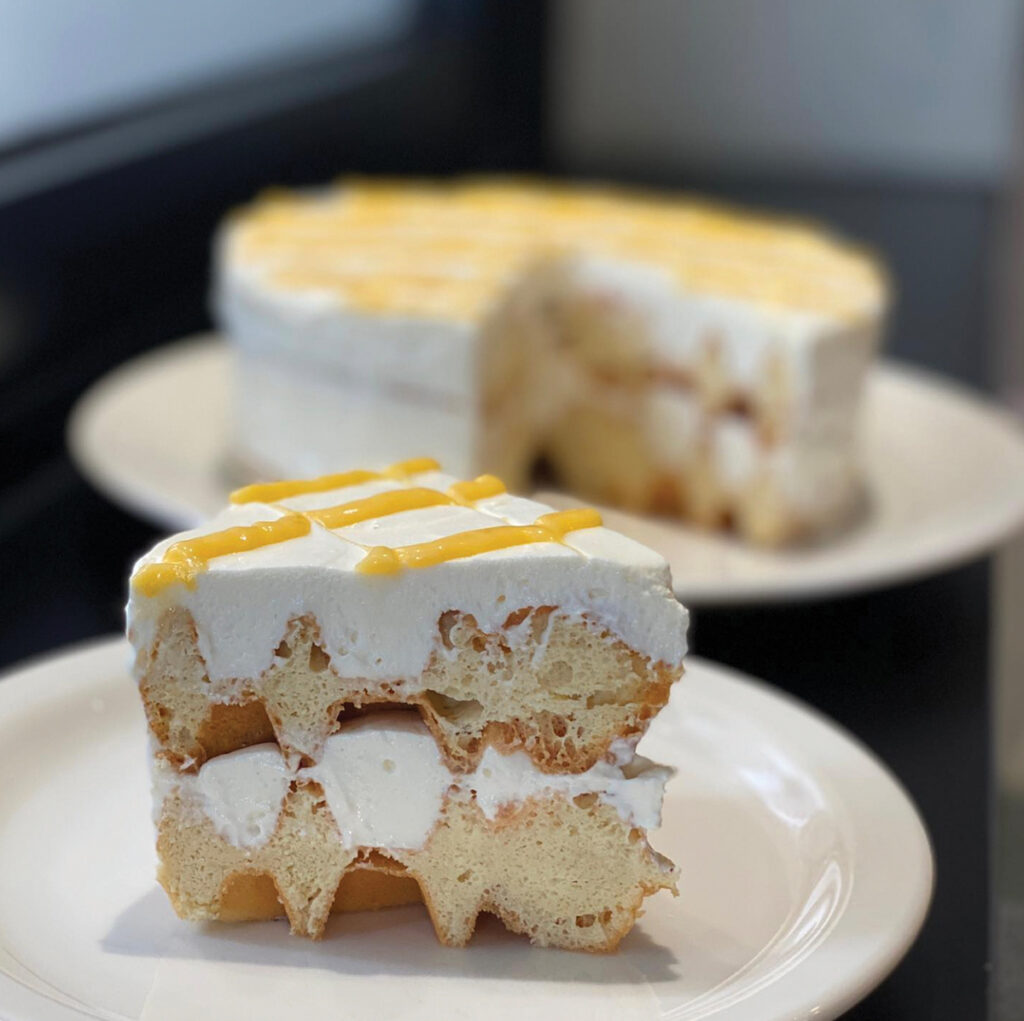 Kefi is a tiny, independent cafe in Kennedy Town that prioritises nutrient-dense dishes that are satisfying but also super healthy. Everything you find here is low-carb, low-calorie, made with
natural ingredients and with no added sugar. While we love their protein-rich salads, we just can't resist their lemon tiramisu waffle cake. A healthy take on the traditional limoncello tiramisu dessert, this version swaps ladyfingers for high protein waffles made with almond flour and whey protein. The filling is made with lemon- flavoured Greek yogurt rather than mascarpone, and the drizzle of homemade lemon curd is free from refined sugar and additives.
G/F, Kennedy Mansion, 165-175 Belcher's St., Kennedy Town
Three-Grain Mapo Doufu at Moxie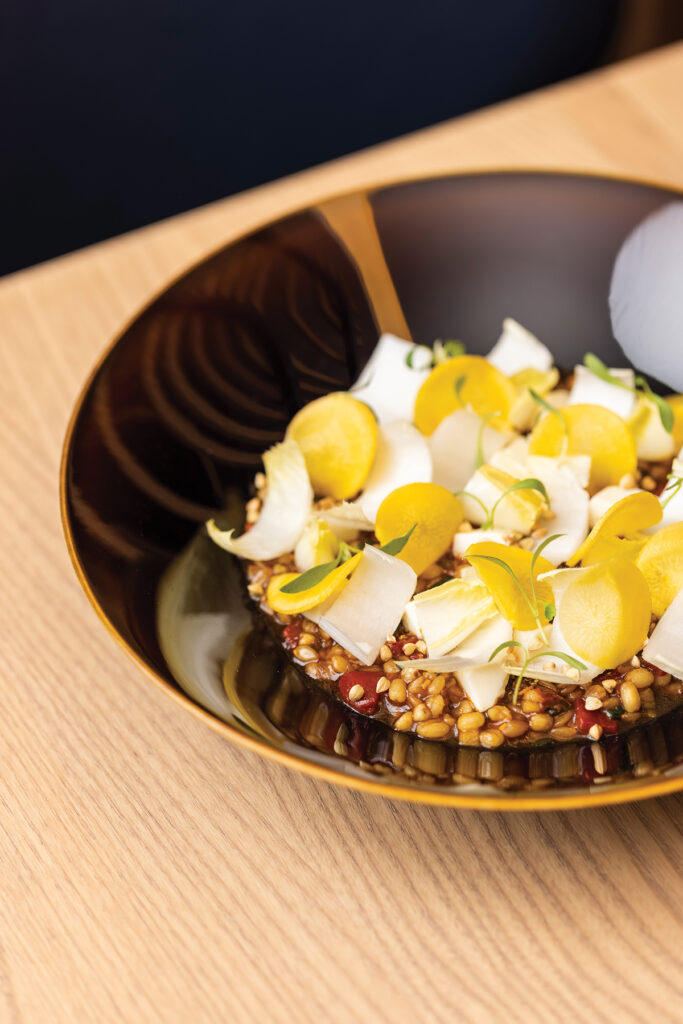 With conscious, ethically sourced dishes crafted by the city's brightest culinary talent, it's a challenge to put a foot wrong at Moxie. This upscale all-day restaurant executes everything to perfection, including the standout Three-Grain Mapo Doufu. Reimagining the iconic Sichuan classic without meat and white rice, you'll be treated to a gorgeous rendition of nutrient-dense barley, buckwheat and spelt, with a fiery kick courtesy of Sichuan peppercorn leaf.
Shop 203, 2/F, Alexandra House, The Landmark, 15 Queen's Road Central, moxiehk.net
Spicy Cauliflower Pocket at Chickpea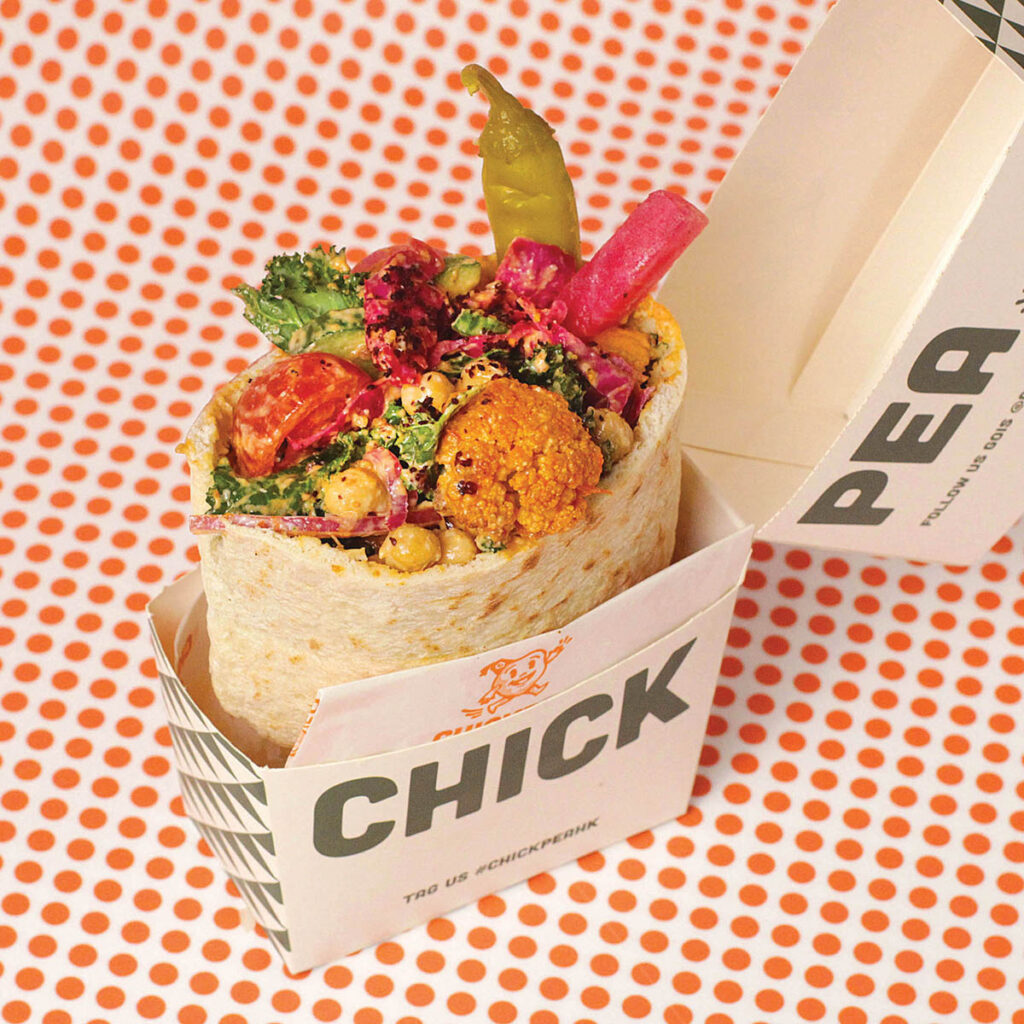 Vegans and flexitarians alike can appreciate the flavour-loaded. Cauliflower Pocket from takeaway joint, Chickpea. A freshly made pita pocket overflowing with kale, quinoa, chickpeas, tomato, pickled red cabbage, cucumber, hummus, toum, tahini and roasted cauliflower – what could be better?
Locations in Central, Wan Chai, and Quarry Bay, chickpea.hk
Saba-boshi roll at Honjokko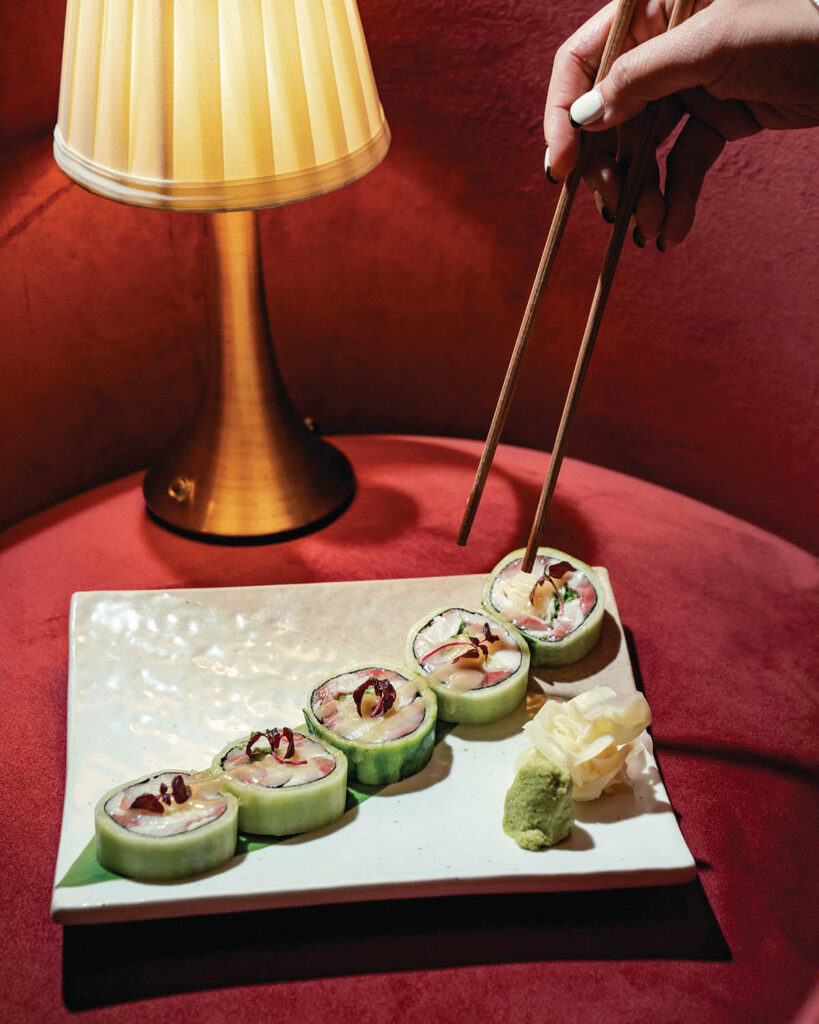 This light and healthy no-rice roll from Honjokko wins big points from us, swaddling omega-rich marinated mackerel inside thinly sliced cucumber, along with generous lashings of ginger, spring onion, pickled plums, and shiso drizzled on top. Imagine going for a sushi feast and not walking out of the restaurant in a carb coma!
The Sixteenth, 2/F, Oxford House, Taikoo Place, 979 King's Rd., Quarry Bay, honjokko.hk
Salted Caramel Peanut Butter Chocolate Ice Cream Cake by Suphia's Functional Foods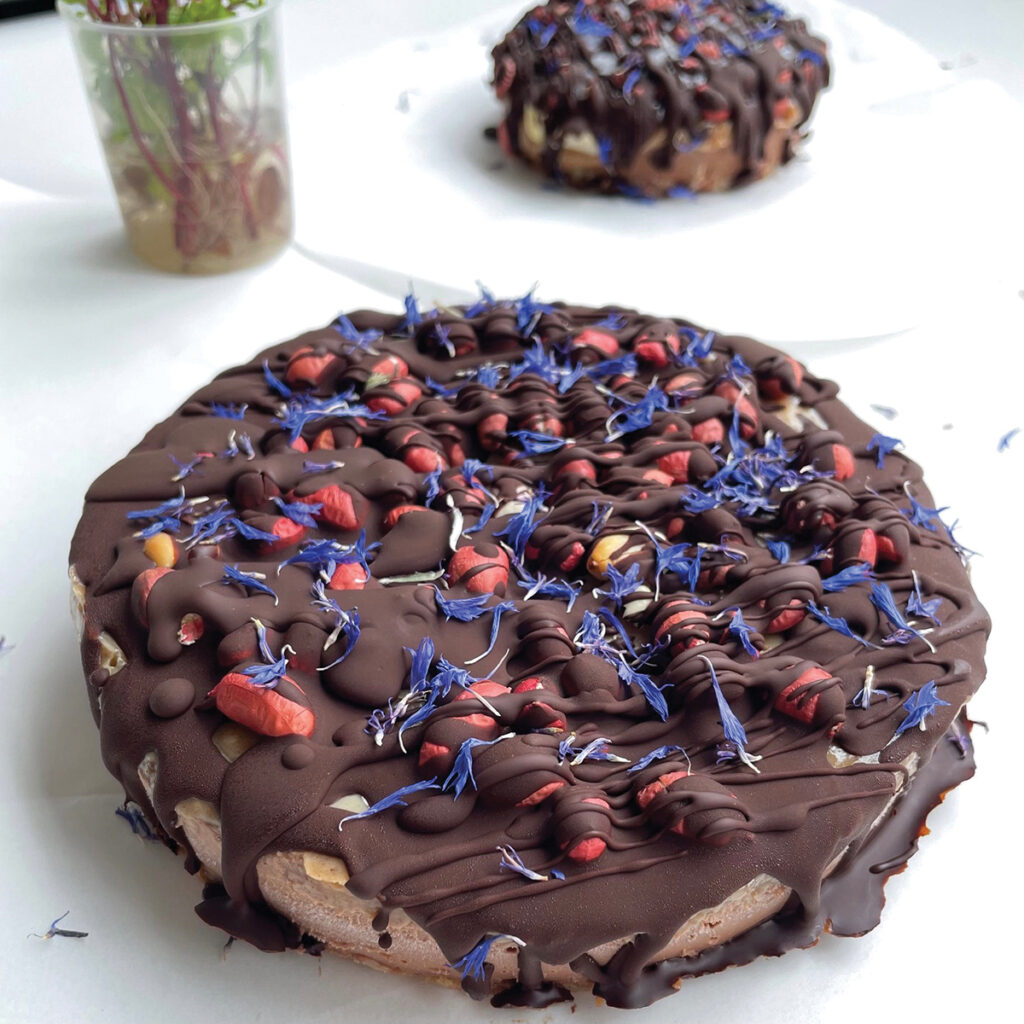 Need a cake for an upcoming birthday, baby shower or leaving do? The entire cake range from this health-conscious vegan bakery is a guaranteed crowd-pleaser. Made without dairy or refined sugars, all cakes are raw and gluten-free with low-sugar options available for diabetics and keto diets. And you can't go wrong with salted caramel, peanut butter, chocolate, and ice cream – it's scientifically proven.
Allium Ursinum at Asaya Kitchen, The Rosewood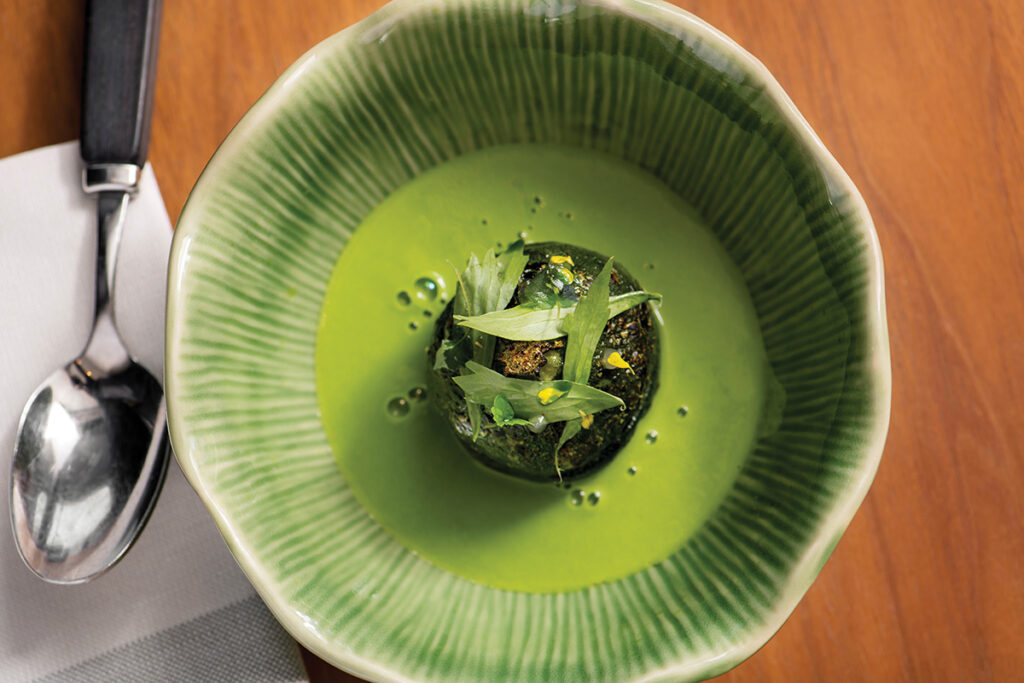 Named for the wild garlic that forms the principal ingredient of this oh-so pretty dish, Allium Ursinum might be fully vegan, but it has a richly complex flavour profile, combining wild garlic, chard and locally sourced petit pois with black truffle, squash and Sichuan green pepper, topped with sauteed walnuts, chives and lemon zest. Enjoy a la carte or as part of a sustainable summer tasting menu for an indulgence that'll leave you feeling light in both body and soul.
6/F, Rosewood Hong Kong, Victoria Dockside, Tsim Sha Tsui, 18 Salisbury Rd., Tsim Sha Tsui, 3891-8732, rosewoodhotels.com
Red Velvet Parfait Pancakes at 14 South Lane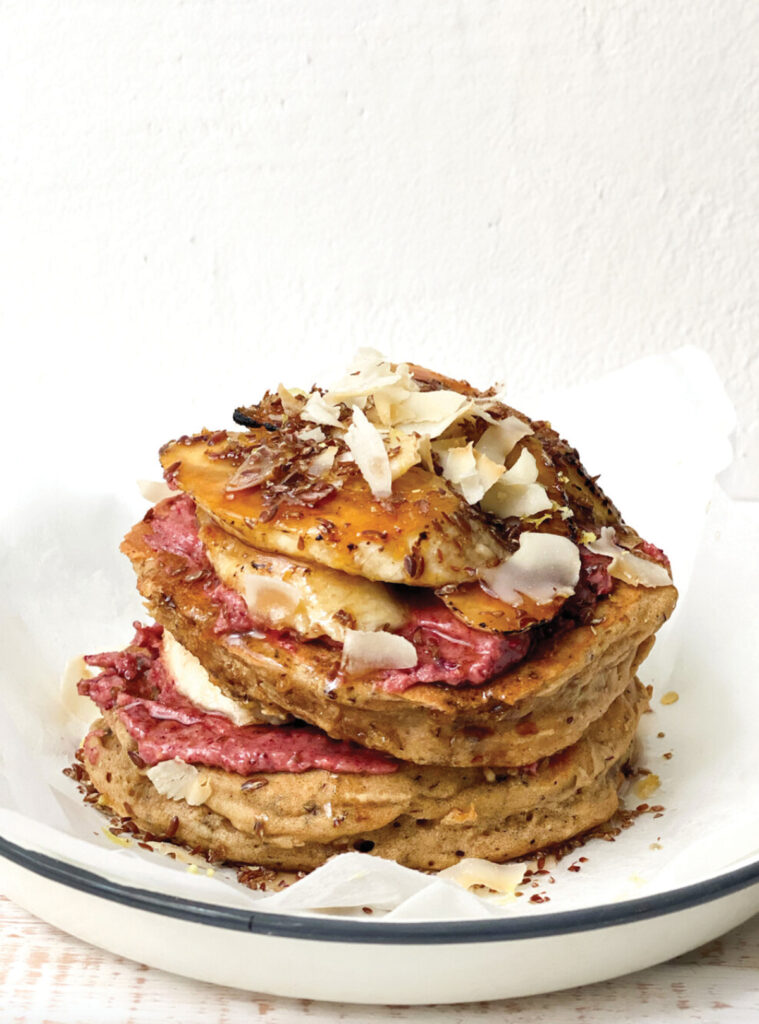 Long-time readers know that we stan 14 South Lane, and we stan it HARD. In particular, we drool over their creative pancake concoctions. Try the Red Velvet Parfait Pancakes on for size,
a towering stack of gluten-free pancakes made from quinoa, coconut, flaxseed and topped with low-GI dark chocolate ganache, summer berries and organic maple syrup. Can't get enough? Make your own by joining 14 South Lane's DIY pancake workshop!
G/F, 14A South Lane, Shek Tong Tsui, 14southlane.com
Røget Ørret at Hjem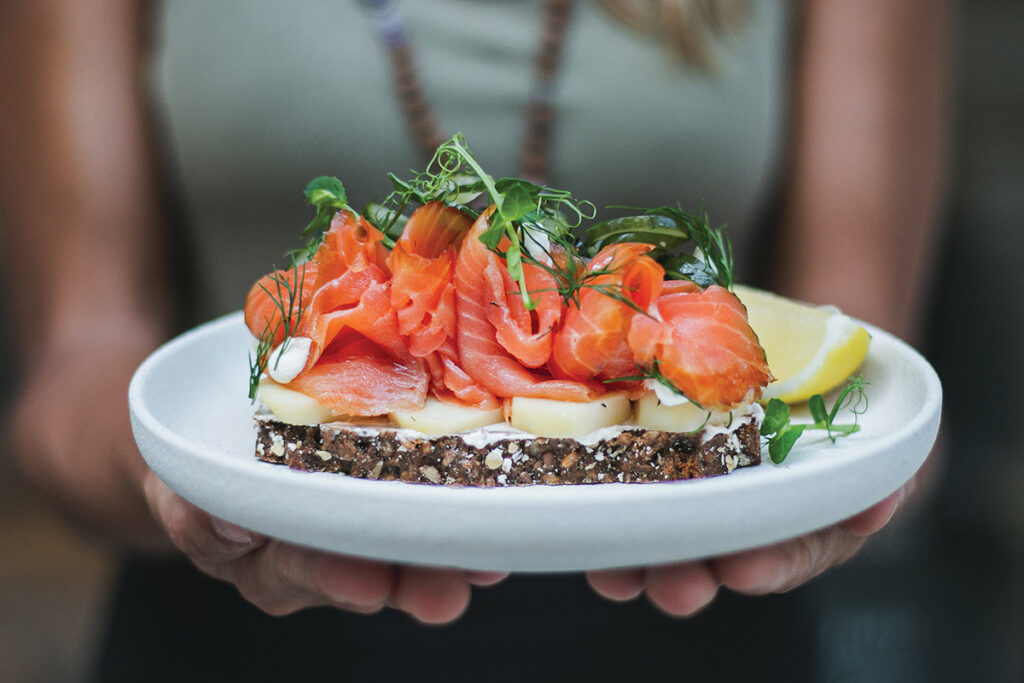 If you've never sampled smørrebrød – a traditional open-faced rye sandwich from Scandinavia – run, don't walk to Hjem and immediately order the Røget Ørret. Expertly cured Norwegian trout meets crunchy cucumber and aromatic dill salad on a bed of fingerling potatoes and velvety crème fraîche. Deceptively simple, but too satisfying for words.
Hjem, 161 Hollywood Rd., Sheung Wan, hjemhk.com
Cauliflower Bum Bum at MEATS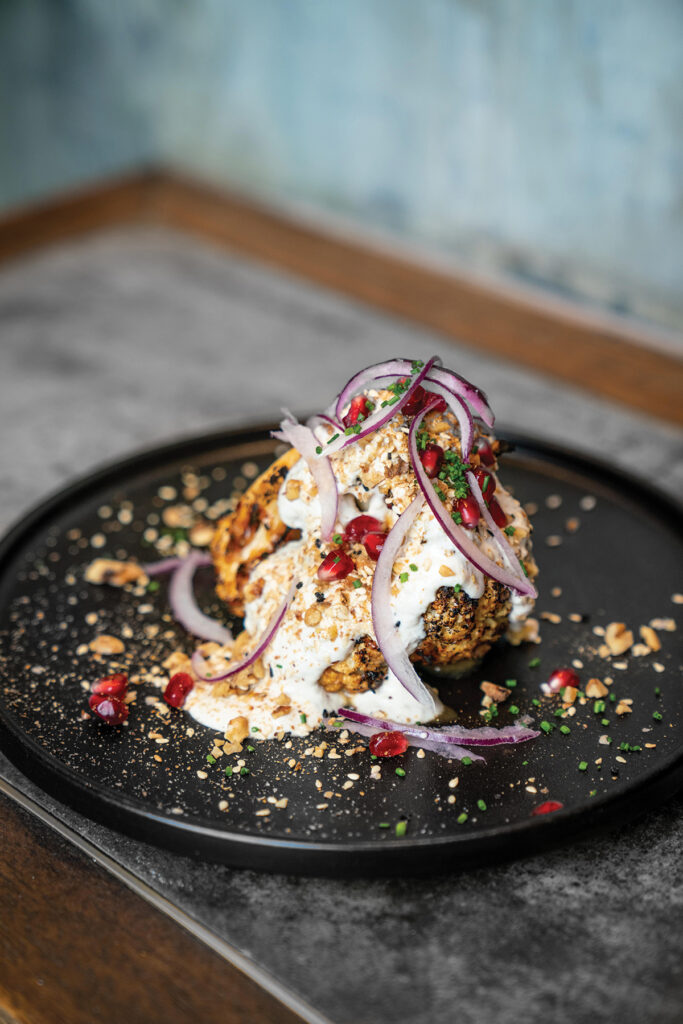 A fork-tender cauliflower drowning in miso-glazed honey, pomegranate seeds and a rich and creamy plant-based cashew sauce. Seriously, what's not to love? Several Liv staffers admit to making visits to this Central restaurant just to satisfy their cravings for this yummy plate. No one expected a steakhouse to come up with one of the city's best vegan mains, but here we are!
G/F Soho 28, 30 Staunton St, Central, piratameats.hk
Carrot Cake at Orka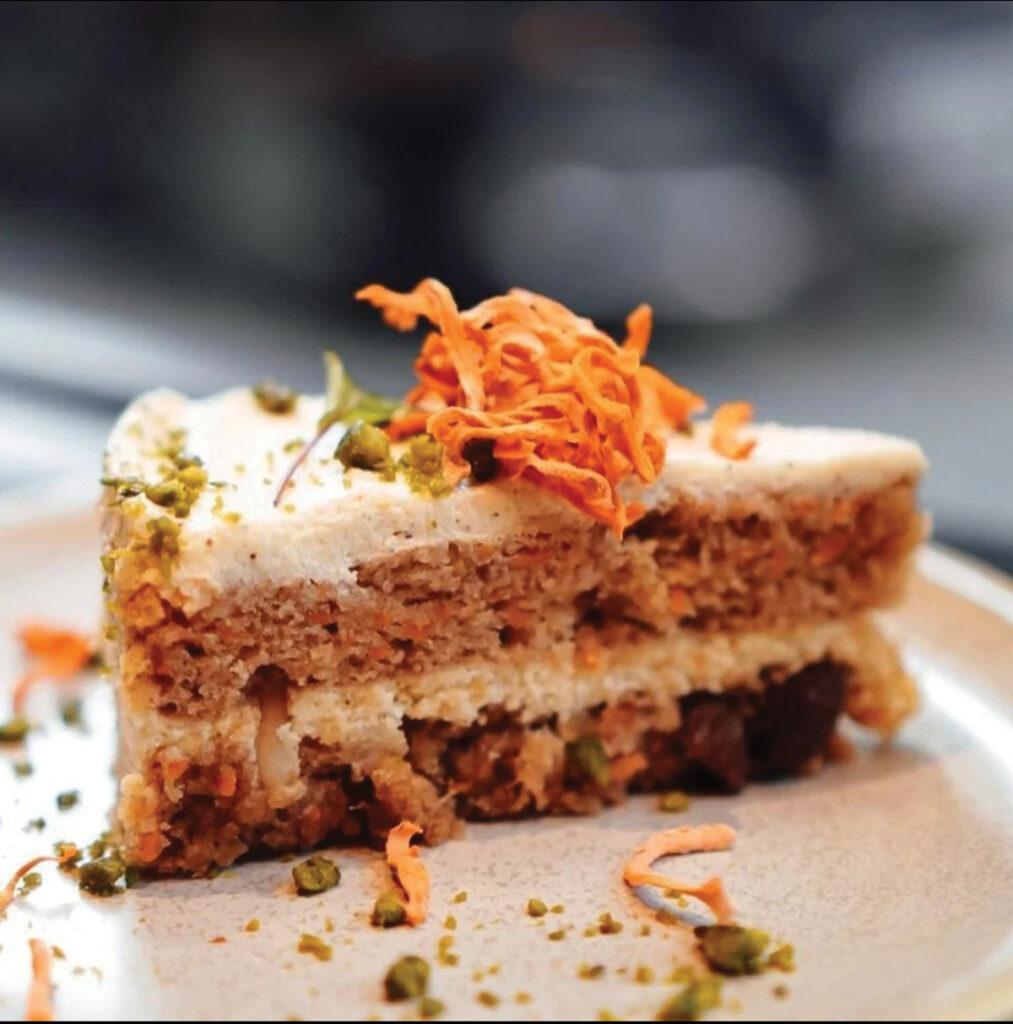 Made with locally sourced organic farm carrots and low-GI coconut sugar, this conscious carrot cake is a slice of heaven that won't send your blood sugar spiking. Even better: it's slathered in a homemade cashew frosting, so it's suitable for vegan and lactose intolerants. If carrot cake isn't your thing, we can also highly recommend the indulgent gluten-free brownies.
G/F, 36 Wyndham St., Central, facebook.com/orkarestauranthk
Shredded Chicken Salad at Le Garcon Saigon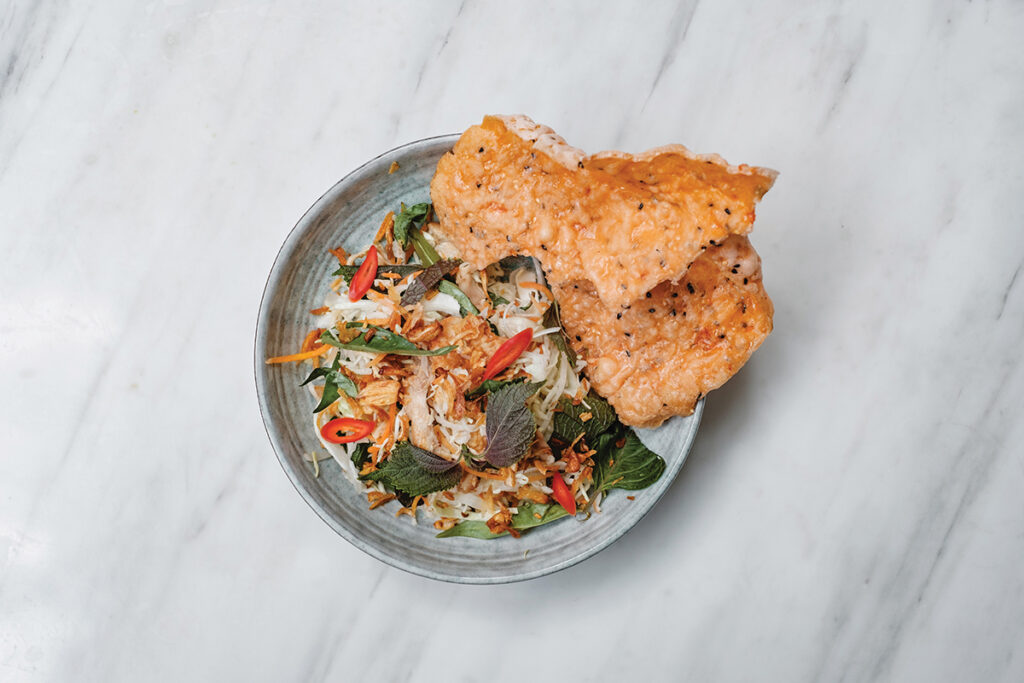 Craving Vietnamese? If you're trying to skip the carb-heavy noodle and rice dishes, opt for this satisfying salad. Shredded roast chicken with crispy cabbage and peanuts, tangy pickles and fibre-rich rau ram (Vietnamese coriander) hit all the major nutritional bases.
12-18 Wing Fung St., Wan Chai, legarconsaigon.com
Brussel Sprouts at Yardbird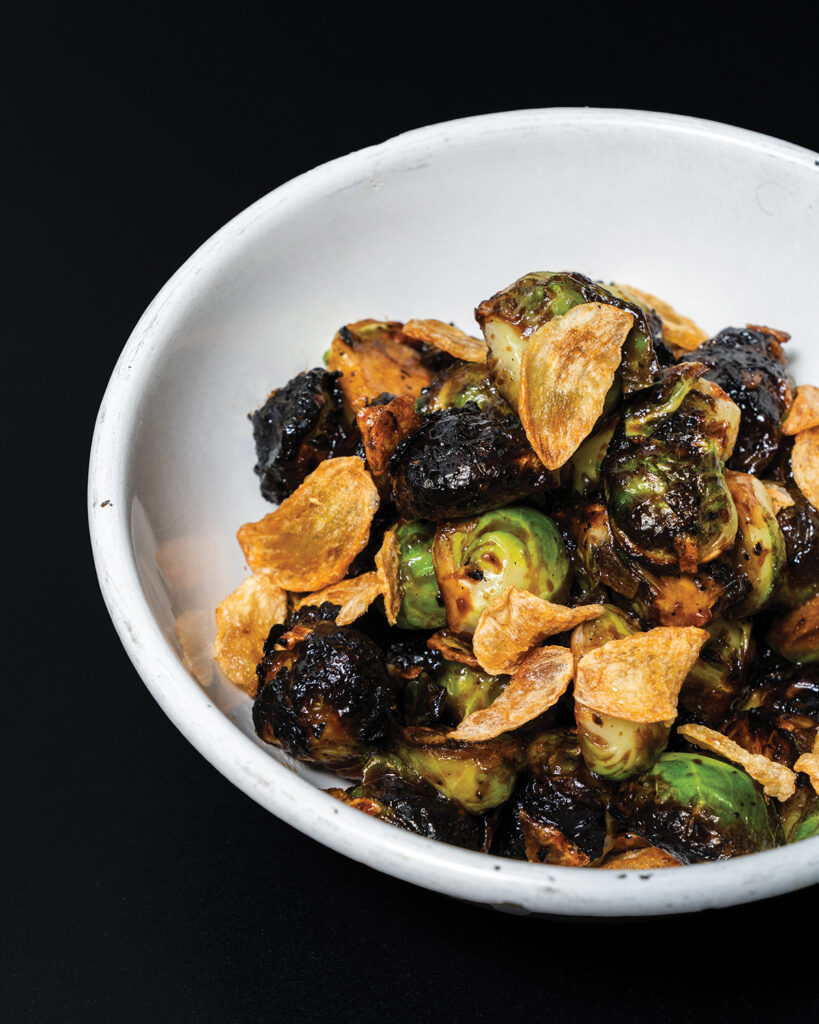 Holding their own against the charcoal- smoked meaty yakitori skewers at Michelin-starred izakaya Yardbird are these celebrated brussels sprouts. Marinated in house black garlic sauce then chargrilled and tossed in lemon juice and crispy garlic chips, it's no wonder that people flock here for this tantalising veggie dish.
Winsome House, G/F, 154-158 Wing Lok St., Sheung Wan, yardbirdrestaurant.com