There's a daring new way to explore the mountains of Oman: dangling from the Middle East's highest via
ferrata climbing route. Petrified at first, Kate Springer clips onto the cabled mountain course only to discover an unexpected way to relax.
That's easier said than done, seeing as I'm on the edge of Oman's deepest canyon and he's asking me to dangle 2,000
metres above sea level. My legs shake uncontrollably, while my hands grip the steel cable that's been hammered into
the mountainside. This is the Middle East's highest via ferrata, just opened at the Alila Jabal Akhdar retreat earlier this year. Meaning "iron road" in Italian, a via ferrata is a protected climbing course, where you don a helmet, harness and carabiner clips that hook onto cables secured to the rock's surface. Each section of cable is sealed off , and you're constantly clipping from one wire to the next, tackling one piece of the obstacle course at a time. Located in the Al Hajar mountainregion of Oman in the Middle East – about two hours southwest of Muscat – Alila's new via ferrata is tucked out of sight under the hotel's cliff side infinity pool, where more intelligent guests start their morning with Bloody Marys. Me? A cold sweat.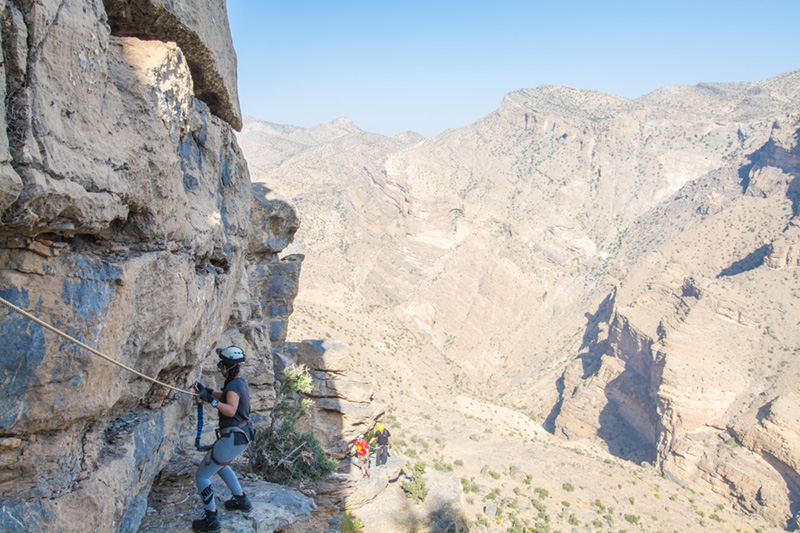 As I inch along the mountain cables, a herd of goats prance along the rocks above me. I envy their sure-footedness and carefree confidence – they're unfazed by the canyon abyss just inches away. Once I get the hang of the clips and cables, Mahmoud tells me about the mountain and its role in Omani culture. Jabal Akhdar (Arabic for "green mountain") is one of Oman's most important agricultural regions – a fact that's hard to believe, given its stark landscape.
But the Mediterranean climate and rich soil produces a bounty each year, including everything from roses to pomegranates, berries, plums, figs and almonds. Despite its famous harvest, the area feels more like a desert, with miles of sandy stone terrain and a peppering of scraggly shrubs. Looking out across the canyon from my perilous perch, the landscape appears vast and raw – and unsettlingly quiet. The sun is soft and the air is crisp, cooling my sweat with an occasional breeze. Mahmoud and I continue to climb side by side, creeping farther and farther from the hotel. As we wrap around a sheer rock face, a challenging set of obstacles unfolds below –I spot a set of metal stairs, what looks like a vertical ladder, and a tightrope-like bridge that stretches across the mouth of a cave. That's exactly where we're headed.
One clip at a time, we proceed slowly and deliberately, eventually hitting a rhythm, with the sound of clicking metal as a soundtrack. Mahmoud recalls what it was like to grow up in the area, and all about his love of mountain climbing. He's as comfortable as the goats, having spent his childhood running around his cliffside village of Hail Al-yemen. Though he is a veteran mountain climber, Mahmoud didn't try a via ferrata course until joining the hotel. "I immediately loved the thrill of it," he says. "With the steel cables, you can move over steep ground, which allows you to feel some exposure while still being completely safe."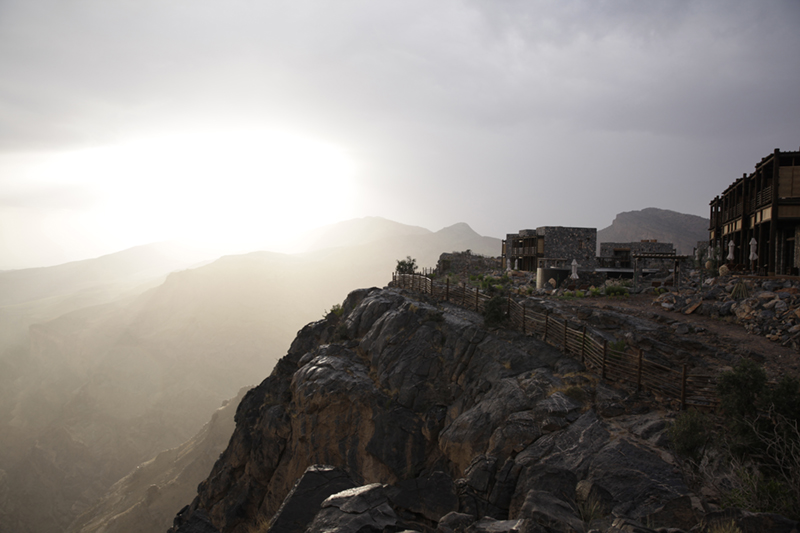 Though by now I'm comfortable enough to look around and appreciate the canyon's dramatic views, Mahmoud assures me it's common for first-time climbers to feel petrified when they hop over the hotel's fence and look down at the course. Aft er all, it's a steep descent, at nearly 90 degrees. While the beginning is hard to enjoy, most climbers warm up during the course. As soon as they learn to trust the equipment – and the concept of using carabiners – their confidence picks up and they learn to let go a little bit. He often watches grips relax and tension fade, as they eagerly tackle the most challenging obstacles – like a vertical stairwell
composed of metal pegs.
He's right – soon enough, I'm snapping pictures and scrambling along the canyon walls like I've been doing this for years. As we reach the completely exposed rope walk, I lean against the cable and take in the vast ravine that stretches before me. There's a thin steel wire and an ocean of air below my feet – and I haven't felt this relaxed in years.