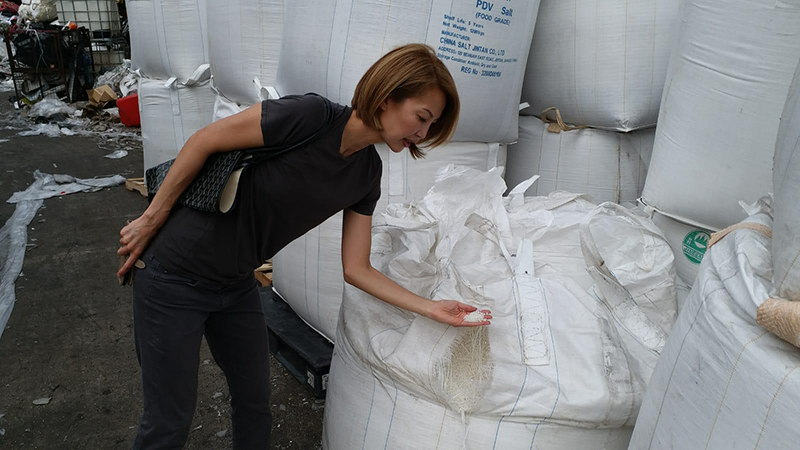 The head of community and corporate outreach at Eco Drive, Hong Kong's newest advocacy group striving to reduce single-use plastic via outreach and education, Yolanda seeks to affect change on a larger scale by influencing top-level decision-makers at corporates, schools and other groups.
Why is reducing plastic waste in Hong Kong so important to you?
Hong Kong rarely prosecutes littering offenses, and with people so used to the convenience of the city, they often just leave their garbage for others to clean up. Then, after a rainstorm, litter travels through our drains and into the sea. Single-use plastic is used, on average, for just 15 minutes, and then it stays on the planet for hundreds of years. Finally, only 5 percent of single-use plastics are being collected and recycled in Hong Kong. Who knows where the rest goes?
Why do we have such a big plastic problem in Hong Kong?
There is generally distrust in recycling services, so most people don't bother to separate their waste. There is very little education on how to separate, and the general public doesn't know what kind of plastics can or cannot be recycled.  Few companies pick up and separate plastic because there is no incentive; it takes up too much space and it's less profitable compared to other recyclables, although Hong Kong Recycles and Chun Shing are two good companies that will come and take away your plastic. Finally, with no incinerator, everything we throw away goes to the landfill.
How are you encouraging people to reduce their reliance on single-use plastic?
We are reaching out to workplaces, schools and community groups, as well as speaking at events. In our presentations, we highlight facts and hope people will change their consumption habits. We have had a lot of success with corporates, and most are now eliminating bottled water in their conference rooms, and providing pitchers of filtered water instead. We also hope to enlist the help of volunteers and supporters to talk to their property management companies where they live to encourage them to separate waste and ensure plastic recycling is being done. We can support people by providing lists of companies who collect plastic, as well as marketing tools such as videos and infographics.
What can businesses do to ease the problem?
Corporates should stop giving out plastic water bottles and instead supply filtered water. Hong Kong tap water is quite safe. The government is working on a producer responsibility scheme which would make currently worthless PET bottles worth something if returned.