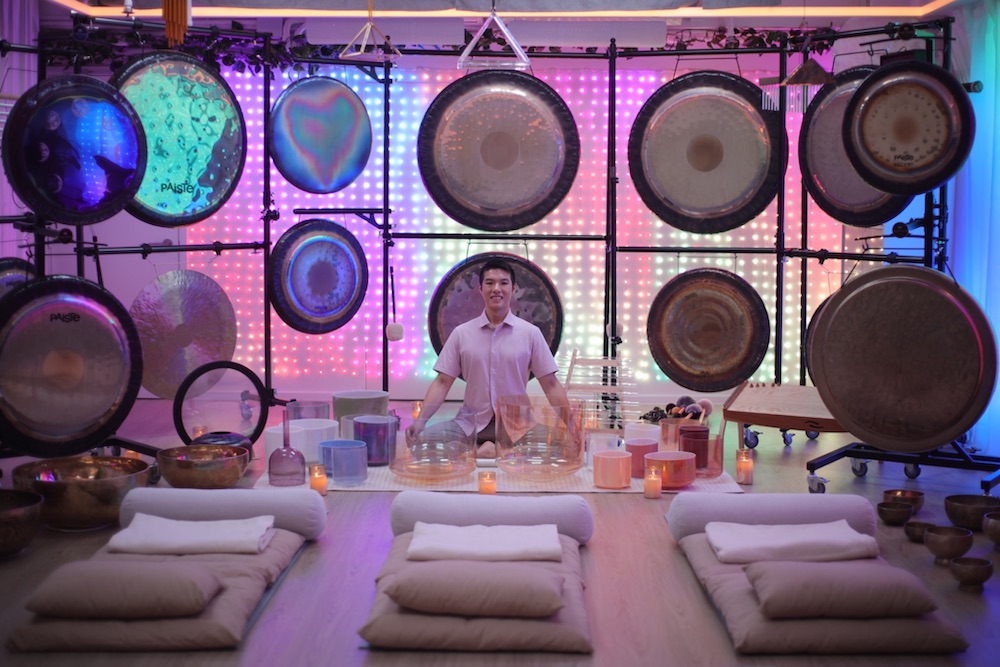 Malbert Lee is one of Hong Kong's most prominent sound healers. A former flight attendant, Malbert was grounded during the Covid-19 pandemic, and – guided by his instincts – he took a leap of faith and launched his own sound healing studio, Tune In Wellness. He talks to Liv about his sound journey.
How did you first become interested in sound healing?
I was looking for a way to help me sleep better. As a flight attendant, it was challenging to get good quality sleep, but I found listening to singing bowls to be very effective. In 2016 I got my first singing bowl and I found the combination of sound and vibrations improved my sleep quality and reduced my stress. I started sharing my knowledge of sound healing with family and friends.
When did you decide to become a full-time sound healer?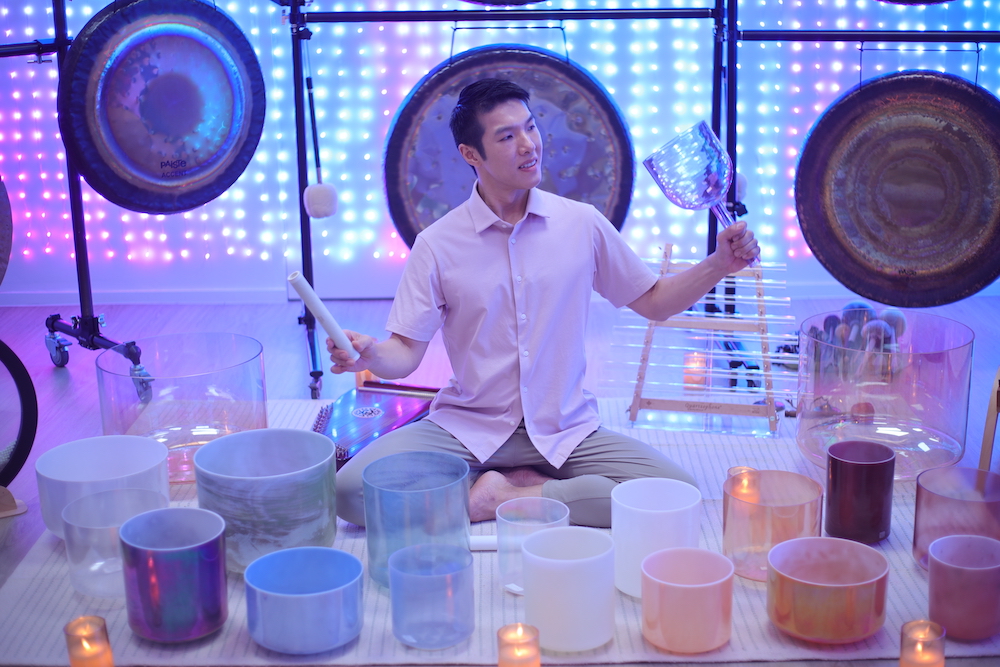 I came to realise that I couldn't work as a flight attendant forever, and in searching for my true purpose, I joined a 10-day Vipassana retreat to think and meditate. After my first retreat, I decided to train as a yoga teacher, but my second retreat was when I found my true calling. As I meditated under the night sky filled with billions of stars, I felt a message from my heart to pursue sound healing. Since then, I've taken multiple trainings with masters around the world and conducted thousands of sound healing sessions and training workshops. I didn't want to let go of my career as a flight attendant at first, but the pandemic made the decision for me. I trust that the universe has my back, and all I need to do is trust the Divine Plan.
What is it about sound healing that is so special to you?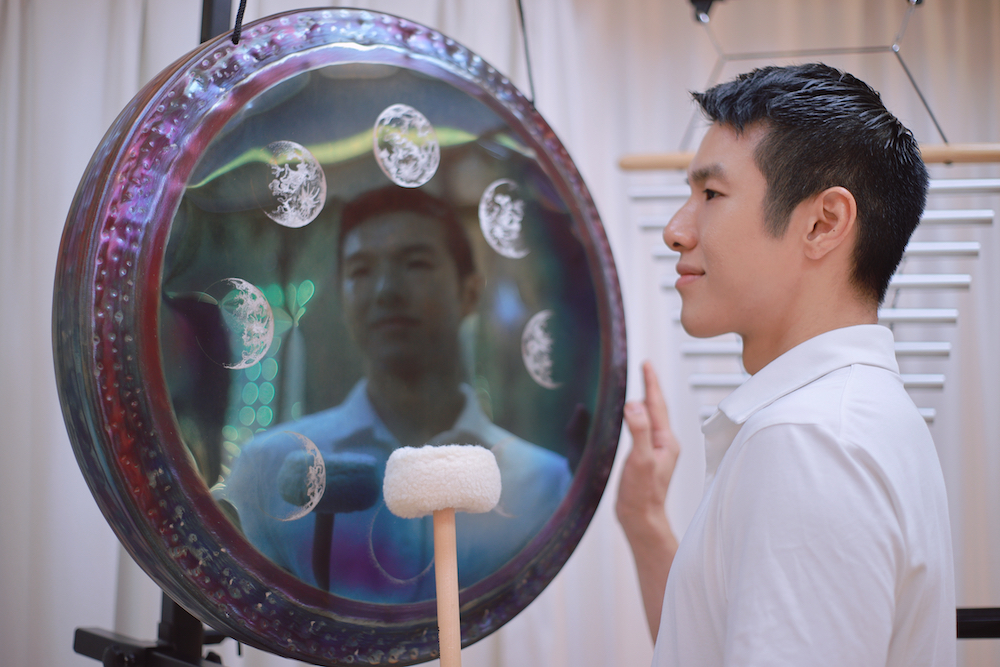 Like anyone living in the modern world, I have a lot of physical, mental and emotional stress. For me, sound healing de-stresses my whole being while giving me an energy boost. It increases my oxygen levels, improves circulation, releases tension, and improves my sleep. I'm building a business all on my own, so managing stress is crucial! At the same time, I am a caregiver for a beloved family member with Stage 4 cancer. I am honoured to support his final journey, but at the same time, it can be emotionally challenging. I am glad to have my instruments with me, and trust that I can lift my energy and bring peace to my being whenever I need a lift.
What is some of the feedback that your students give you after a sound healing session?
Some say they sleep better. Some say they are healthier both physically and mentally. Some feel completely recharged and energised. Others arrive crying and leave the session with joy in their hearts. Everyone faces different challenges and everyone processes sound differently.
Tell us about the vision for your new studio.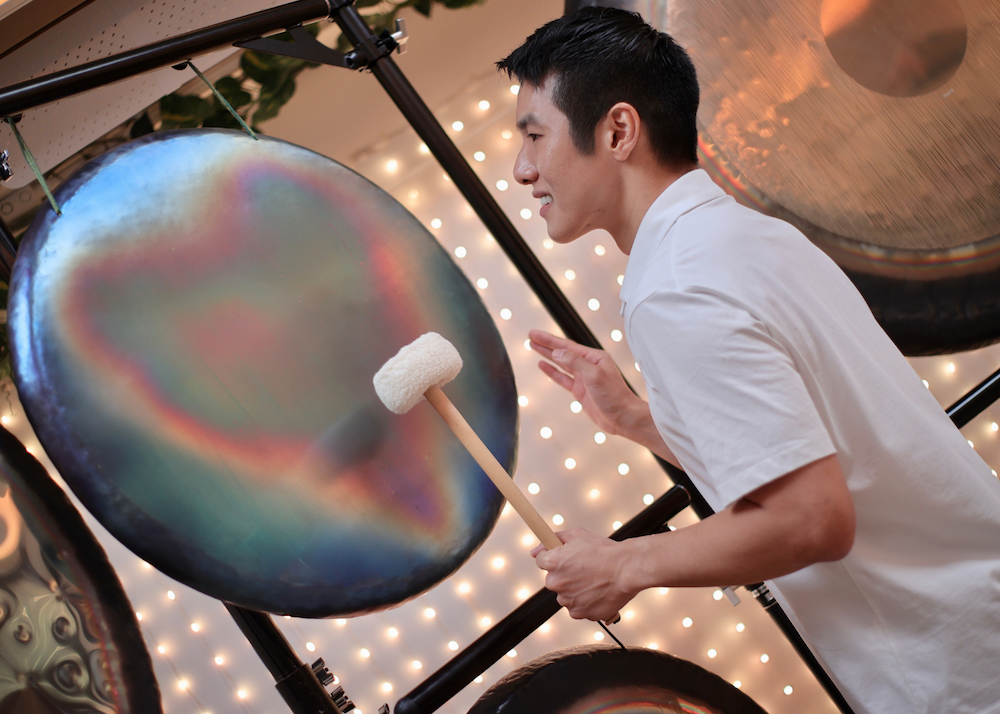 Tune In Wellness is the only sound healing studio in Asia that offers such a wide range of sound experiences. My ambition is to offer the best possible sound healing experience. I handpicked all my instruments, and I have the largest alchemy crystal singing bowl collection in Hong Kong. My pride and joy is my 42-inch titanium gong from Germany, and a pair of Super Grade alchemy bowls valued at over $300,000. I also have more than 100 crystal bowls infused with precious metals, gemstones and minerals – all in a welcoming and comfortable space.
What kind of classes do you offer?
I offer regular classes as well as sound healing training.
Gong Bath
We use gongs for deep relaxation. The gong vibrations are powerful and can put people in a deep meditative state in 60-90 seconds.
Sound Journey
This sound experience uses different instruments in a special sequence to create a complex yet harmonising soundscape.
Crystal Sound Healing
Here, we focus on crystal bowls infused with precious metals, gemstones, and minerals for gentle relaxation.
Floating Sound Bath
Participants rest in a hammock, slightly elevated above the ground so that every part of their body can receive the vibrations equally.
We also offer training in playing gong, crystal bowls and singing bowls. Private training sessions and mentorship is also available.